Here are a bunch of homemade apple recipes to help you make delicious treats like pies, snacks and applesauce while using all of those extra apples!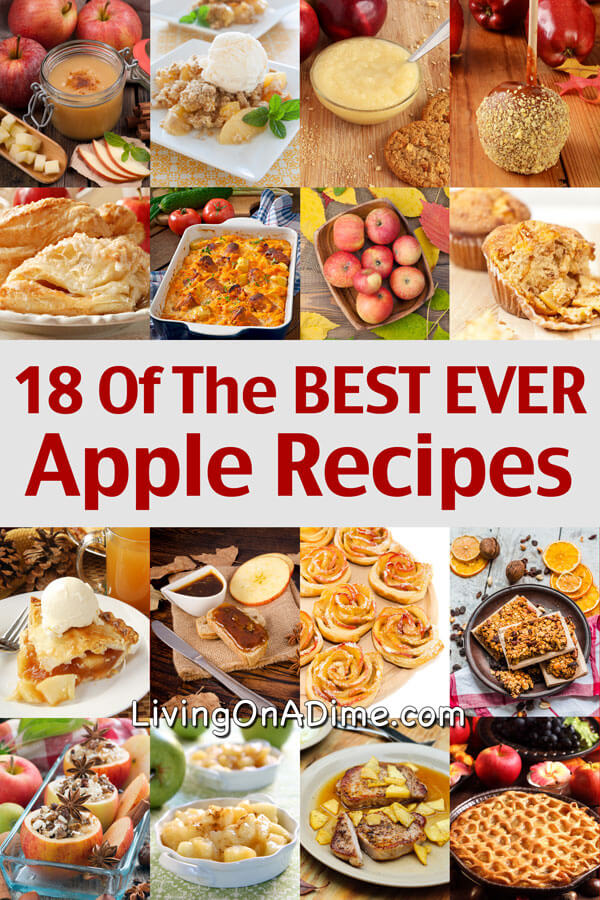 18 Of The BEST EVER Homemade Apple Recipes!
I've always dreamed of having an apple tree in my backyard. You know the old saying, "Be careful what you wish for?" Now that I actually have my own apple tree, I stand in my yard watching the apples piling up around me thinking, "Oh no — What do I do with this mess now?"
If I could make gasoline out of apples, I could retire, but since that is not an option and my frugal mind will not allow me to waste one apple, I have had to come up with some homemade recipes for yummier "apple disposal" methods.
If you find that you have a few dozen more apples than you know what to do with, these homemade apple recipes from Dining On A Dime will help settle your frugal dilemma.
Tips:
When you have a partially eaten apple, save the good part and chop into pieces for this easy apple recipe: Place in a microwave safe dish. Blend together 1 tsp. each brown sugar, flour, oatmeal and margarine and a dash of cinnamon. Top the apple with the topping and microwave until tender.
Core and slice apples very thin. Dehydrate and use in granolas, eat alone or soften in warm water to use in recipes.
Slice apples and use in pancakes or waffles and other homemade apple recipes.
To freeze apples: Peel, slice and core and then store in 2 cups portions in freezer bags.
Use soft apples in cooking.
Cut into small pieces and add to salads with a fruit based dressing.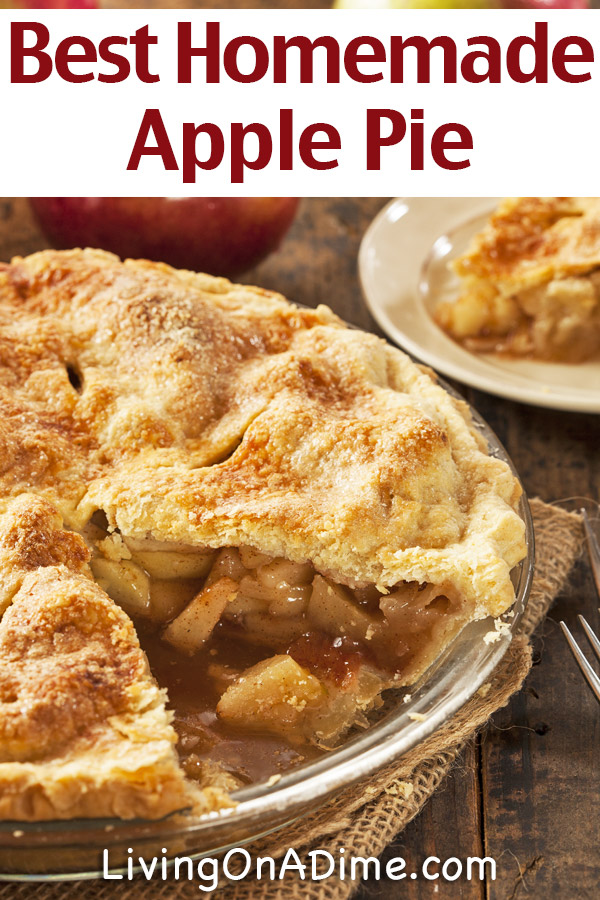 Here is my best apple pie recipe and as a bonus I will  give you a recipe for French apple pie. You use the French apple pie when you have only 1 crust for the bottom and need something to top it with. It is a cross between a pie and apple crisp.
6-7 cups of medium apples, cored, peeled and thinly sliced
1/2 cup sugar
1/4 cup brown sugar
1/4 tsp. salt
3/4 tsp. cinnamon
1/4 tsp. nutmeg
2 Tbsp. flour
2 Tbsp. butter
Mix all ingredients in a large bowl except the butter. Microwave this filling mixture 2-3 minutes. Then pour into the pie crust. Dot with chunks of the butter and top with the other crust. Cut steam slits in the top crust and sprinkle the top with sugar. Bake at 450 degrees for 15 minutes. Then turn down to 350 degrees and bake for 35-45 minutes, until apples are tender and juices are bubbling nicely out of the steam slits.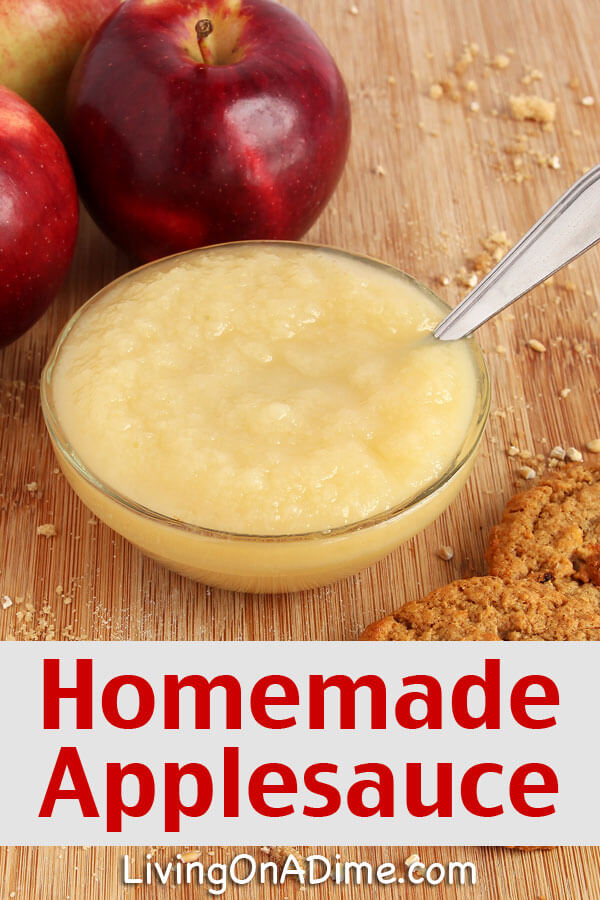 4 apples – peeled, cored and chopped
3/4 cup water
1/4 cup white sugar
1/2 teaspoon ground cinnamon
pinch of salt
In a saucepan, combine apples, water, sugar, and cinnamon. Cover, and cook over medium heat for 15 to 20 minutes, or until apples are soft. Allow to cool, then mash with a fork, potato masher or stick blender.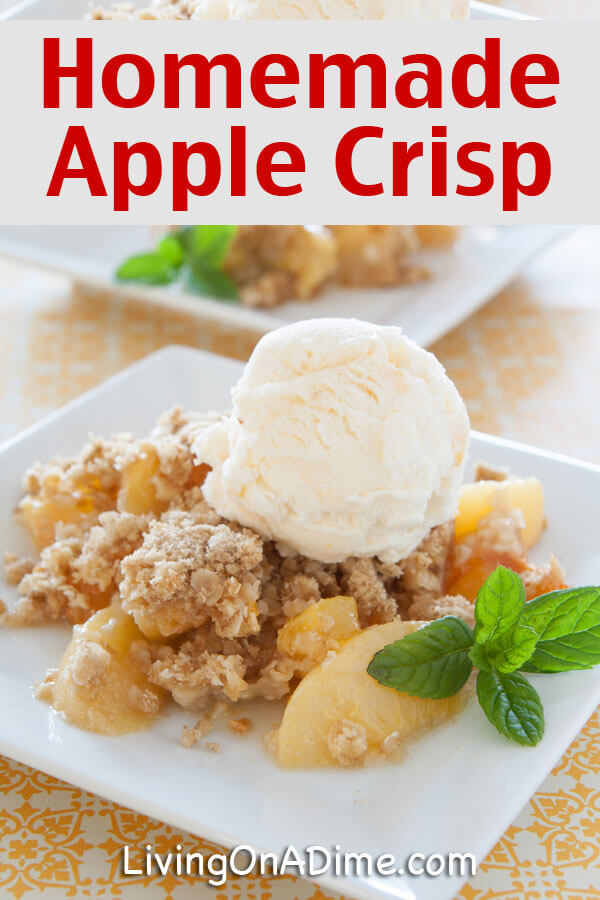 6 apples, peeled and sliced
1/2 cup butter or margarine, softened
1 cup brown sugar
1/2 cup oatmeal
1/2 cup flour
1 tsp. cinnamon and/or nutmeg
1/2 cup water
Preheat oven to 350 degrees. Arrange apples in well-greased baking dish. Blend all remaining ingredients except water. Spread evenly over top of apples. Pour water over the topping. Bake 45 minutes until apples are tender and top is crisp. Serves 6.
For Peach Crisp, use peaches in place of apples.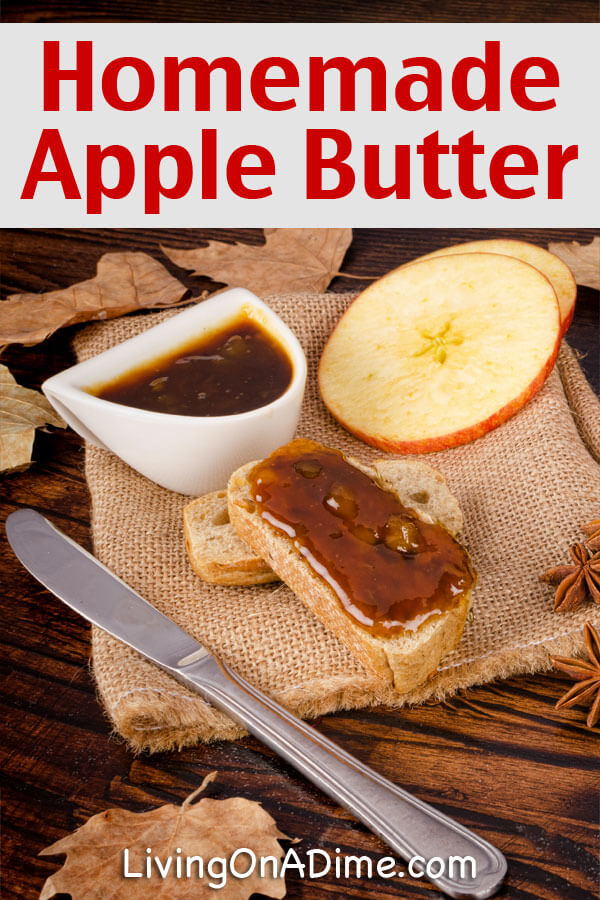 9 to 10 apples, cored, peeled and chopped
2 cups sugar
2 tsp. cinnamon
1/8 tsp. cloves
1/8 tsp. salt
Place everything into a crock pot. Stir, cover and cook on high 1 hour. Cook on low for 9-11 hours or until thick and dark brown. Stir occasionally. Uncover and cook on low 1 hour longer. Stir with whisk until smooth. Refrigerate or Freeze. Makes 2 pints.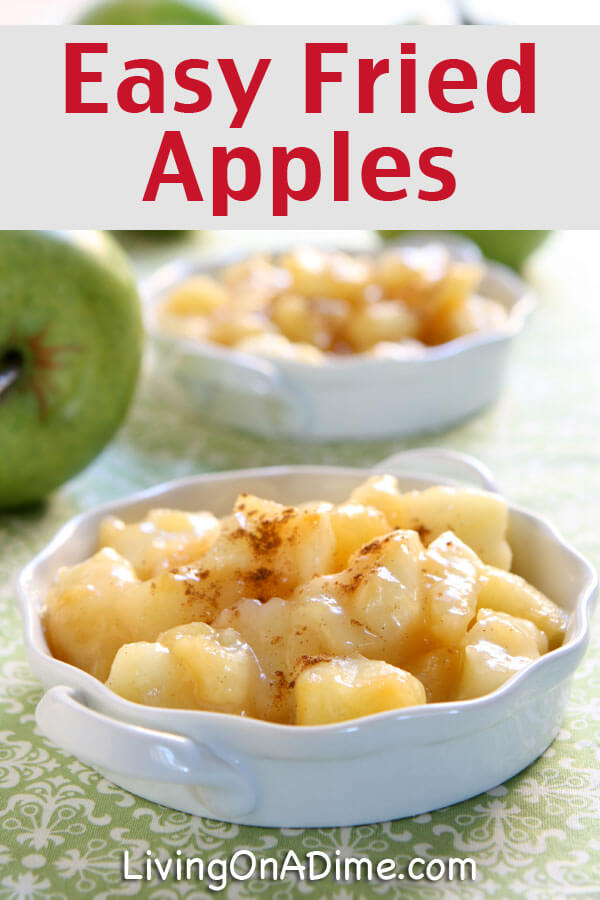 4 large apples, cored and sliced
3 Tbsp. butter or margarine
1/3 cup brown sugar
1/2 tsp. ground cinnamon
Cut apples into 1/4 inch slices. Heat butter in a large skillet. Put the apples, brown sugar, and cinnamon in the skillet and cover. Over medium-low heat, cook apple slices 7-10 minutes or until they begin to soften and the syrup thickens. Serve coated with excess syrup on top. Serves 4.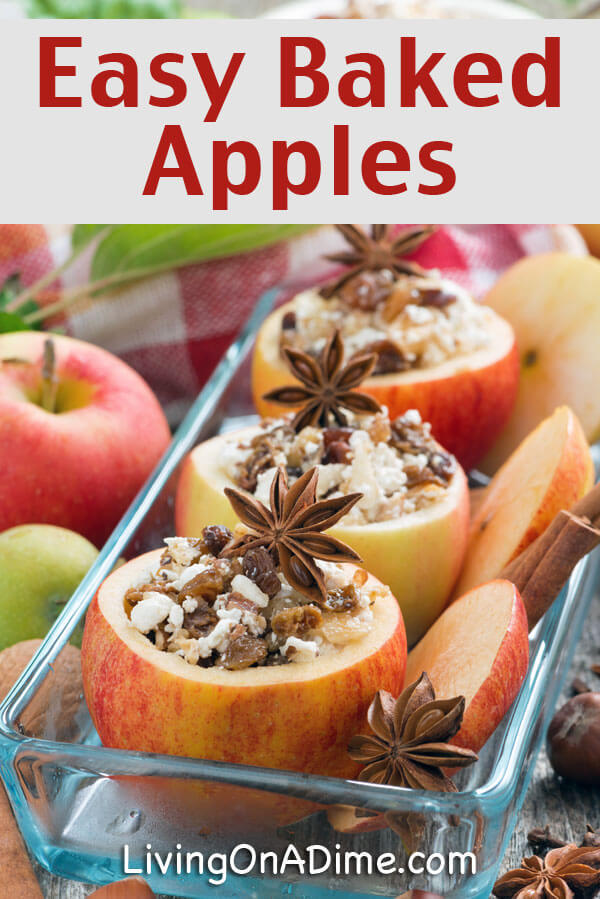 apples, cored
raisins (optional)
1 tsp. margarine
dash of cinnamon
dash of nutmeg
1 Tbsp. honey or brown sugar
(These ingredient amounts are per apple.)
For each person, use 1 apple. Fill the center of the apple with all the ingredients. Bake at 350 degrees until tender or put in a Dutch oven on top of stove and simmer on very low until tender.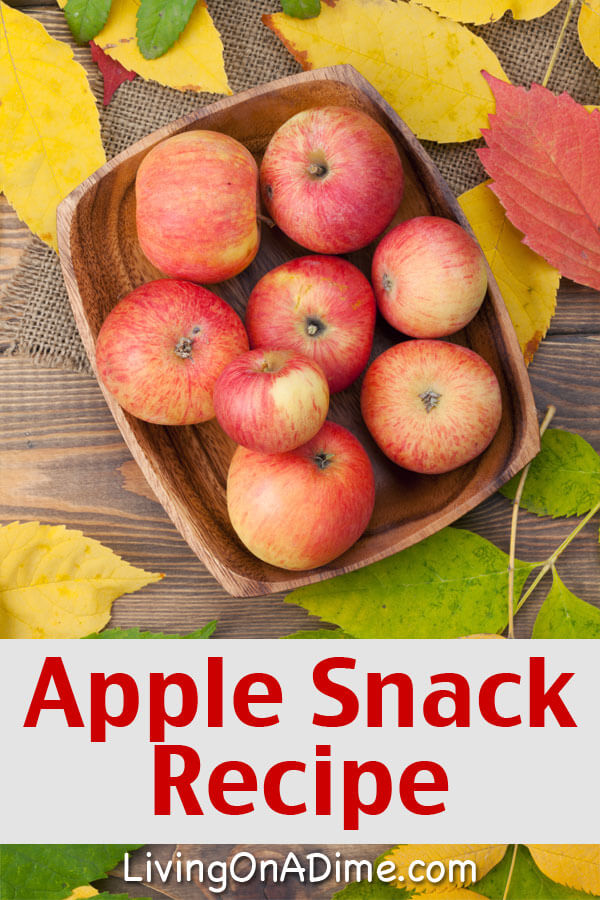 Apple Snack
2 quarts apples, peeled, cored and halved
Coarsely grate apples. Place on a greased cookie sheet. Bake at 225 degrees until dry. Remove from cookie sheet and break into pieces. Store in an airtight container.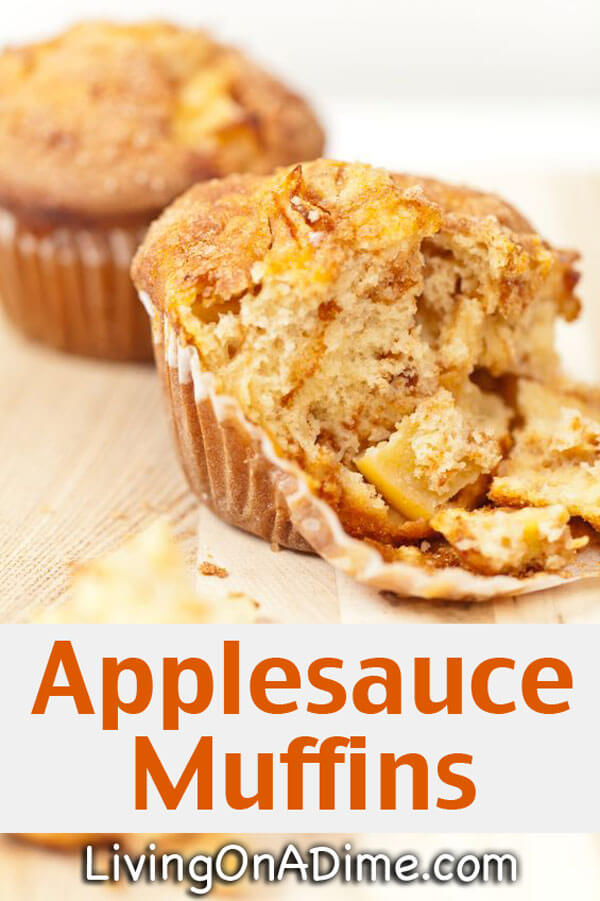 For a good excuse to give yourself a break, make a cup of tea or coffee, put up your feet and enjoy one of these yummy muffins from this easy applesauce muffins recipe. As an added bonus, your family will love the smell when they walk in the door!
2 cups flour
1/2 cup sugar
4 tsp. baking powder
1/2 tsp. salt
1/2 tsp cinnamon
1/4 tsp nutmeg
1 egg
1/2 cups applesauce
1/4 cup margarine, melted
1/2 cup chopped apple (optional)
Stir by hand until mixed. Don't over mix. Bake at 425 degrees for 20 minutes.

Topping
While baking the applesauce muffins, combine:
3 Tbsp. sugar
1/4 tsp cinnamon
1/4 nutmeg
1/4 margarine, melted
Melt 1/4 cup margarine, While hot, dip the muffins in margarine and then in the sugar mix.
*You can add some blueberries or cranberries to these muffins to kick them up a notch.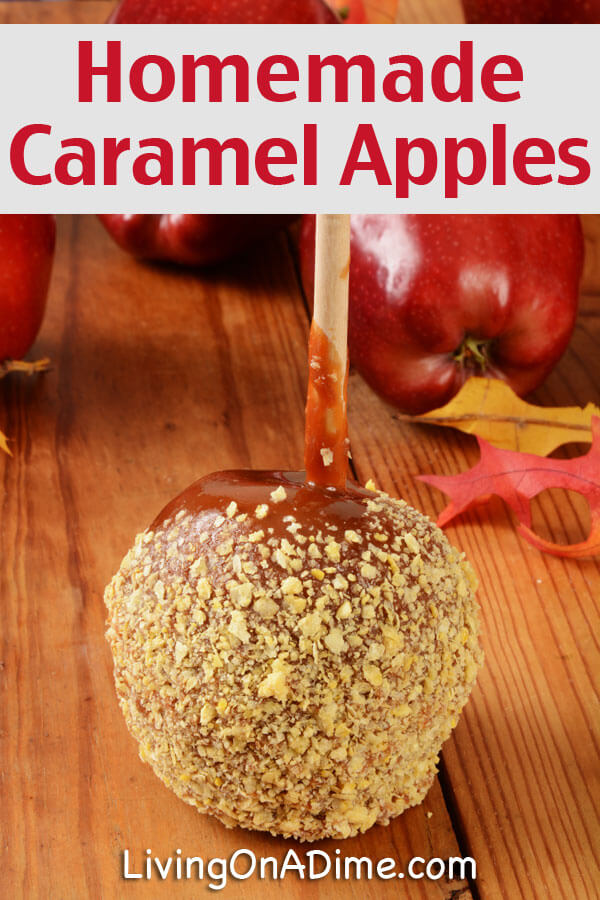 Caramel apples like the ones in this caramel apples recipe sell for $6-$8 EACH on the home shopping channel. They look wonderful but they can be made fresher at home and for around .50-$1.00 each instead.
1 package caramels
2 Tbsp. water
powdered sugar
6 apples (Most people use Granny Smith Apples but they are too tart for me so I use Gala Apples.)
Stick a popsicle stick, handle end of spoon or a twig (washed, dried and wrapped in foil) in the end of the apple.
Sprinkle some powdered sugar on waxed paper to set the caramel apples on after they are dipped so they don't stick.
Dip the apples in caramel and then roll in:
Crushed candy bar pieces
M&M's
Mini chocolate chips
Flavored chips: peanut butter, white chocolate, dark chocolate, cherry, butterscotch
Nuts and then drizzle with melted chocolate of your choice
Crushed chocolate-covered toffee squares
Crushed milk chocolate-covered toffee coated almonds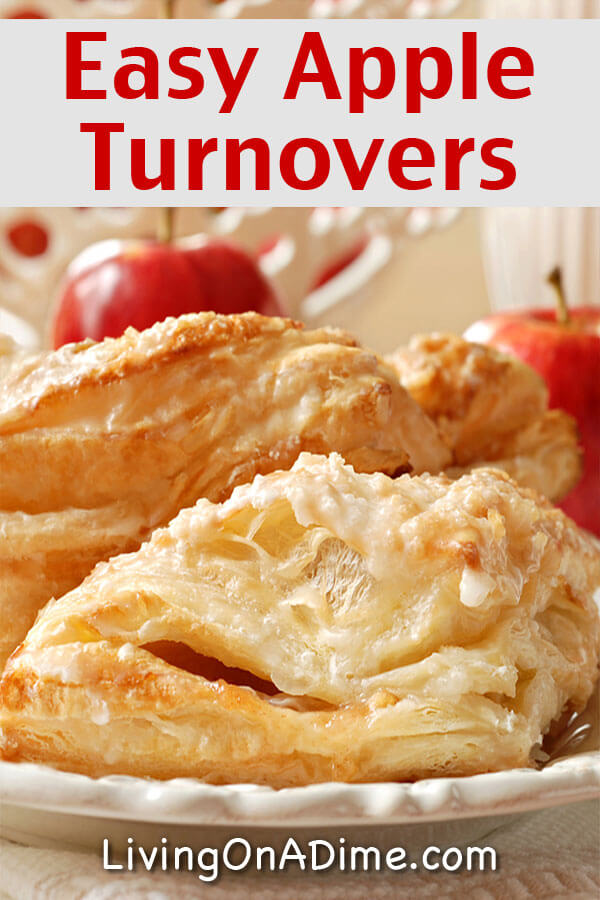 This homemade apple turnover recipe is so easy and delicious that you'll be tempted to try to make it with lots of other fruits! This recipe is a great way to use apples or other summer leftovers!
1 can of apple pie filling*
1 tsp. of apple pie spice (or 1/2 tsp. of cinnamon and a pinch of nutmeg and cloves)*
1 can of refrigerator biscuits
1/4 cup (1/2 stick) margarine, melted
1/2 cup sugar with 1-2 tsp. cinnamon (combined)
Preheat oven to 400 degrees. Add the apple pie spice to the fruit filling. Using a knife, slice apple slices in the can into small chunks. (I add the spices into the can and press the apples against the can with the knife to cut them to avoid dirtying a bowl.)
Flatten the biscuits with a rolling pin or your hand into 4″ circles. Add 1 slightly rounded Tbsp. of pie filling into the center of each biscuit. Wet edges of biscuit with milk. Fold in half and seal well. Prick tops with fork. Dip in melted butter and then into sugar and cinnamon mix. Place on ungreased cookie sheet and bake 10 minutes or until brown.
* When using the other flavored fillings, you can leave out the apple pie spices. You can add other spices from your favorite pie recipe if you prefer, like a pinch of cinnamon to the peach or almond flavoring for the cherry pie. You don't have to add anything if you don't want.
Variation: Add raisins to the pie filling and/or serve with cheddar cheese.
This easy apple cake recipe makes a great snack cake that reminds you of grandma's house! It is similar to a coffee cake, with a yummy apple flavor and makes a good cake for fall! It's a great way to use extra fresh apples. Try it to bring some warm fuzzy feelings to your family.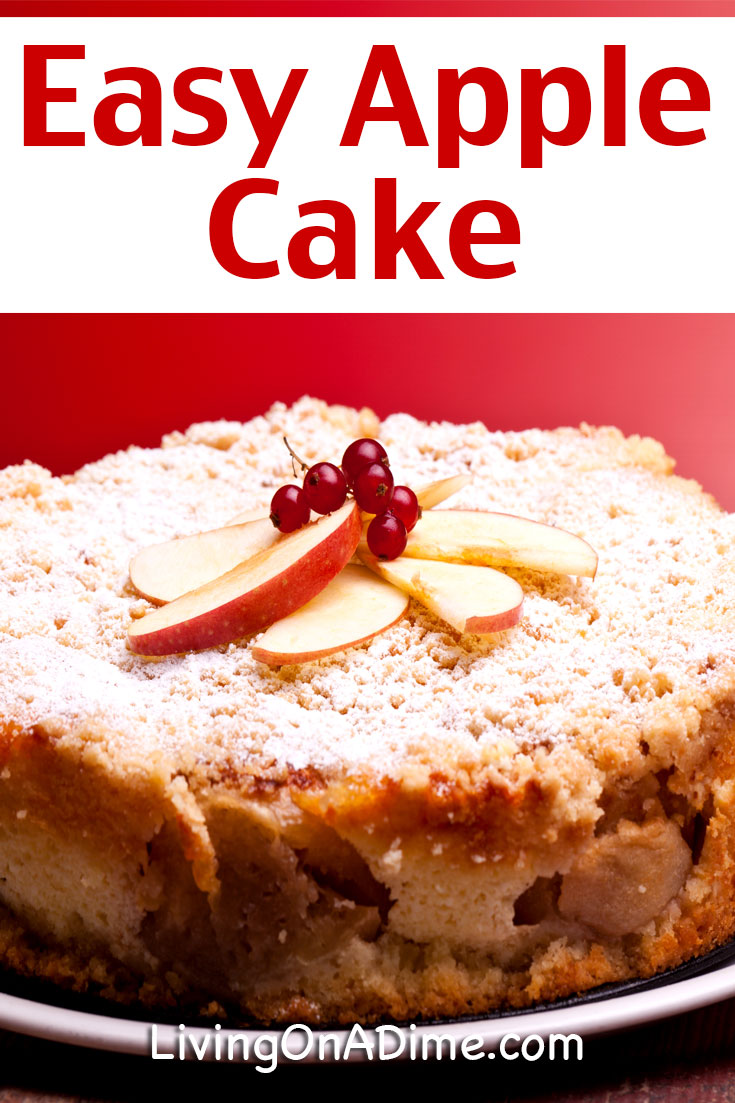 Easy Apple Cake Recipe
2 cups sugar
1 tsp. salt
1 tsp. baking soda
1 Tbsp. baking powder
2½ cups all purpose flour
1¼ cups vegetable oil
2 eggs
3 cups chopped raw apples
1 cup nuts (optional)
Preheat oven to 350°. Place all ingredients in a mixing bowl and mix well. Pour into a greased 9×13 inch baking pan and bake 1 hour, until a knife inserted in the middle comes out clean.
This easy homemade apple pie filling recipe is a great way to use apples! It makes the most delicious apple pies and they're especially great for holidays!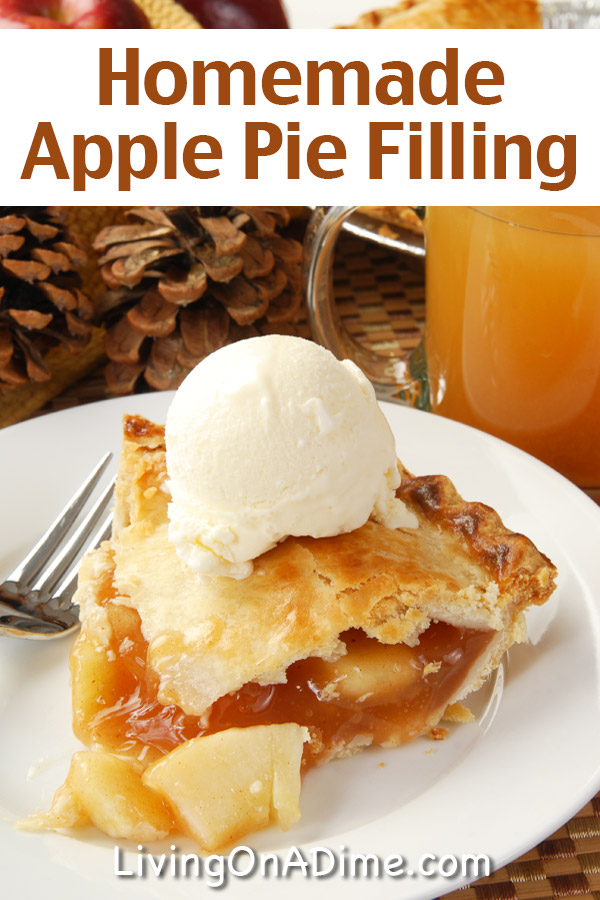 Apple Pie Filling Recipe
9 cups baking apples (I use what I have for apples), peeled, cored & sliced
1 1/2 Tbsp. lemon juice
2 1/4 cups sugar
1/2 cup cornstarch
5 cups water
1 tsp. ground cinnamon
1/2 tsp. salt
1/8 tsp. nutmeg
Toss apples with lemon juice and set aside. Combine the rest of the ingredients in a Dutch oven and bring to a boil for 2 minutes, stirring constantly. Add apples and return to boil. Reduce heat, cover and simmer until apples are tender (6-10 minutes). Cool for 30 minutes. Then ladle into freezer containers or bake in pies. Makes enough for two 9 inch pies.
You can cook in the crock pot on low for 4 hours or until apples are tender.
This Easy Cinnamon Apple Dumplings Recipe makes a delicious treat that your family and friends will love.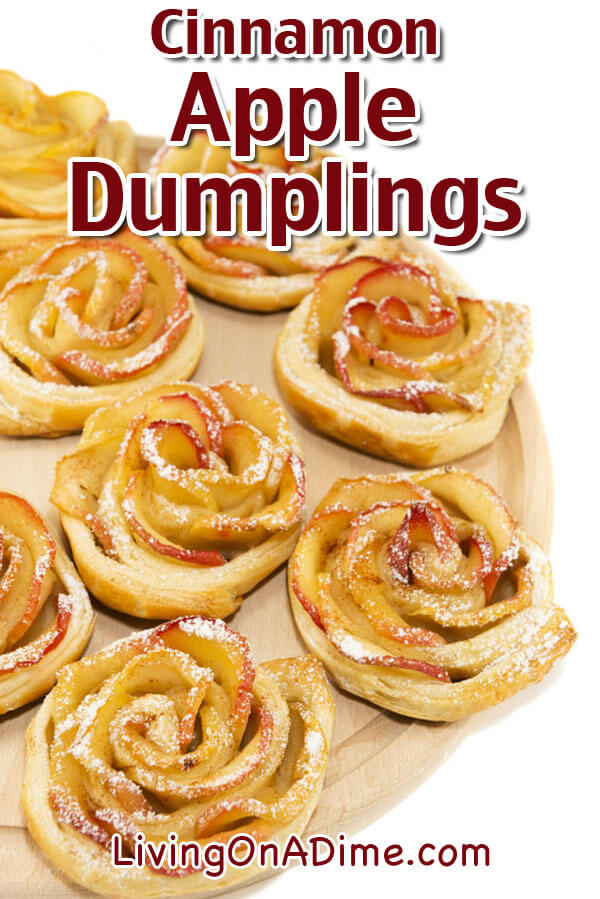 Cinnamon Apple Dumplings Recipe
1/4 cup butter, melted*
1/4 cup sugar
1/4 cup water
1 (8 oz.) can crescent rolls
2 apples, peeled, cored, and chopped
1/4 cup packed light brown sugar
2 Tbsp. flour
1/4 tsp. ground cinnamon
1/4 cup chopped nuts
powdered sugar
Preheat oven to 375 degrees. Cook sugar and water until the sugar is dissolved and set aside. Press out crescent dough into a rectangle shape.
Toss apples with brown sugar, flour and cinnamon.** Sprinkle this mixture over the dough.
Starting at the short end, roll up jelly roll style. Seal the seam and slice about 3/4 inch thick. Lay in an 7×11 or 9×9 pan that has the melted butter in it. Carefully pour sugar syrup over everything and bake 35-38 minutes until golden brown.
You may dust with powdered sugar or sprinkle with cinnamon and sugar.
*I don't use my dishwasher and I am always trying to reduce the number of dishes I have. In a case like this, when I need melted butter, I grab the pan I am going to use to bake the dumplings. I add the butter to the pan and place it in the oven while it is preheating to melt. If you do this, watch it because as soon as it is almost all melted I pull the pan out.
**I would probably not toss these together. Instead, I would sprinkle apples onto the dough; then add the flour, sugar and cinnamon on top of them.
I also don't like my apples in any apple recipes to be only partially cooked so if I had time I would place this mixture in a bowl and microwave it for about a minute to partially cook the apples before spreading it on to the dough. 
This delicious sausage apple breakfast casserole recipe is a tasty one-dish breakfast you can make ahead of time and just pop in the oven when you need it!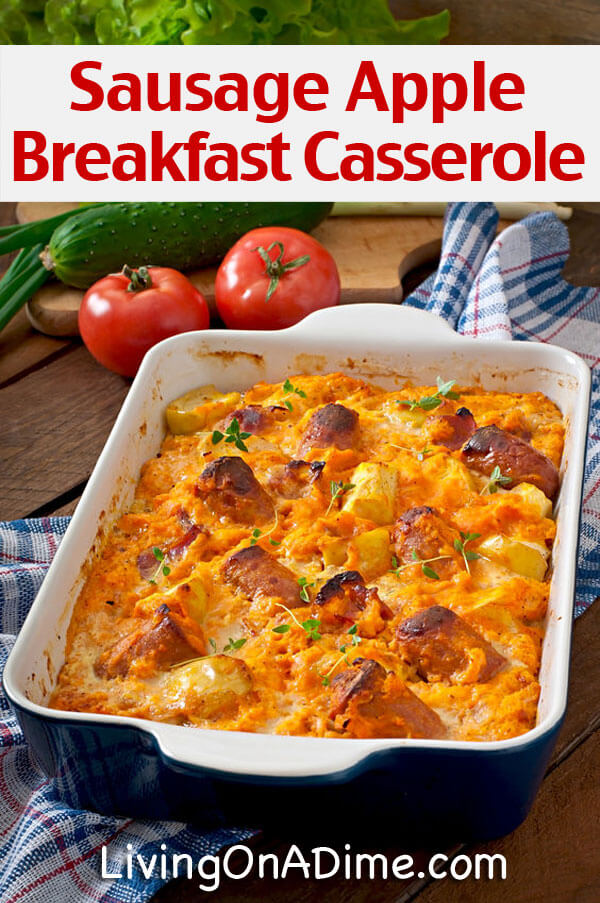 I like this breakfast casserole recipe because the fruit is included in it so you have a whole meal without adding a thing. I also like the fact it has the sugar and cinnamon to add a touch of sweetness to the dish.
Sausage Apple Overnight Breakfast Casserole Recipe
1 pkg. (1 lb.) Pork Sausage Roll
6 cups bread cubed into 1 inch pieces
10 eggs
3 cups milk
1 tsp. vanilla
2 large baking apples, peeled and chopped
2 Tbsp. sugar
1 tsp.  cinnamon
2 cups shredded cheddar cheese, divided
maple syrup, if desired
Brown sausage; drain. Whisk together eggs, milk and vanilla. In another bowl, mix apples, sugar and cinnamon together until well coated. In a greased 9 x 13 inch baking dish, place half of the bread cubes followed by half the sausage, half the apples, and 1 cup of the cheese. Repeat layers with remaining ingredients. Pour egg mixture over the layers making sure to evenly coat it all with the egg mixture. Refrigerate overnight. In the morning, preheat oven to 325 degrees.  Bake uncovered for 55-60 minutes or until knife inserted in center comes out clean. Cut into 6-8 pieces and serve topped with a drizzle of maple syrup if desired.
This easy apple crisp recipe is super easy to make and tastes amazing! This is my great grandma's apple crisp recipe and it's always a hit! It's also a very cheap way to have a delicious dessert and is perfect for using leftover apples. Throw a little ice cream on top and get the perfect apple pie a la mode taste with just a fraction of the work!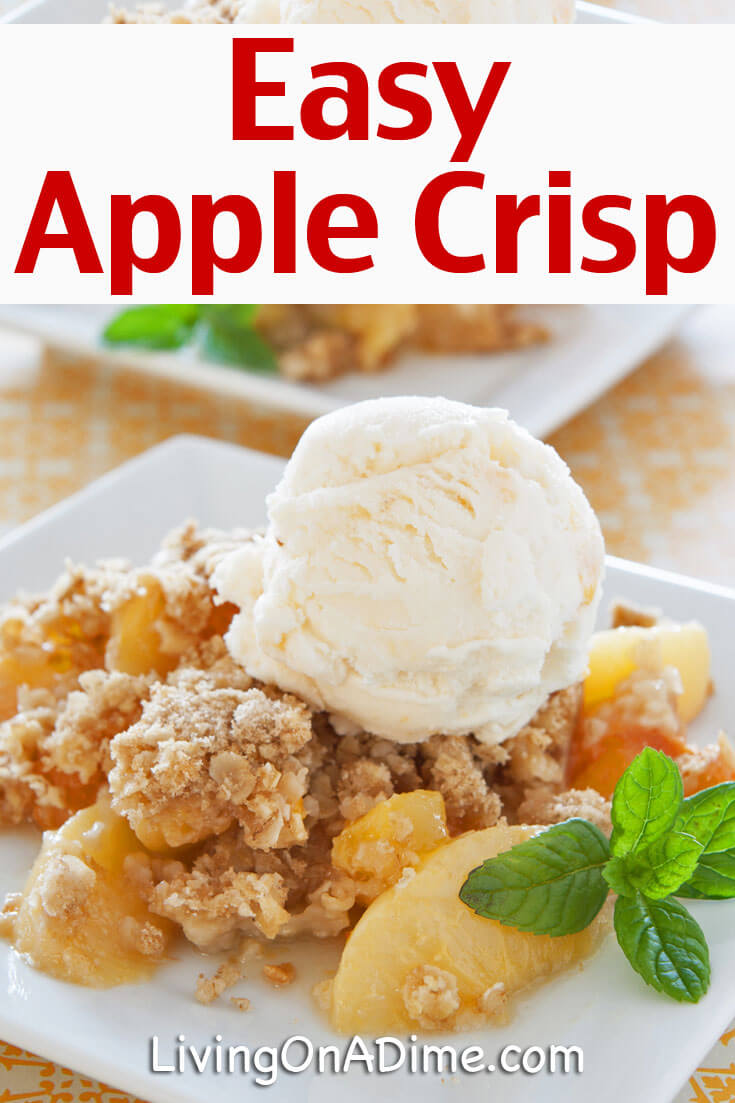 Easy Apple Crisp Recipe
6 apples, peeled and sliced
1/2 cup butter or margarine, softened
1 cup brown sugar
1/2 cup oatmeal
1/2 cup flour
1 tsp. cinnamon and/or nutmeg
1/2 cup water
Preheat oven to 350 degrees. Arrange apples in well-greased baking dish. Blend all remaining ingredients except water. Spread evenly over top of apples. Pour water over the topping. Bake 45 minutes until apples are tender and top is crisp. Serves 6.
For a Peach Crisp Recipe, use peaches in place of apples. (If you use peaches, this is basically a peach cobbler recipe.)
You can also try using 3 cups of blueberries in place of the apples for a Blueberry Crisp or Cobbler.
This apple pork chops recipe makes a simple dinner you can make in about 15 minutes. Your entire family will love it and ask for it again and again!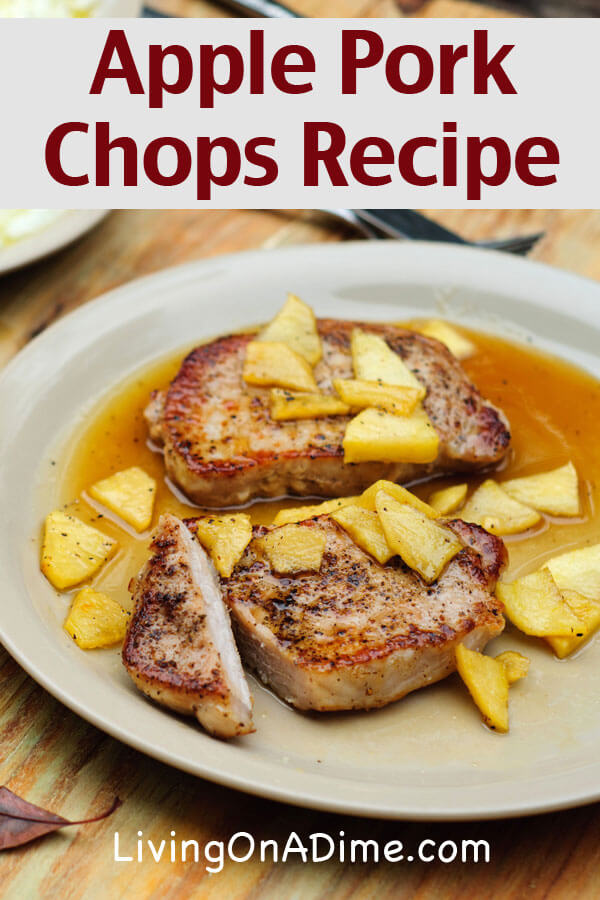 Apple Pork Chops
8 pork chops
Salt and pepper
1/2 cup Heinz 57 sauce
6 oz. apple juice (concentrated, undiluted)
3 apples, sliced (if you like firmer apples use baking apples like Granny Smith. I use whatever apples I have on hand. This is a good way to use what is dying in the fridge.)
Brown pork chops in a skillet. Season with salt and pepper. Place pork chops in a 9×13 pan and arrange apple slices on top. Combine Heinz 57 sauce and apple juice and pour over everything. Bake uncovered at 350° for 30-40 minutes. Baste occasionally.
This homemade apple oatmeal bars recipe is easy to make, great for lunches, snacks and desserts and makes a great healthy alternative to cookies and cakes!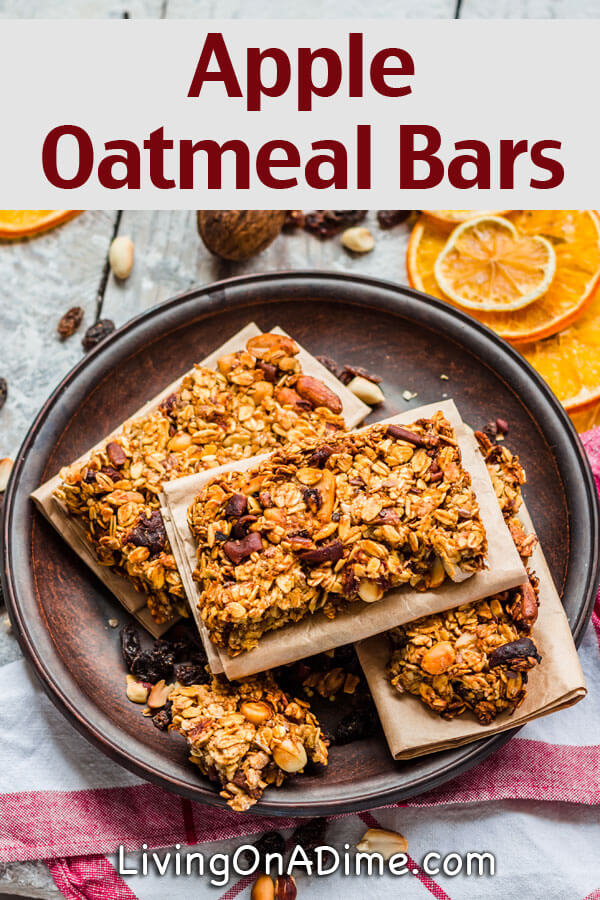 Homemade Apple Oatmeal Bars Recipe
1 cup quick cooking oatmeal
1/2 tsp. salt
1/2 cup butter
1 cup flour
1/2 tsp. cinnamon
2 1/2 cups apples*, chopped or 3/4 cup apple butter (omit cinnamon)
1/2 cup sugar
1/2 cup add-ins (optional), any nuts, chocolate chips, dried fruit or coconut could be added.
Combine the first five ingredients, and pat half into an 8×8 inch pan. Layer apples and sugar. Crumble remaining mixture on top. Bake 35 minutes at 350°.
*Any other fruit may be used. Raspberries or blueberries would be great!
This easy apple and peanut salad recipe is a quick and easy recipe with only three ingredients – Does it get any easier than that? 😉 It's also delicious and healthy for you, which makes it a real winner! Keep the ingredients handy and you'll be able to make it in a hurry anytime you need a quick fruit salad recipe!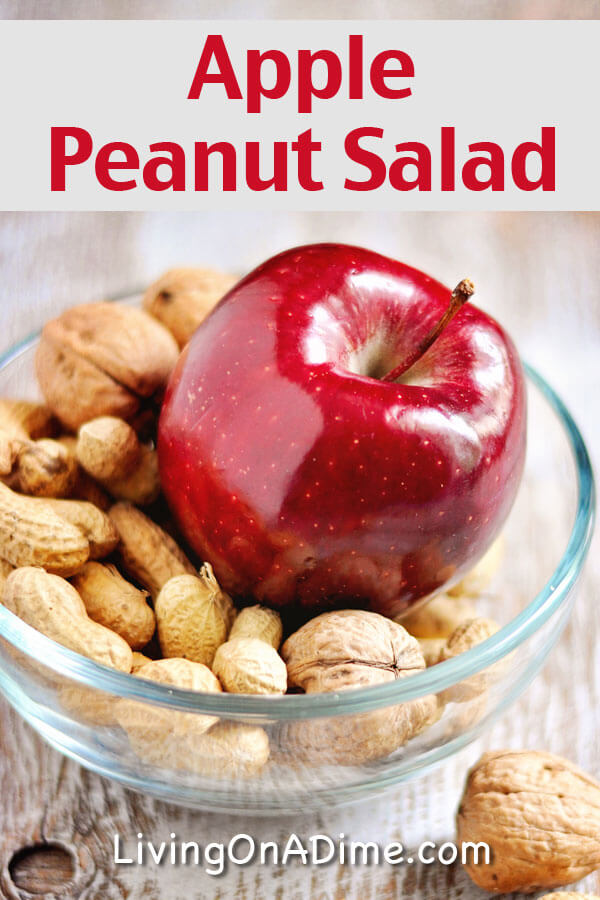 Easy Apple and Peanut Salad Recipe
4 medium chopped apples
3 cups peanuts
1 small container of whipped topping or 2 cups whipped cream
Mix ingredients and eat.
(It doesn't get any easier than this salad. Keep the ingredients on hand for when you have unexpected company.)
Would you like to serve food that will lower your grocery bill and your family will love to eat?
Click here to get the Dining On A Dime Cookbook, with tasty recipes and great tips to make your life easier and save you money!