This homemade apple oatmeal bars recipe is easy to make, great for lunches, snacks and desserts and makes a great healthy alternative to cookies and cakes!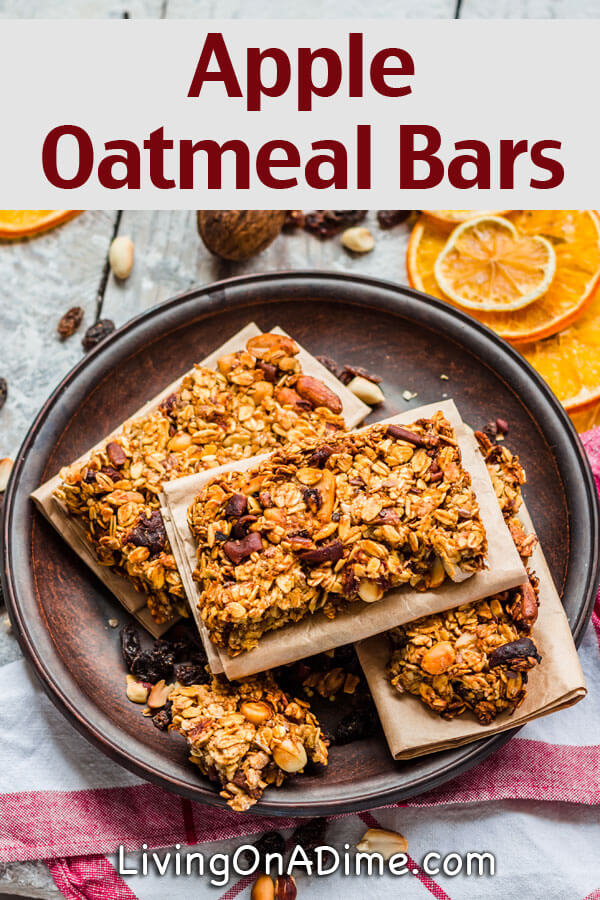 Homemade Apple Oatmeal Bars Recipe
1 cup quick cooking oatmeal
1/2 tsp. salt
1/2 cup butter
1 cup flour
1/2 tsp. cinnamon
2 1/2 cups apples*, chopped or 3/4 cup apple butter (omit cinnamon)
1/2 cup sugar
1/2 cup add-ins (optional), any nuts, chocolate chips, dried fruit or coconut could be added.
Combine the first five ingredients, and pat half into an 8×8 inch pan. Layer apples and sugar. Crumble remaining mixture on top. Bake 35 minutes at 350°.
*Any other fruit may be used. Raspberries or blueberries would be great!
Would you like to serve food that will lower your grocery bill and your family will love to eat?
Click here to get the Dining On A Dime Cookbook, with tasty recipes and great tips to make your life easier and save you money!