Apple Crisp is always a yummy family favorite and this quick and easy apple crisp recipe will help you make it in a snap! It's great for unexpected company!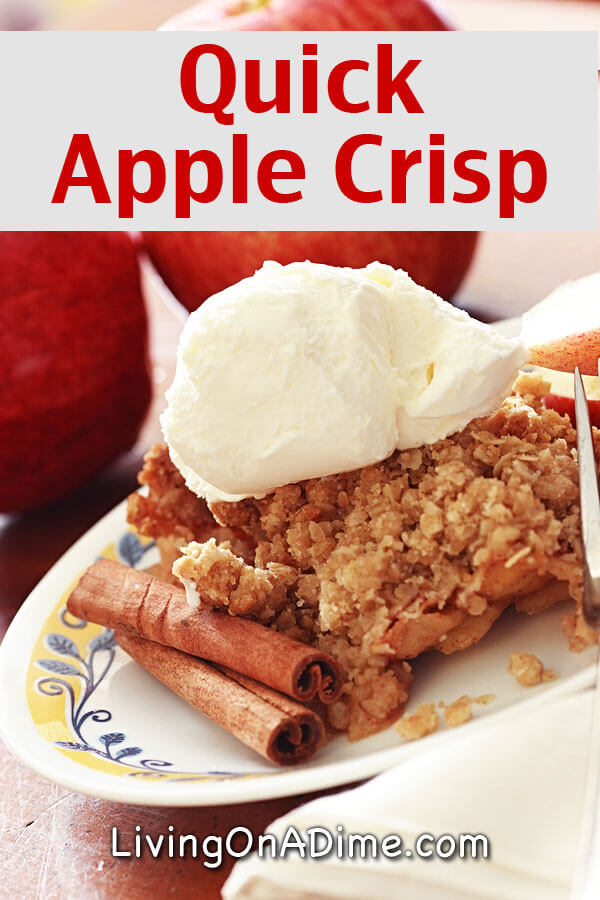 Here's a quick, easy and delicious apple crisp recipe. Apple crisp is a great alternative to apple pie when you just don't have enough time to put a complete pie together. Just keep the ingredients in your pantry for a fast dessert when unexpected company shows up. It's also a nice addition to any family dinner and kids and families love it. It's also an easy after school snack and great potluck dish. I often use dehydrated apples if I have them on hand. Just boil the dehydrated apples in some water and then when softened drain off the water and use instead of pie filling.
Quick Apple Crisp Recipe
Place 1-2 handfuls of gingersnaps (these cost about $1 at the dollar store) or sugar cookies in a plastic bag. Crush them and add:
Flour (about 2-3 Tbsp.)
Brown sugar (1/4-1/2 cup)
Oats (1/2 cup)
Cinnamon (to taste)
Cut in enough butter (3-4 Tbsp.) to make it crumbly.
These measurements don't have to be exact. You can just dump everything into the bag and gently mix together.
Pour 1 can of apple pie filling into a pan (or make filling from your favorite apple pie or apple crisp recipe). Sprinkle above mixture on top. Bake at 350 degrees for 45 minutes or according to your own recipe.
You can also mix all the topping ingredients except the butter and store in bags (use the same bag you crushed the cookies in) or jars ready to use when you need something fast.
For a quick gift, put together a basket, bowl, pan or bag with a bag of topping mix a can of apple pie filling and the recipe.
Would you like to serve food that will lower your grocery bill and your family will love to eat?
Click here to get the Dining On A Dime Cookbook, with tasty recipes and great tips to make your life easier and save you money!