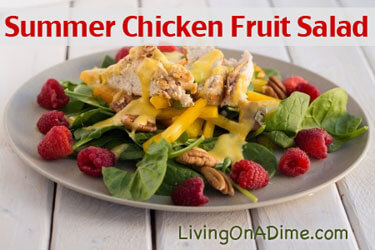 This Summer Chicken Fruit Salad Recipe makes a light, cool and refreshing salad you're sure to enjoy. It is colorful and appealing and a perfect light meal for warm days!
Summer Chicken Fruit Salad
Spinach leaves
1 cup chicken chunks, cooked
1 cup mixed fruit (strawberries, grapes, oranges, kiwi, blueberries, apples), sliced
1/4 cup celery, sliced
1 Tbsp. nuts (walnuts, sliced almonds)
1 Tbsp. green onion, sliced
Dressing:
2 Tbsp. mayonnaise
4 tsp. orange juice
Arrange spinach leaves on 2 plates. Layer other ingredients order. Mix the mayonnaise and orange juice and drizzle over salad. Makes 2 servings.