This easy herb guide helps you figure out which herbs go best with which foods! Find out which herbs work best in various dishes and
make more tasty meals
!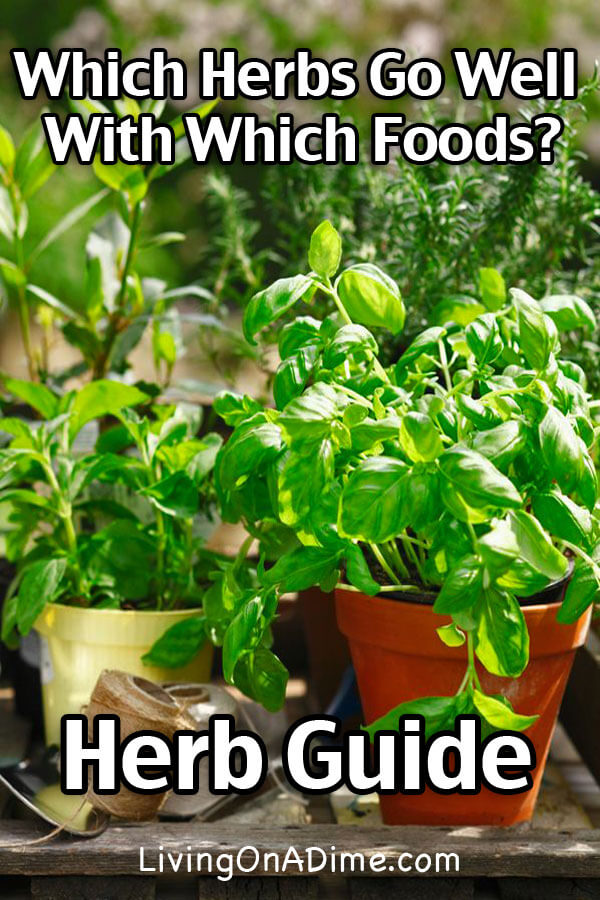 Herb Guide – Herbs That Complement Different Dishes
The following herbs go well with these meats:
Beef: thyme, celery, marjoram, coriander, sage, rosemary, oregano, garlic
Chicken: garlic, marjoram, tarragon, oregano, coriander
Fish, fried: mustard, oregano, tarragon, sage
Fish, grilled: thyme, coriander, fennel, rosemary
Pork: marjoram, mustard, oregano, sage, rosemary, thyme, garlic
Roast Beef: basil, oregano, thyme, mustard, rosemary, garlic
Turkey: basil, rosemary, cumin, oregano, thyme, sage
The following herbs work well in these dishes:
Basil: tomatoes, tomato sauces, peas, squash, lamb, fish, eggs, tossed salad, cheese, potatoes, pasta
Bay leaf: vegetable and fish soups, tomato sauces, poached fish and meat stews
Dill: fish, cream and cottage cheese, potatoes, fish, vegetable salads, pickles, tomatoes
Marjoram: fish, vegetable soups, cheese dishes, stew, roast chicken, beef, pork, stuffing
Mint: jellies, fruit juices, candies, frosting, cakes, pies, pork, potatoes, peas and chocolate
Oregano: tomato sauces, pork, pizza, vegetable and fish salads, chili
Parsley: meats, vegetables, soups, eggs, cheese
Rosemary: poultry stuffing, potatoes, cauliflower, fish
Sage: stuffing, pork roast, sausage, poultry and hamburgers
Savory: eggs, meats, salads, chicken, soups and stuffing
Tarragon: fish sauces, egg and cheese dishes, green salads, pickles, chicken, tomatoes, sauces for meats and vegetables
Thyme: soups, stuffing, beef, pork dishes, eggs, cheese, bean and vegetable soups and fish
Would you like to serve food that will lower your grocery bill and your family will love to eat?
Click here to get the Dining On A Dime Cookbook, with tasty recipes and great tips to make your life easier and save you money!