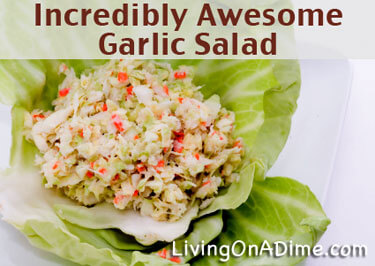 This Homemade Garlic Salad Recipe makes the most delicious garlic salad! It is one of our family favorites and even family members who usually don't like salads love this garlic salad!
Homemade Garlic Salad Recipe
8 stalks celery
8 carrots
1 pint Hellmann's or Best Foods mayonnaise (no substitutes)
1/4 tsp. garlic powder
1 tsp. garlic salt
Place celery and carrots in a blender with a little water. Chop finely, drain and dry between two paper towels. Add garlic powder, garlic salt and mayonnaise. Mix well and chill overnight. Serves 4.
This recipe is from the Dining On A Dime Cookbook. For more quick and easy recipes your family will love, check it out here!
[adsense2]