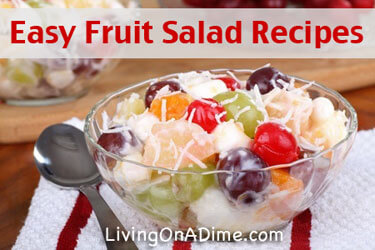 Easy Fruit Salad Recipes
Our readers are some of the best cooks and send us some really good recipes. Here are some Easy Fruit Salad Recipes that are quick and easy to prepare. They make a delicious and healthy addition to any meal, party or get together!
This first fruit salad recipe is from our reader Bea who found it on the Mr. Food website. It seems like I always have leftover rice and this recipe is a good way to use it. It's ok if you only have 1-1 1/2 cups left– You can still use this recipe. Just use what you have. Also, you can mix and match the fruit, using different kinds too.
Million Dollar Rice Salad Recipe
8 oz. cream cheese, softened
3 Tbsp. sugar
2 cups rice, cooked
1 cup red grapes, cut in half
1/2 cup chopped maraschino cherries
1 banana, sliced
1 (8 oz. or 12 oz.) container frozen whipped topping
1/2 cup walnuts, chopped
Combine cream cheese and sugar until smooth. Add rice, grapes, cherries, and banana. Mix well. Fold in whipped topping and nuts. Chill 1 hour before serving. You may garnish with maraschino cherries.
Here is a second fruit salad recipe from another reader, Rachel. She said she saw this one on Martha Stewart. It is super easy.
Light and Easy Fruit Salad
Fruit
Sweetened condensed milk
Toasted coconut
Cut up any type of fresh, frozen or canned fruit you have into a bowl. Pour just enough sweetened condensed milk on it to barely coat it until it  clings to the fruit. Don't drown it. Put into parfait glasses if you like and top with toasted coconut.
Rachel said that since she is the only one in her family who eats fruit, she keeps the sweetened condensed milk in the fridge in a container and then uses what she needs each day for her own individual servings.
The next fruit salad recipe is one I have used for decades and I love to make it for a refreshing fruit salad in the winter. I keep cans of tropical fruit in my pantry to use for this but you could use fresh fruit if you want – mango, papaya, pineapple, etc. I like to use a combination of fresh and canned fruit. For some reason, adding one fresh ingredient to anything canned seems to lead people to automatically think the whole thing is fresh.
Tropical Fruit Salad
1 can (any size) tropical fruit
1 banana, sliced
coconut
whipped topping, optional
Place the canned fruit in bowl and add banana. Sprinkle top with coconut. If you serve it in serving dishes you could add a dollop of whipped topping with a cherry on top but it isn't necessary.