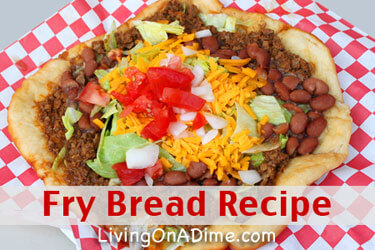 Navajo Fry Bread Recipe
4 1/2 cups flour
1/2 tsp. salt
2 tsp. baking powder
1 1/2 cups water
1/2 cup milk
oil for frying
Mix dry ingredients in a bowl. Stir in the water and milk. Knead several times. Roll out into 5-inch circles. Make a small hole in the center with your fingers. In a skillet, fry in several inches of hot oil at 375°. Dough will puff and bubble. Turn when golden brown. Drain on paper towels and serve hot for tacos or with honey. Serves 6.
Navajo Fry Bread Recipe – Quick and Easy Version
From: JO ANN G.
 I was in a rush this evening, so I thought I would use Grand biscuits, instead of making the version here. I just rolled them out with a rolling pin and put a small hole in the middle and followed the rest of the recipe. My family loves it! We also had
fried apples for dessert, and I crushed up some homemade (plain)granola bars on it. It was YUMMY!
Thank you so much for a wonderful site to explore new recipes and tips for living on a dime!
This recipe is from the Dining On A Dime Cookbook. For more quick and easy recipes your family will love, check it out here!