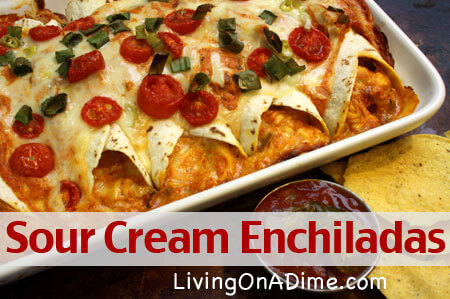 This Sour Cream Enchiladas Recipe makes yummy enchiladas that are easy to make and super popular with families. It's easy to add your own variations to satisfy everyone in your family!
Sour Cream Enchiladas Recipe
1 can enchilada sauce
8 oz. sour cream
8 oz. shredded cheddar cheese
12 corn tortillas
Spray a 9×13 pan (or one slightly smaller) with cooking spray. Place a tablespoon of sour cream and cheese in the center of each tortilla. Roll up each one and place in the pan. Pour enchilada sauce over it all and spread remaining sour cream and cheese on top. Cover and bake at 350 degrees for 20-30 minutes or 250 degrees for 45-60 minutes.
This recipe serves about 4. If you have hearty eaters, you may want to double it.
You can make this in the morning and let it sit until you are ready to cook it. Some people like to include cooked hamburger, onions, chicken or green chiles along with the sour cream and cheese.
This Sour Cream Enchiladas Recipe is from the Dining On A Dime Cookbook. For more quick and easy recipes your family will love, check it out here!
These recipes will make a great meal when used with the Sour Cream Enchiladas: