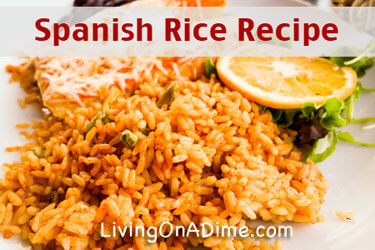 This Easy Spanish Rice Recipe makes a nice side dish to go with enchiladas and other Mexican food favorites. Serve with Refried Beans for a complete meal!
Easy Spanish Rice Recipe
1 chicken bouillon cube
1/2 cup water
1 cup rice, cooked
1 Tbsp. (or less) taco seasoning
1 clove garlic, minced
1 cup tomato sauce
Dissolve bouillon in water. Mix all the ingredients and bake uncovered at 375 degrees for 30 minutes. Serves 4.
This Spanish Rice Recipe is from the Dining On A Dime Cookbook. For more quick and easy recipes your family will love, check it out here!
These recipes will make a great meal when used with this Spanish Rice: