My Great Grandma's easy homemade apple crisp recipe is always a hit! Serve as-is or top with ice cream or whipped cream. Everyone loves this yummy dessert!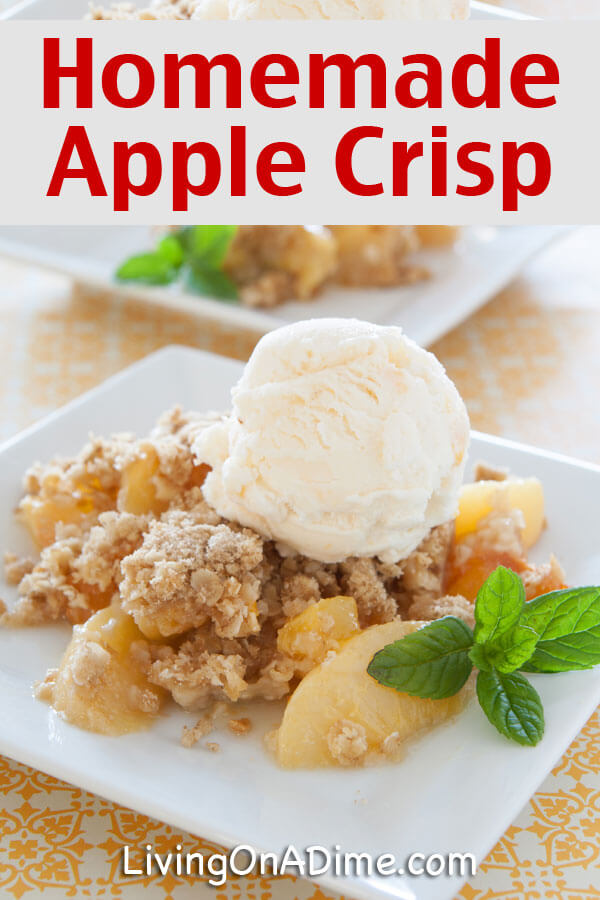 Easy Apple Crisp Recipe
6 apples, peeled and sliced
1/2 cup butter or margarine, softened
1 cup brown sugar
1/2 cup oatmeal
1/2 cup flour
1 tsp. cinnamon and/or nutmeg
1/2 cup water
Preheat oven to 350 degrees. Arrange apples in well-greased baking dish. Blend all remaining ingredients except water. Spread evenly over top of apples. Pour water over the topping. Bake 45 minutes until apples are tender and top is crisp. Serves 6.
For a Peach Crisp Recipe, use peaches in place of apples.
Would you like to serve food that will lower your grocery bill and your family will love to eat?
Click here to get the Dining On A Dime Cookbook, with tasty recipes and great tips to make your life easier and save you money!