Stop flushing money down the toilet! Check out these easy tips to help you figure out how to save money on toilet paper!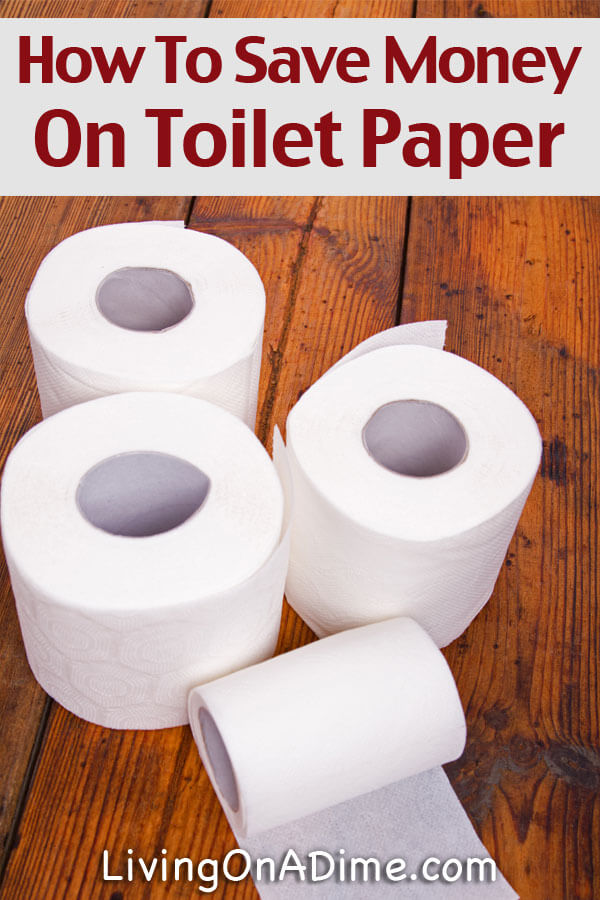 How To Save Money On Toilet Paper
From: Dana
I am having a really hard time figuring out how to calculate the best buy on toilet paper. Do you have any suggestions about the best way to figure this out (e.g. per sheet, square feet)? I have worn myself out trying to decide the best way to figure this out. Any suggestions?
Frankly I gave up on figuring it out! We now buy Ultra Charmin Mega Rolls and just try to buy it when it's on sale.  Why? Well, I hate the cheap stuff. You have to use twice as much so your hands don't get wet (sorry for the vivid details :-).
We teach the kids to use less. This is the best way to save money on toilet paper. With my 6 year old, we said, "You need 4 squares to wipe," so now he counts and knows not to yank off a huge amount. This is one area I try to "just let it go".  Life is too short to be yelling at hubby to use less if I think he is using more TP than he needs to. 🙂
      -Tawra
Dana,
When you calculate, I would just consider number of sheets per roll. Square feet is too confusing and doesn't really matter. Some stores, like Wal-Mart now have tags that break it down to show you the actual comparison so it's easier to calculate.
      -Mike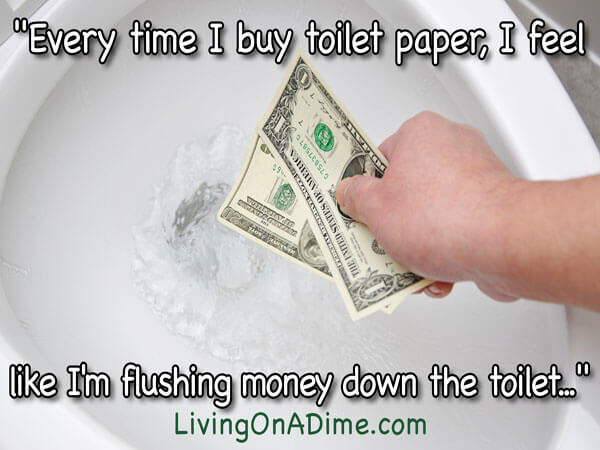 I have always used expensive toilet paper. I have calculated the cost over the years ( 200 sheets of 2 ply = 400 sheets compared to 300 sheets of 1 ply= 300 sheets. If they are both the same price, then the first is the best deal) and it pays to buy the expensive brand.
Here are some reasons to use more expensive toilet paper:
Most people use twice as much of the cheap toilet paper so they won't get their hands dirty.
Using too much cheap toilet paper can clog some toilets. My uncle the plumber said that a good portion of his calls were to unplug toilets clogged with toilet paper, especially in homes with teenage boys and husbands. If you have this problem, I recommend asking your husband to be more careful, especially if you are the one having to clean up the mess. Sometimes the problem isn't that you have a bad toilet but the wrong toilet paper and a wadding husband, so cheap toilet paper can get to be very expensive. (Mike: Heyyy… I sense an awful lot of  "dumping" on husbands here!) (Jill the mother in law – if the shoe fits???:)
The Best Solution
Teach all members of the family to fold their toilet paper instead of wadding it. This may seem like an embarrassing thing to do but if you are serious about saving money and TP, you will do it.
If, when you pull the paper, it comes flying off the roll, fix the toilet paper holder. Adjust it so it won't spin quite so fast.
Another way to help teach to use the right amount is on the wall where the toilet paper roll, roll down how much the kids should use and mark a line on the wall where it stops or mark with a piece of tape. Of course this is not set in stone but just gives a guideline to young kids (and some adults)
Most families who "wad" use 50% to 75% more toilet paper than those who fold. Once again, using just the right amount will save money.
Boy, when we say we cover how to save money in all areas of your life on our web site we aren't kidding, are we? : ) : )
      -Jill
For more easy and practical ways to save money and get out of debt, check out Dig out Of Debt and learn more about how to keep more of your money.