This easy omelette recipe is delicious and easy to adjust to your taste! Homemade omelettes are a super tasty and healthy breakfast treat, but you don't have to spend a lot to eat out to get this yummy breakfast item! Here's our easy recipe!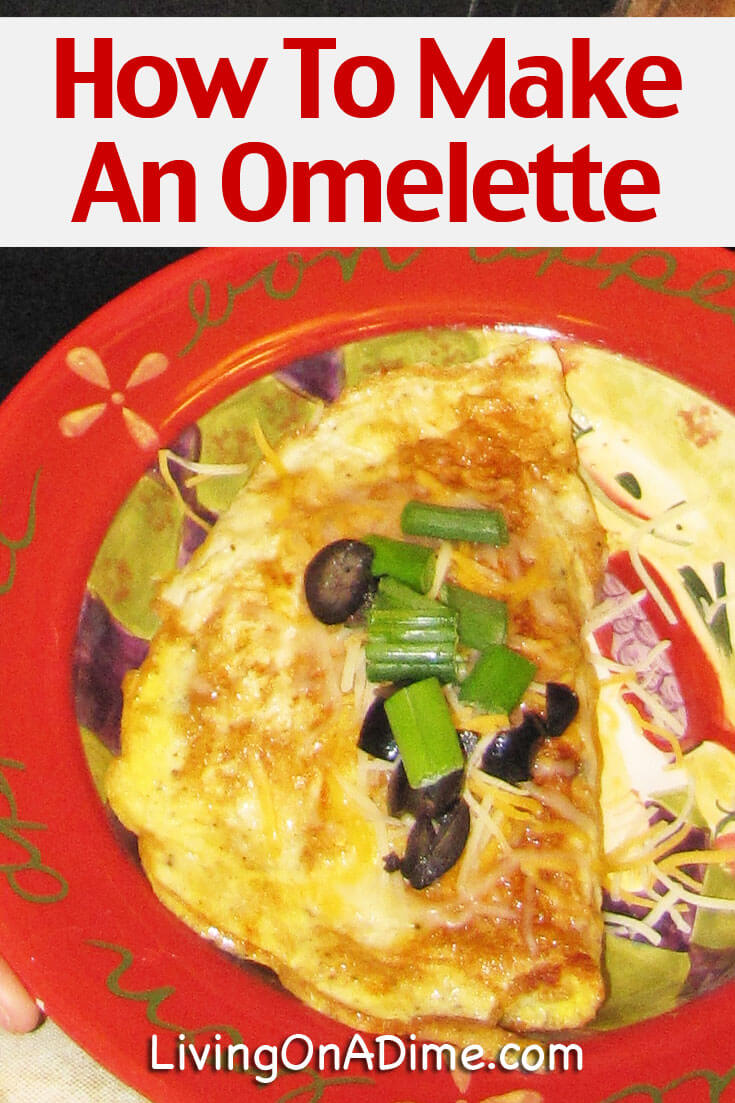 How To Make An Omelette – Easy Omelette Recipe
2 eggs
salt and pepper (to taste)
olive oil or other cooking oil (optional)
Fillings of your choice, up to 5 Tbsp. combined of the following:
grated cheese
bacon or bacon bits
ham, or other lunch meat, sliced small
sliced black olives
sliced mushrooms
chopped green onion, white onion or red onion
bell peppers or other peppers
diced tomatoes
salsa
any other meat, cheese or veggie ingredient that sounds good to you
Gather the filling ingredients you intend to use. Slice or chop each ingredient and put in separate bowls or in separate piles on a plate.
Crack eggs into a measuring cup or bowl. Scramble lightly with a fork. Add salt and pepper.
Make sure all of your ingredients are prepared before heating the pan and that you have a wide spatula (food flipper). Heat non-stick frying pan on medium high heat for 2 minutes. If you like, you can add a small amount of oil to make sure the omelette will not stick to the pan.
When the pan is heated, pour the egg mixture into the frying pan. Watch carefully as it will cook quickly.
As the edges of the egg begin to stiffen, quickly add each of the desired filling ingredients.
As the eggs cook, they will get less runny. When the edges of the eggs pull away from the pan slightly and the eggs are less runny in the middle, carefully slip the spatula under one side of the eggs and fillings and fold it over the other half. Reduce heat and let it cook a little more to seal the omelette closed. Continue cooking until the eggs are as cooked as you desire, flipping the omelette over after it seals if you'd like to cook the other side more.
Don't overcook the omelette or it will get dried out.
Using the spatula, slide the omelette out of the pan onto a plate. Garnish with some of the remaining filling ingredients to make it pretty. Cheese, olives, onions and tomatoes make nice garnish toppings.
Serve right away.
Notes:
You can make this recipe with 3 eggs or 1 egg if you prefer a larger or smaller omelette.
If you plan to make more than one omelette, prepare all of the filling ingredients in advance. After cooking the first omelette, remove the pan from the heat for a moment to let it cool slightly. If the pan gets too hot, the eggs will begin sticking to it and will be more difficult to turn.
If something goes wrong and you don't manage to keep the omelette together while you're flipping it, you can still serve it. If you don't like how it looks, you can quickly break it up as with scrambled eggs and turn it into "ranchero eggs". ;-)
Would you like to serve food that will lower your grocery bill and your family will love to eat?
Click here to get our Dining On A Dime Cookbooks, with tasty recipes and great tips to make your life easier and save you money!