These easy homemade sugar scrub recipes can be made with ingredients you already have at home! They make great gifts and are nice for a luxurious break!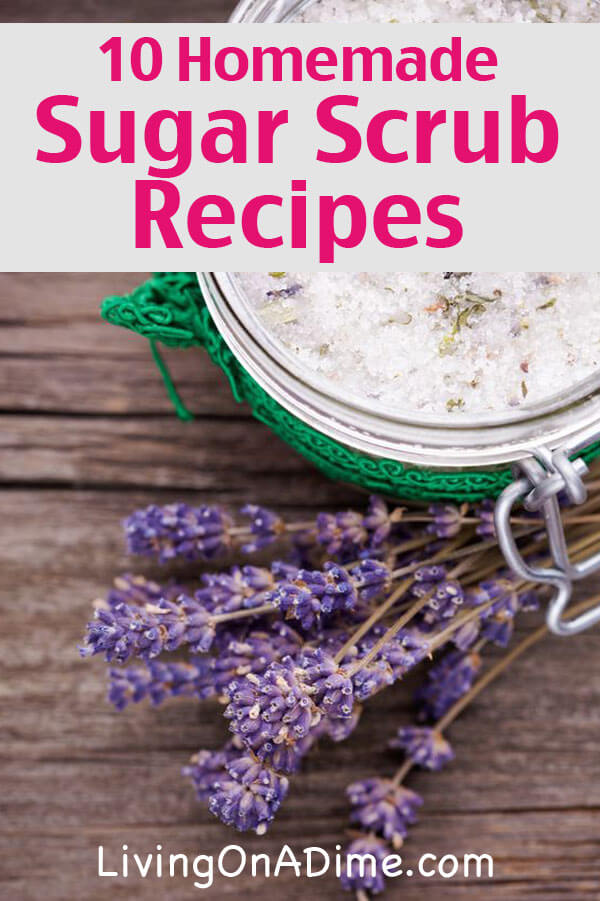 Homemade Sugar Scrub Recipes
If you have problems with dry hands, you have to try these homemade sugar scrub recipes! These are so simple to make and works wonderfully to relieve dry hands in the winter. They also make a great way to relax after a hectic day!
When you make these recipes, you can use salt in place of sugar if you prefer.
Basic Sugar Scrub Recipe
2 cups of sugar
1 cup of oil
Mix. I use canola oil because it is cheap but you could use olive oil, grapeseed oil, almond oil or baby oil. Just about any type will work.
You can use this mix unscented or you can add any of the scents you would like from below.
Cinnamon Vanilla Sugar Scrub Recipe
1 tsp. cinnamon
1 tsp. vanilla
Mix and add to sugar/oil mixture.
Pumpkin Pie
2 tsp. each cinnamon, nutmeg, ginger, cloves
Mix and add to sugar/oil mixture.
Peppermint Foot Scrub
1 tsp. peppermint extract or essential oil
Mix in with oil and add to sugar.
Mocha Spice
1 Tbsp. ground coffee
1 Tbsp. cocoa powder
1 tsp. cinnamon
pinch each nutmeg and ginger
Mix the above ingredients in with the sugar in the basic recipe and then add the oil.
Lemon
1 tsp. lemon extract OR lemon essential oil OR 1 Tbsp. lemon zest
Mix in oil and add to sugar.
Lavender
5-6 drops of lavender essential oil
Add to oil and mix in sugar.
Baby Soft Scrub
2 cups of sugar
1 cup scented baby oil
Mix.
Stress Relief
1/2-1 tsp. spearmint oil
1/2-1 tsp. peppermint oil
1/2-1 tsp. eucalyptus oil
Mix.
Orange Clove
1 tsp. orange oil
1/2 tsp. clove oil 
Mix.
I found a couple of really pretty ways to present these sugar scrub recipes. The ideas are really endless! Tawra

From: inbetweenlaundry.blogspot.com

From: www.bystephanielynn.com
For lots more "delicious" bath and body recipes like these, check out our Dining On A Dime Cookbook!