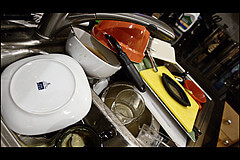 I'm known in my family and with friends for "telling it like it is". As a matter of fact when I was in Holland I got a plaque that said "Lord, Please help me to keep my big mouth shut until I know what I'm talking about!" That's been my motto ever since but it still hasn't kept me from just "telling the truth" most times. (Tact has never been a strong quality of mine!)
Well, the nut doesn't fall far from the tree and now my kids tell are telling me the truth! Last night at dinner I asked Mike, "Am I a nag? There was this lady on TV who nagged her family to keep everything spotlessly clean and they were all sick of it. She wouldn't even let her husband finish making something in the kitchen before putting away the stuff. She NEVER stopped nagging them and the family was very much stressed out because of it."
My daughter Elly responded,  "Of course not mom, you're not a nag… Look at that big mess in the kitchen!" LOL We just couldn't stop laughing! I have to say I wasn't sure how to take that, especially since I had been working all day long to keep the house spotless in case we need to show it! It always amazes me how when the kids get home from school everything just seems to blow up!

Tawra
I love it. One of the things I love about being a grandparent is I get to see my grand kids say and do all the things my kids did to me.

  What comes around goes around.

Jill
Photo By: Mike McCune