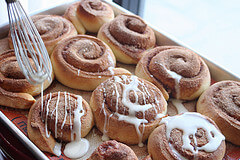 A Different and Delicious Twist on Cinnamon Rolls
From: Sue
Regarding your cinnamon roll recipe made with the "Ninety Minute Rolls" dough – here's a tip when you use the dough for cinnamon rolls:
Use peanut butter (smooth or chunky) instead of margarine to spread over the dough. Be generous! It makes a wonderful nutty flavor. If you make an icing from powdered sugar to drizzle over the top, use a drop of vanilla flavoring and a drop of almond flavoring in the icing. You will think these came from the gourmet bakery. Yum yum!
Ok, I'm not so sure about this one but it just sounded too interesting for me not to post it.

What can I say I'm pregnant! hehehe
(Note: We aren't announcing anything.. This was originally posted in 2009.)
-Tawra
Photo by: whitneyinchicago