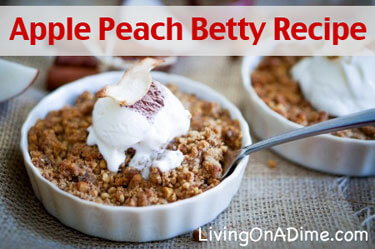 This Apple Peach Betty Recipe is an old favorite apple cobbler or apple crisp recipe. It isn't often you find a tasty recipe for a homemade dessert that takes only 30 minutes from start to finish including baking time, but this is one of them!
Apple Peach Betty Cobbler Recipe
Filling
1 (29 oz.) can sliced peaches, drained
1 (21 oz.) can apple pie filling
1 Tbsp. grated lemon peel, optional
1/2 tsp. nutmeg, ground*
Topping
1 cup all purpose flour
1/2 cup sugar
1/2 tsp. nutmeg, ground*
1/2 cup butter or margarine, softened
4 oz. slivered almonds, chopped
Heat oven to 425 degrees. Mix all of the filling ingredients in a greased 9 inch deep dish pie pan or casserole dish.
In separate bowl, combine flour, sugar, and nutmeg. Cut in butter until it resembles coarse crumbs. Add half of the almonds to the crumb mixture. Spoon crumb mixture over the fruit. Bake 15 minutes. Remove from oven and sprinkle with the rest of the almonds. Bake 5-10 minutes longer until the filling is hot and the top is golden.
Serve with whipped topping or ice cream.
*You could use cinnamon if you need to in one or both of these places.
Would you like to serve food that will lower your grocery bill and your family will love to eat?
Click here to get the Dining On A Dime Cookbook, with tasty recipes and great tips to make your life easier and save you money!