This homemade white sauce recipe is super easy to make and is useful for enhancing all kinds of meals. This white sauce is easily adaptable for various recipes and we have included easy dinner recipes and tips for great ways to use the white sauce!
White sauce and white gravy are essentially the same thing, so you can use it for biscuits and gravy or as a sauce for many main dish and breakfast recipes. Read on to find some easy meal ideas you can make with it!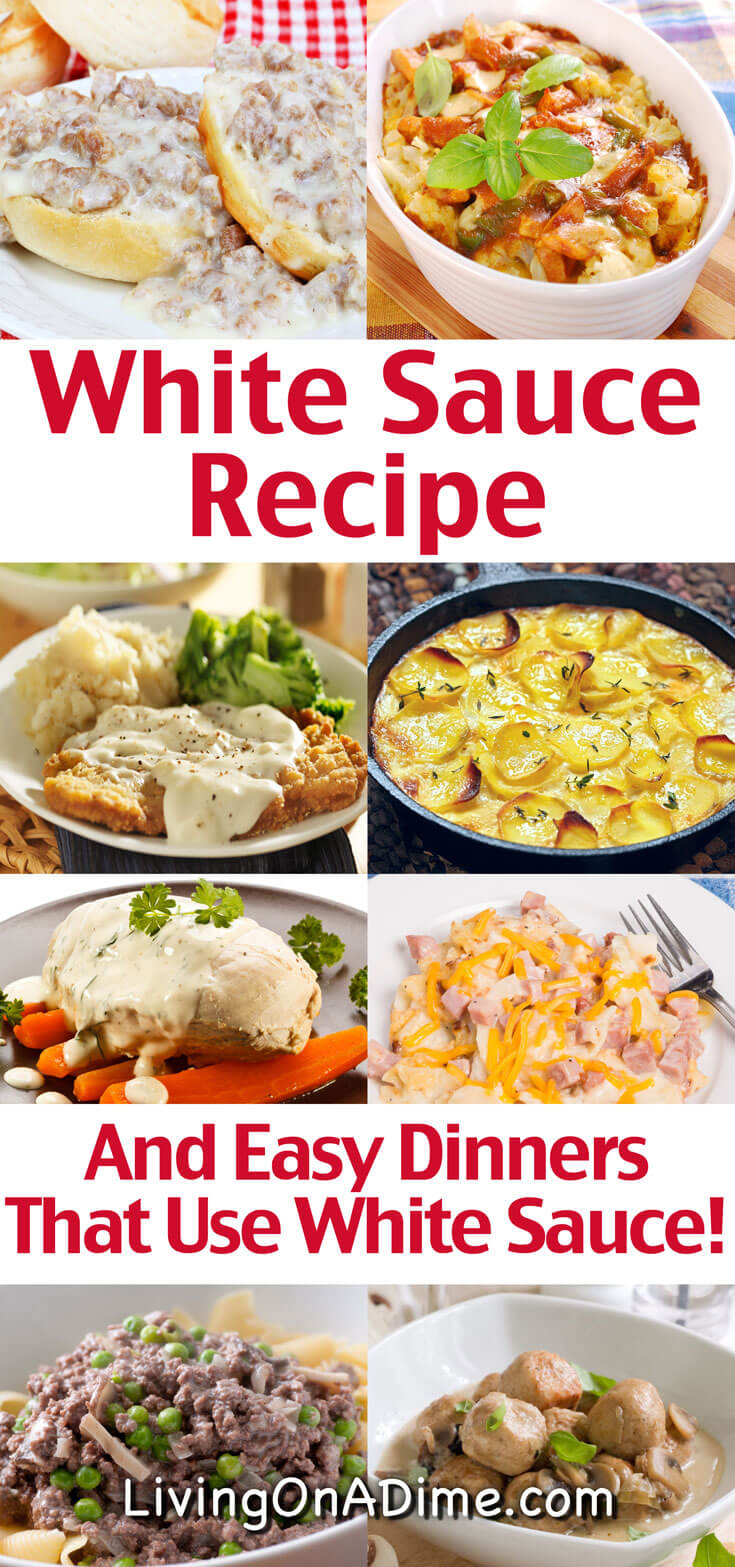 This is the white sauce recipe that grandma used to make when she made biscuits and sausage gravy or hamburger gravy on toast. This classic dish is easy to make and it's actually pretty nutritious.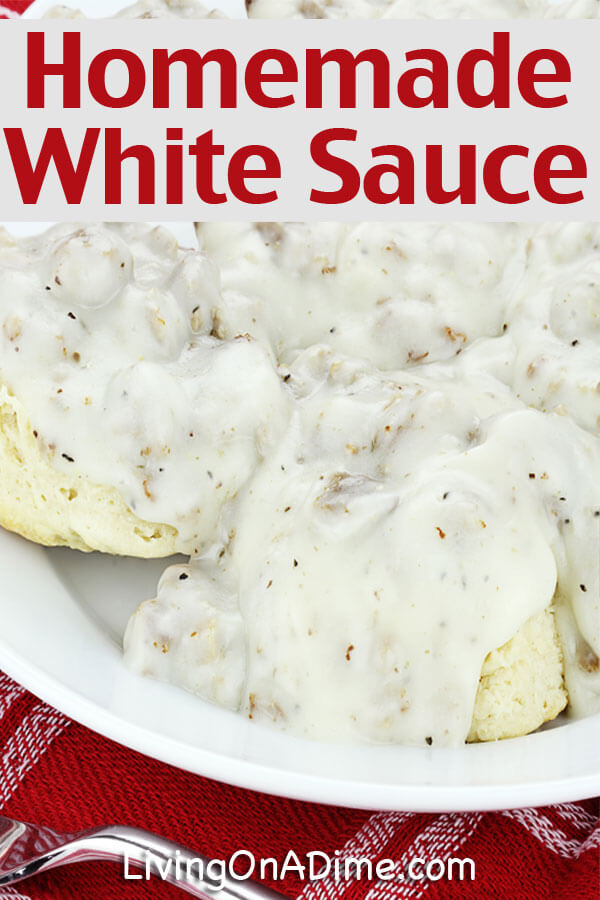 Easy Homemade White Sauce Recipe
1 cup milk
2 Tbsp. flour
dash salt
1 Tbsp. margarine
In a covered jar, combine milk, flour and salt and mix well. Shake until all the ingredients are dissolved.
Melt margarine in a 1 quart saucepan. Stir in flour-milk mixture and cook over low heat until mixture thickens and starts to bubble. Keep stirring until thickened completely.
This recipe equals 1 cup or 1 can of cream soup. May be easily doubled or tripled to fit your needs.
This is the white sauce recipe that grandma used to make when she made biscuits and sausage gravy or hamburger gravy on toast. This classic dish is easy to make and it's actually pretty nutritious.
You can find this white sauce recipe in our cookbook on page 143:
Would you like to serve food that will lower your grocery bill and your family will love to eat?
Click here to get our Dining On A Dime Cookbooks, with tasty recipes and great tips to make your life easier and save you money!
Here are some tips to use white sauce and you'll find easy recipes below!
How To Use White Sauce – Tips And Ideas
White sauce or white gravy is very easy to make and you can use it in so many ways, especially if you are trying to stretch food like meat. (White sauce is just unflavored gravy.) Here are some ideas and tips about how to use homemade white sauce to make lots of delicious meals and, often, use leftovers at the same time!
Add the following to white sauce:
Serve white sauce on toast with:

Hard boiled eggs, chopped
Can of tuna and/or frozen peas
Ham
Dried beef
Fried hamburger
Serve white sauce as white gravy:
Mix with fried sausage and serve over biscuits
As a side, serve white sauce with:
Potatoes, cubed and cooked with some melted American cheese
Broccoli, cooked and with some cheese
Cauliflower cooked and with some cheese
Macaroni and cheese – Just add cooked macaroni and cheese to white sauce and bake until the cheese is melted.
Use white sauce as a base for:
Chicken pot pies
Casseroles
 This white sauce recipe is the one I use because I can get regular milk on sale and I prefer regular milk to dry milk.
Easy Recipes That Use White Sauce
This meatballs with mushroom gravy recipe makes a quick and easy home cooked meal! Just add a vegetable and you have the perfect easy dinner!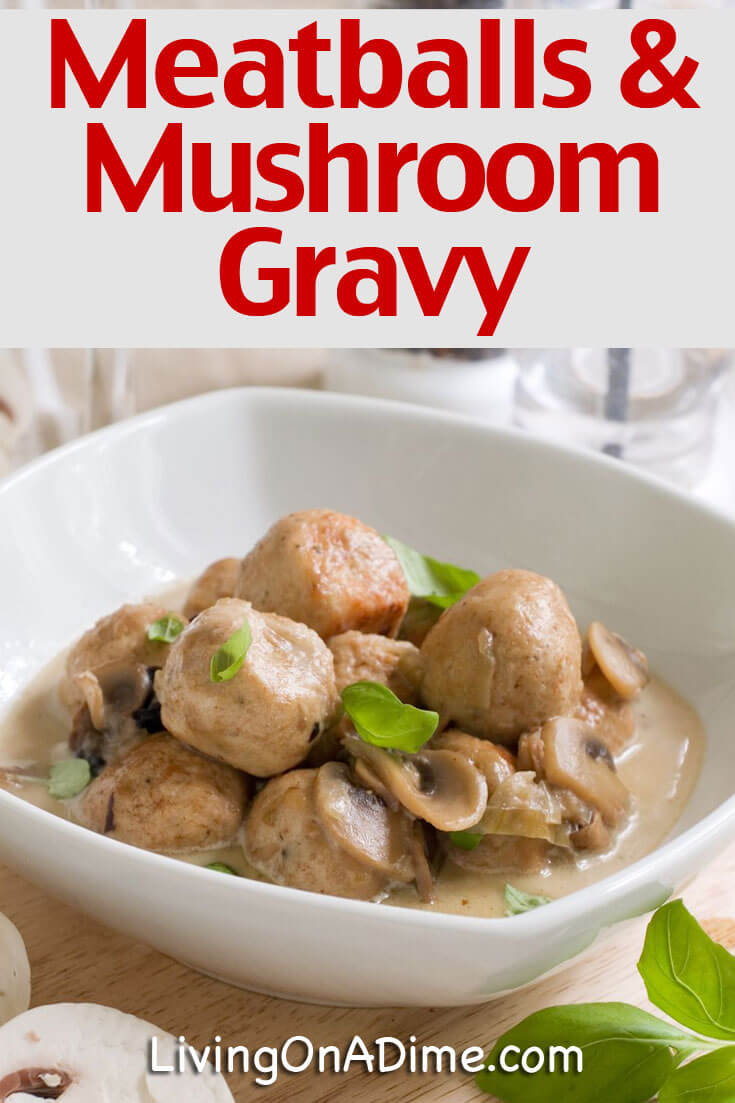 Meatballs With Mushroom Gravy Recipe
This Recipe Was Submitted by Roxie in Texas
1 pound ground beef
1/4 cup bread crumbs (dry)
1 egg, beaten
2 Tbsp. finely chopped onion
1/4 tsp salt
1/4 tsp pepper
Mix all ingredients together and form into small balls about 1 1/2 inches in diameter. (I form mine in a teaspoon.) Bake at 400 degrees for 10 -13 minutes. This makes about 40 meatballs.
How to make the white mushroom gravy:
1 cup white gravy (white sauce)
1 small can mushrooms, chopped (optional)
Whisk gravy and mushrooms together and pour over the cooked meatballs. Bake for about an hour at 300 degrees. Serve over mashed potatoes.
I have also made this with cheddar cheese soup. Just as good, only a different taste.
This golden morning sunshine recipe is a quick and tasty breakfast recipe! You can make it any time but since it's also a great way to use hard boiled eggs, it's an especially good way to use all those colored eggs from Easter and have a tasty breakfast or dinner! You can find this recipe in our cookbook on page 63.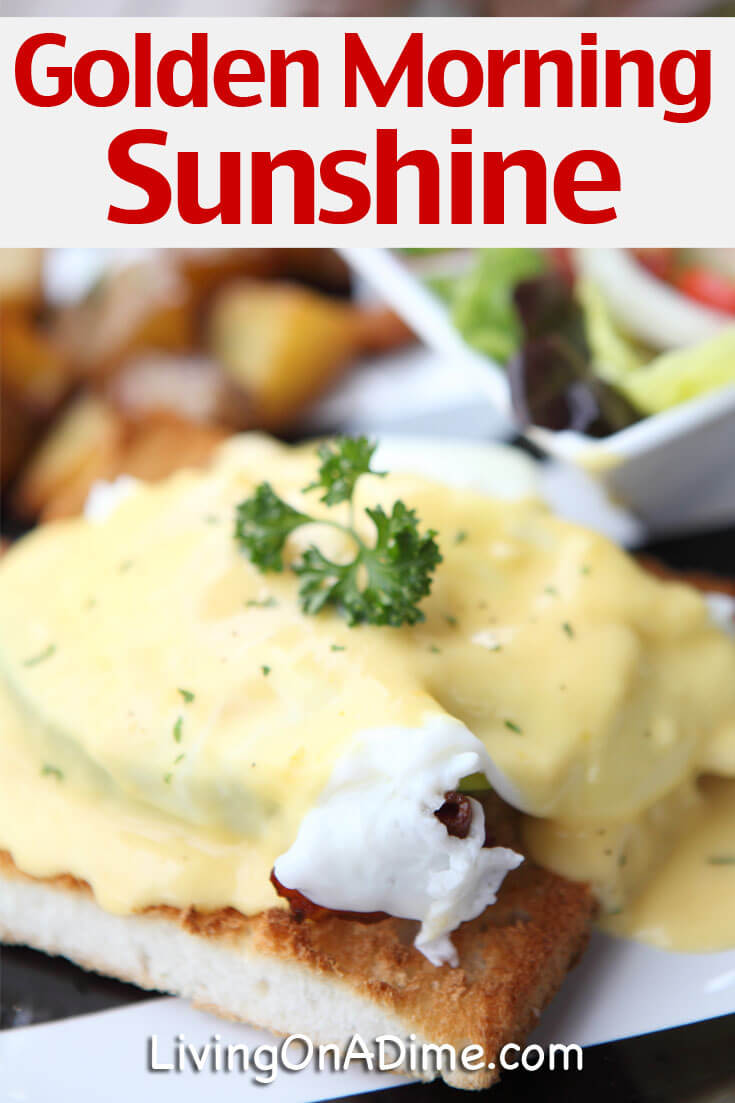 Golden Morning Sunshine Recipe
2 cups white sauce
4 eggs, hard boiled and chopped
Make the white sauce. Once the white sauce has thickened, add eggs. Serve on toast.
(You can use more or less white sauce and eggs to taste.)
This sausage stroganoff recipe makes a creamy home cooked dinner that's hearty and delicious!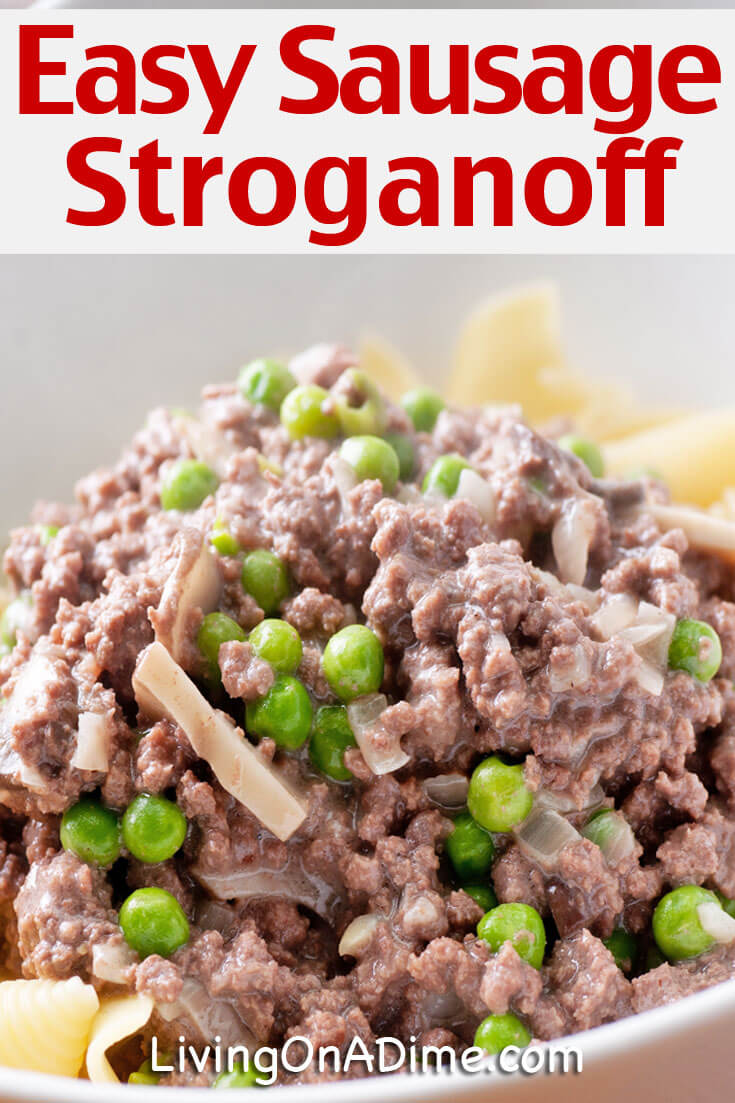 Sausage Stroganoff Recipe
1 lb. bulk pork sausage
1 cup onion, chopped
2 1/2 oz. jar sliced mushrooms, undrained
1 1/2 cups white sauce
1 1/2 cups potatoes, cooked, cubed
1 cup sour cream
10 oz. can buttermilk biscuits
1 cup peas, cooked
Heat oven to 375 degrees. In a 10 inch oven proof skillet, brown sausage and onion, drain. Add mushrooms. Over low heat, slowly add white sauce, stirring constantly. Add potatoes and heat till bubbly. Stir in sour cream.
Arrange the 10 biscuits around the outer edge of the skillet and spoon the peas into the center. Bake for 15-20 minutes or until biscuits are golden. Serves 5-6.
This crockpot salisbury steak recipe is an easy comfort food recipe your family is sure to love! Why pay so much for it at a restaurant when you can make it at home fast and save. It's quick to put together and then you can let it cook in the crockpot until you're ready to serve!
For this recipe, you can start with white sauce and adapt to make the brown gravy.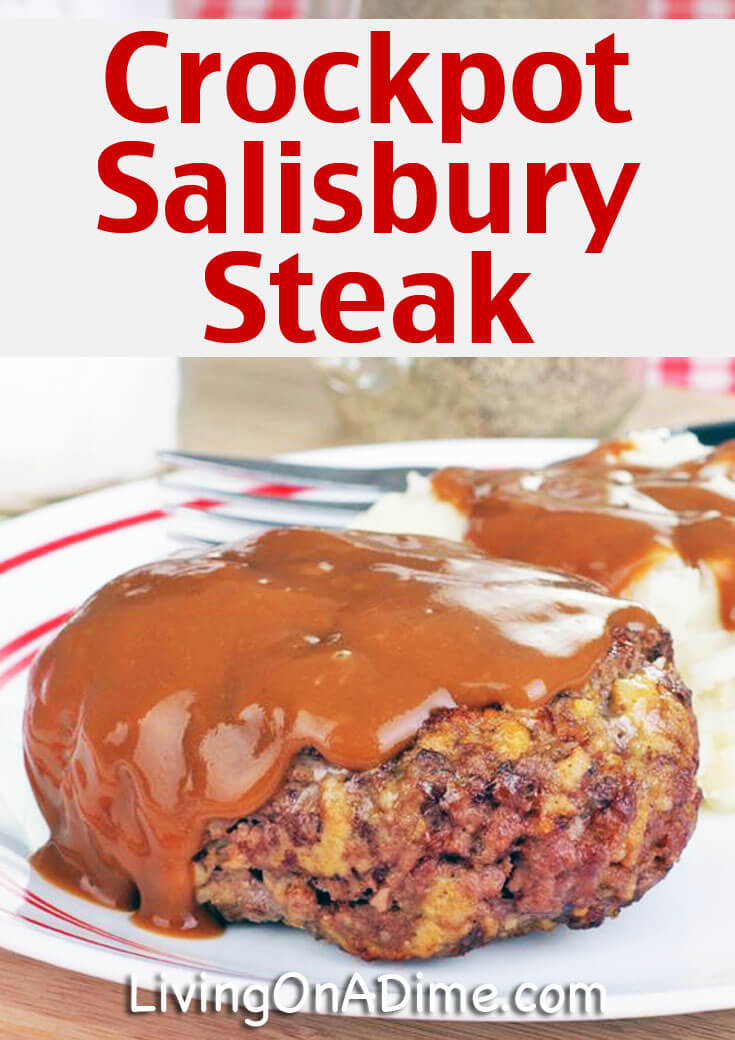 Crockpot Salisbury Steak Recipe
2 lbs. ground beef
1 pkg. onion mushroom soup mix (If you can't find it, then onion soup mix will work too.)
1/2 cup saltine crackers, crushed
1 egg
1/4 cup milk
2 Tbsp. vegetable oil
1/4 cup flour
2  cups white sauce
1 pkg. brown gravy mix, prepared according to package directions.**
Mix the first 5 ingredients and shape into 8 patties. Pour vegetable oil into frying pan, dredge the patties on both sides with the flour*. Brown in the hot oil on both sides. Place patties in a crockpot. They can overlap. Combine white sauce and mixed gravy. Pour over patties. Cook on low for 4-6 hours until patties are cooked through.
*I just pour the flour onto a plate, lay the patty in it and dredge on each side.
**You could replace the gravy mix with about 1 cup leftover roast gravy.
This easy ham and noodles recipe is a quick and easy recipe that kids and families love! It's a great way to use leftover ham! Keep some ham in the freezer just to use for easy recipes like this and it'll be even quicker!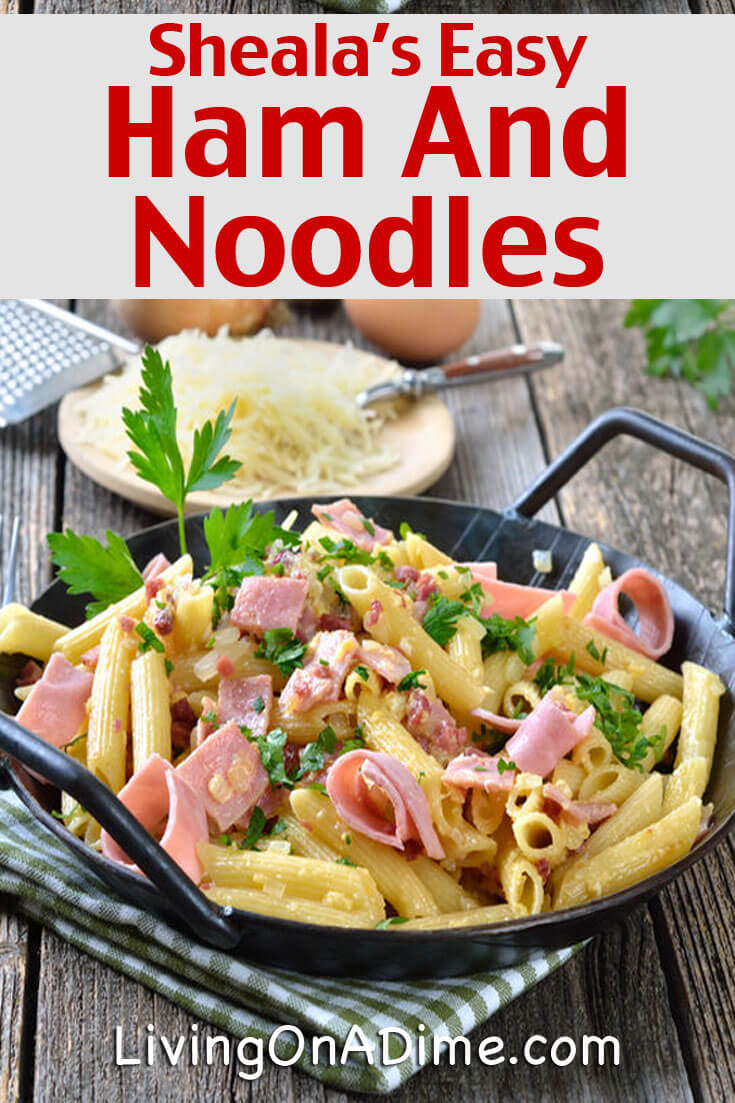 Sheala's Easy Ham and Noodles Recipe
1 (8 oz.) pkg. egg noodles, cooked
1/2 lb. ham, chopped 
1 cup white sauce
1 cup Cheddar cheese, grated
Mix first three ingredients together in a casserole dish and bake at 350 degrees for 20 minutes until warmed. Top with cheese and bake an additional 5 minutes or until cheese melts. Serves 4.
You may add 1 package of any vegetable.
This easy crockpot meatball soup recipe makes a hearty meal great for busy days! Your family will love this comfort food recipe and you won't have to spend a lot of time in the kitchen! Win-Win!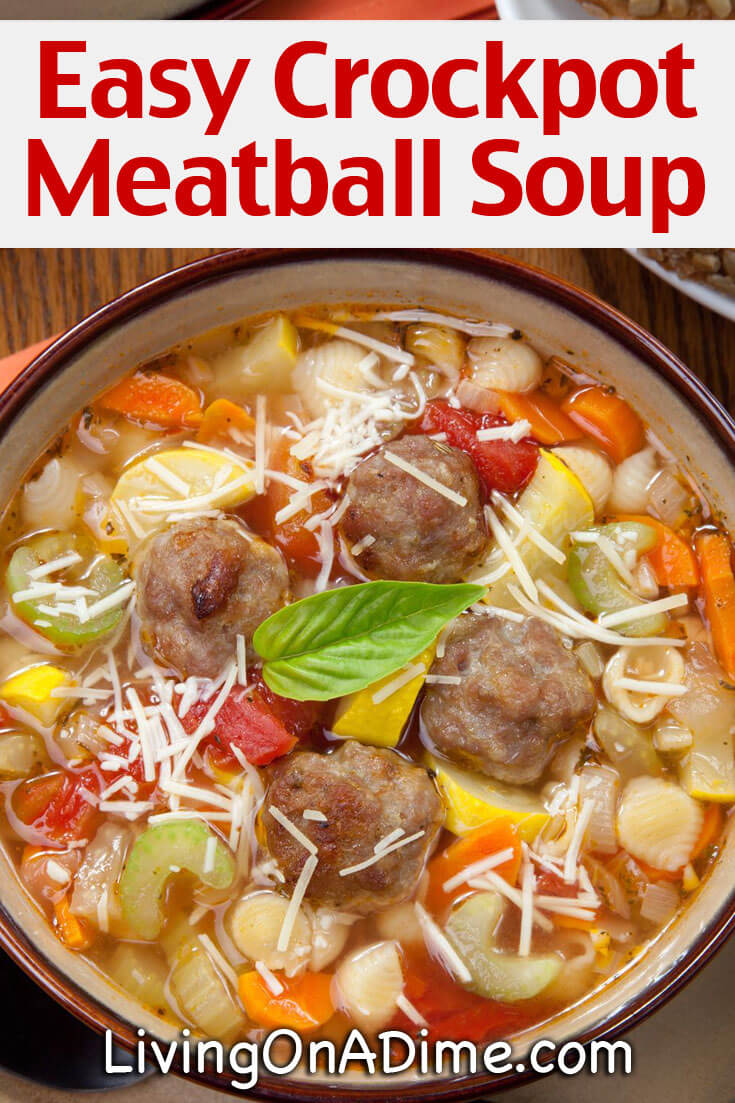 Crockpot Meatball Soup Recipe
Your family will love this easy crockpot meatball soup recipe! You can adjust the vegetables to use what you have on hand. For example, you could use four potatoes instead of three, you could use fewer carrots, etc.
3 potatoes, peeled and cubed
1 pkg. (16 oz.) fresh baby carrots, quartered
1 large onion, chopped 
3 celery ribs, sliced
1 (12 oz.) pkg. frozen cooked meatballs 
1 (10 1/2 oz.) can tomato soup, undiluted 
1 cup water
1 (10 1/2 oz.) can beef gravy* or 1 cup white sauce with 1 packet gravy mix
1 envelope onion soup mix 
2 teaspoons beef bouillon granules
Layer the first 5 ingredients in a 5 quart slow cooker. Mix the remaining ingredients together and pour over meatballs and vegetables. Cover and cook on low for 9-10 hours or until vegetables are tender. Makes 6 servings.
*You can freeze gravy so the next time you have one or two lone cups of gravy left over, freeze it and save for this recipe.
This creamy chicken recipe is an easy dinner recipe that you can make in the oven or the crockpot. Serve over rice, poratoes or your choice of vegetables. It takes just a few minutes to make and everyone will love it!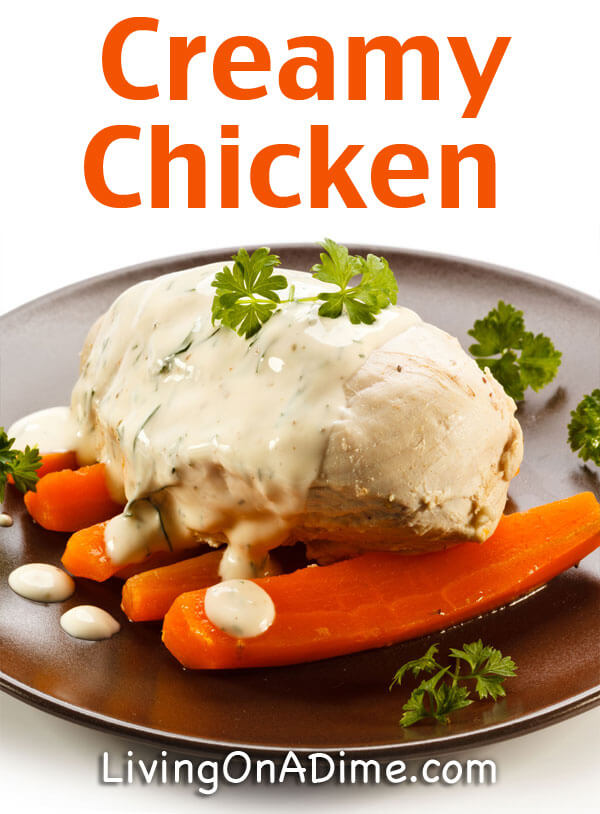 Easy Creamy Chicken Recipe
4 boneless chicken breasts
1 cup white sauce
1 can small chopped mushrooms (optional)
Pour white sauce over chicken breasts. Bake at 275 degrees, covered with foil, for 1 1/2 to 2 hours until the chicken is cooked through. Serve over rice and or cooked vegetables.
You can also make this easy dinner recipe in the crockpot. Just dump everything in and cook for 4-6 hours on low.
This chicken fried steak recipe is quick and easy and so delicious that your family is sure to love it! Save on your food bill with this inexpensive recipe, which costs dramatically less than the restaurant version!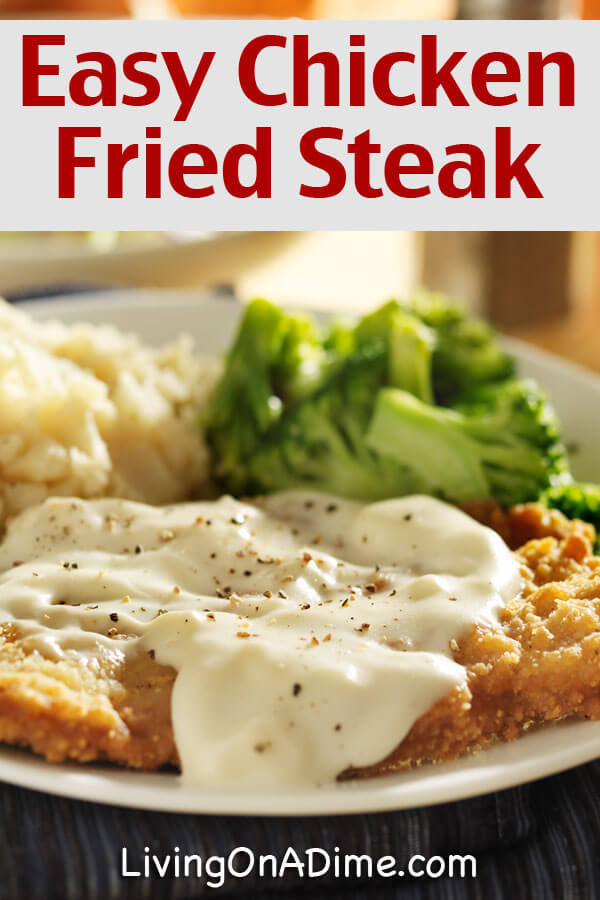 Easy Chicken Fried Steak Recipe
1 lb. hamburger (You can use pre-made patties.)
1/4 cup milk, place in shallow bowl
1/4 -1/2 cup flour, place on plate
1 egg, whipped with fork and place in shallow bowl
1/2 -3/4 of a tube of crackers, crushed, place on plate
2 cups white sauce
Form hamburger into 5-6 patties. Dip each patty into milk, flour, egg and last of all crackers. Place in a hot frying pan with a little oil. Season with salt, pepper, onion and garlic powder. Turn down heat and fry on one side then flip to other side. Hamburger is done when the juices run clear. Top with White Sauce. Add extra pepper if desired.
This chicken supreme recipe makes a hearty casserole that is a great way to use leftover chicken or hard boiled eggs. It's a nice variation that will please your family or guests!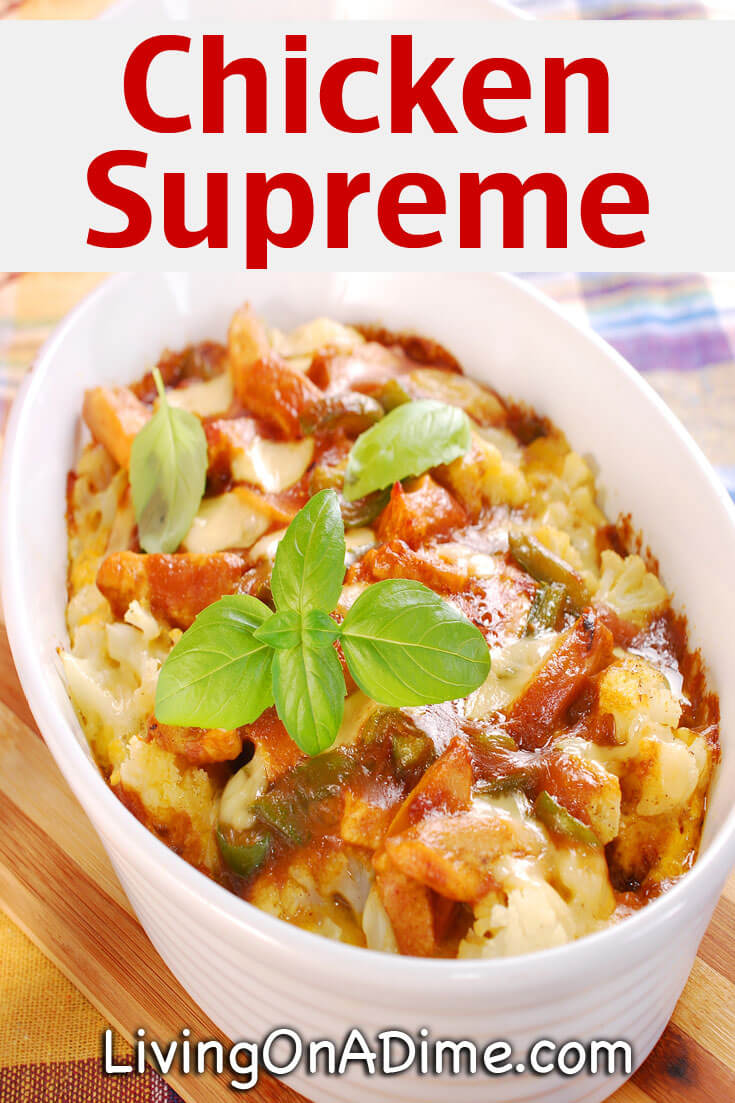 Chicken Supreme Recipe
2 cups chicken, cooked and diced
1/4 cup mayonnaise
1 cup rice, cooked 
1 (4 oz.) can mushrooms
1 cup celery, diced
3 hard boiled eggs, chopped
1 Tbsp. lemon juice
1 Tbsp. onion, chopped
1/2 cup slivered almonds 
1 cup white sauce
1 cup Ritz crackers or corn flakes, crumbled
2 Tbsp. butter, melted
Mix everything but the cracker crumbs and butter. Pour into a 2 quart greased baking dish. Mix cracker crumbs and butter and sprinkle on top of casserole. Bake at 350 degrees for 30-40 minutes until heated through and bubbly.
This easy ham and potatoes recipe makes a tasty one dish meal that's quick and easy to make. This is a hearty classic favorite comfort food that's sure to please!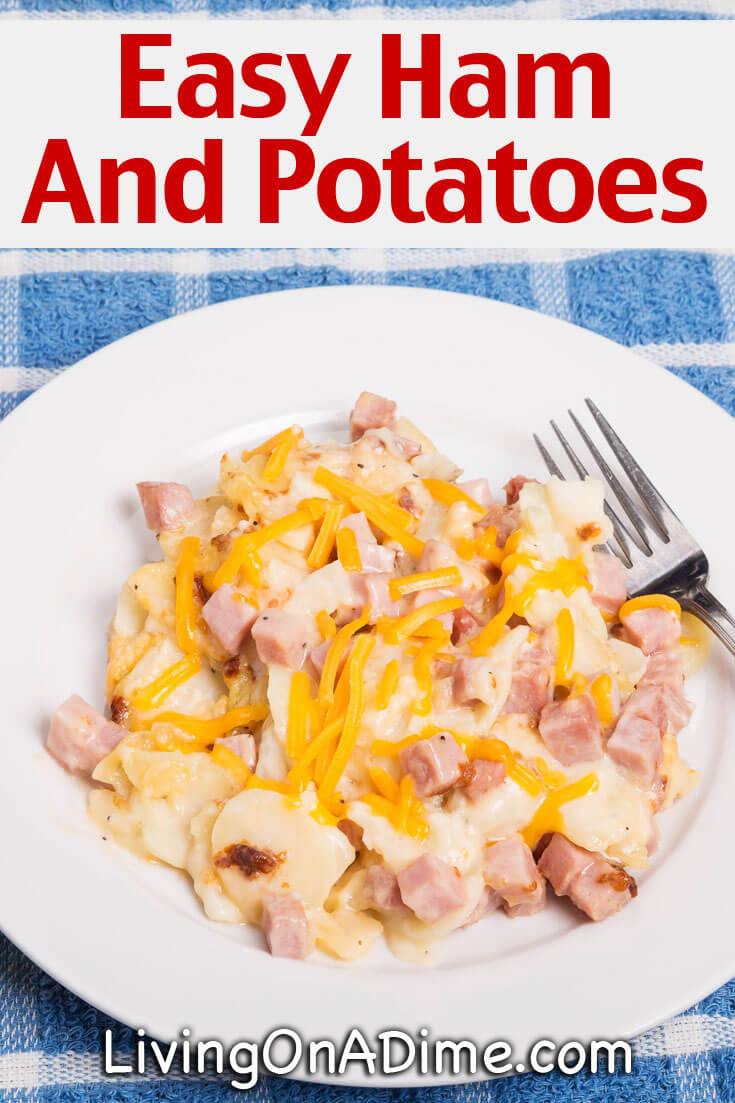 Easy Ham and Potatoes Recipe
6 potatoes, peeled and thinly sliced
2 cups cheddar cheese, shredded
1/2 -1 lb. ham, thinly sliced
1 onion, chopped
1 cup white sauce (or 1 (10 3/4 oz.) can cream of mushroom soup)
1 small can mushrooms, chopped (optional)
Layer the potatoes, then some cheese, then some ham and then chopped onion. Continue to layer to 3 inches from top of crockpot. Then pour cream of mushroom soup on top. Let simmer for several hours on low until potatoes are cooked through.
This chicken pot pie recipe is a delicious one dish meal that's quick and easy to make. This is a great way to use chicken leftovers or use turkey instead of chicken and save even more money on this classic favorite!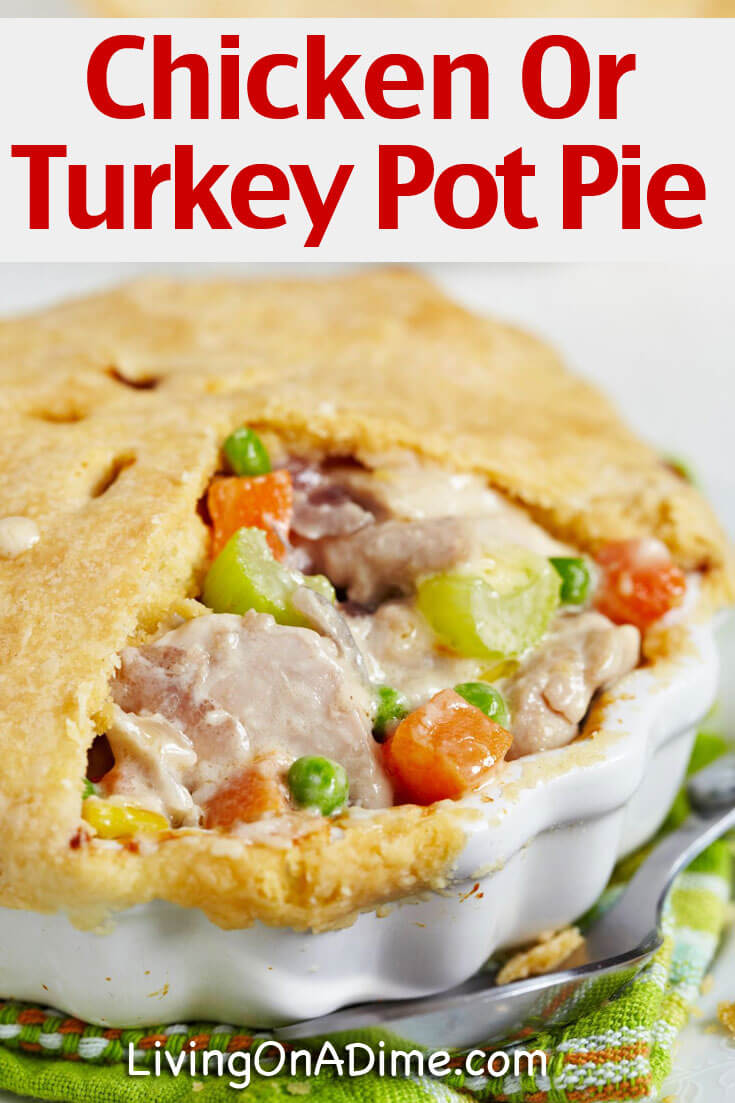 Chicken or Turkey Pot Pie Recipe
1 2/3 cups frozen mixed vegetables, thawed
1 1/2 cups chicken or turkey, cooked and cubed
1 cup white sauce
1/4 tsp. thyme, dried
1 cup biscuit mix*
1/2 cup milk
1 egg
In a bowl, combine vegetables, chicken, soup and thyme. Pour into an ungreased 9-inch pie plate. Combine biscuit mix, milk and egg. Pour over chicken mixture. Bake at 400 degrees for 25-30 minutes until golden brown. Serves 4-6.
*For a super easy and quick dish replace the biscuit mix, milk and egg and use canned biscuits or crescent rolls to top the chicken mixture.
This Mexican cheese casserole recipe is a quick and easy meal your family is sure to love! It only takes a few minutes to toss together and you can easily adapt this to your own family's preferences.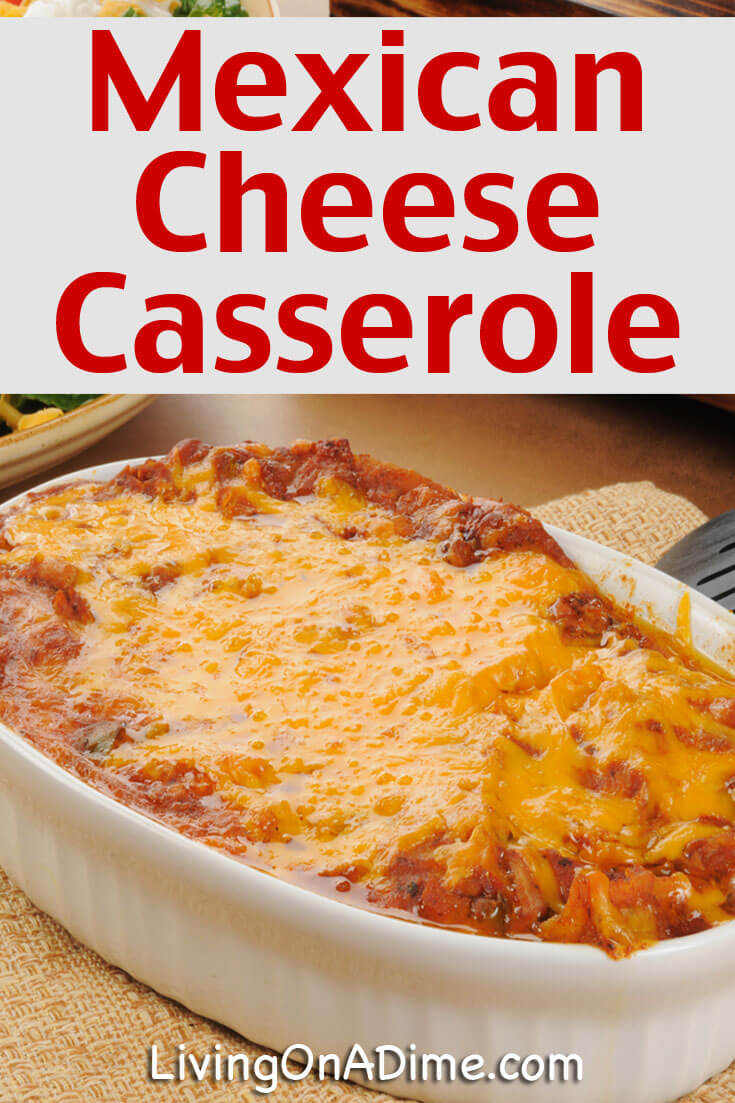 Mexican Cheese Casserole Recipe
1/2 to 1 lb. of hamburger*
1 cup white sauce
1 small can of tomato sauce
1 small can of green chilies, chopped
8 to 16 oz. of cheese, grated*
12 corn tortillas
Fry hamburger in pan and drain. Add white sauce, tomato sauce and chilies and mix.
In a casserole dish or baking pan, layer the tortillas, meat mixture and cheese. Bake at 300 degrees for 30-45 minutes.
*This recipe is very flexible. You can adjust the hamburger and cheese to pretty much to what you have on hand. I use cheddar cheese but you can use Monterey Jack, Mexican mix or any combination you want.
This easy scalloped potatoes recipe makes a super yummy potato side dish to serve alongside your favorite ham or chicken dinner! It's super cheesy adn delicious!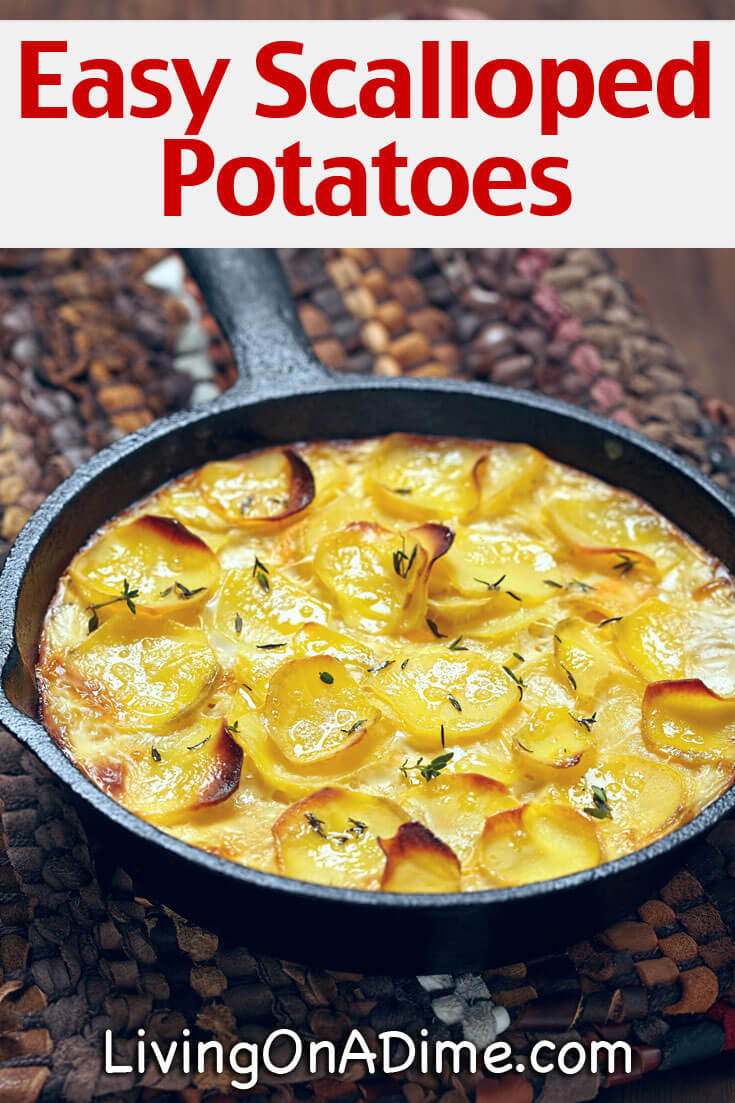 Mary's Scalloped Potatoes Recipe
Potatoes
4 cups white sauce
Salt and pepper – (You can salt and pepper to taste. I start with 1 tsp., taste and then add another tsp. if needed. The potatoes will take a lot.)
Several slices of American cheese*
Grease a 9×13 pan well. Peel and thin slice enough potatoes to layer in the pan to an inch from the top. Layer slices of American cheese on top of the potatoes.  Pour half of the white sauce over the potatoes. Add salt and several more slices of American cheese. Pour the remaining white sauce over the potatoes.
Cover with foil and bake at 350 degrees for 45 minutes or until potatoes are tender. Remove foil and bake uncovered a few more minutes until lightly brown on top.
*You can use grated cheddar cheese for this scalloped potatoes recipe but American melts better and gives a creamier texture.