This easy Watermelon Pickles recipe is a yummy way to use leftover watermelon rinds and reduce waste! These Are REALLY YUMMY!! Just Like Sweet Pickles! You can find this recipe in our Dining On A Dime Cookbook on page 173.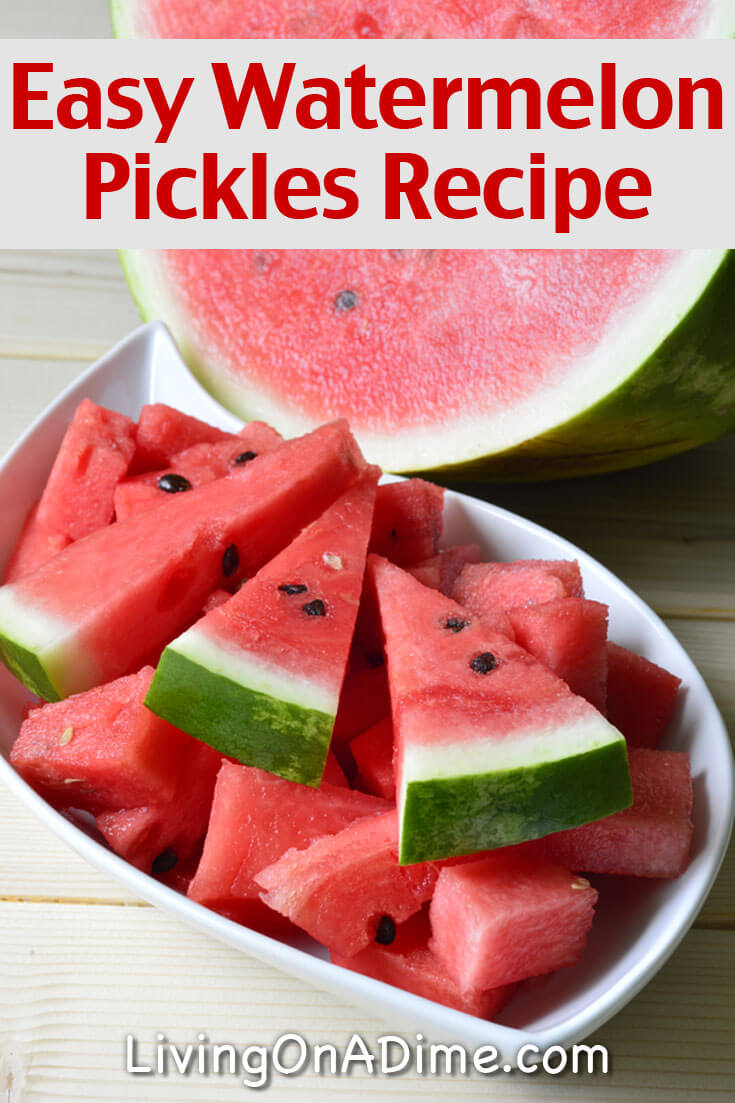 This easy Watermelon Pickles Recipe is a tasty way to use all of those leftover watermelon rinds!
Easy Watermelon Pickles Recipe
3 pounds white portion watermelon rind, cubed*
5 cups sugar
2 cups cider vinegar or white vinegar
1 cup water
1 Tbsp. whole cloves
1 Tbsp. whole allspice
3 cinnamon sticks, 3 inches each
1 lemon, sliced
Put watermelon cubes in a large pot with enough salted water to cover. Soak overnight. Drain. Cover with fresh, cold water and bring to a boil. Cook over low heat until tender. Drain. In another large pot, combine sugar, vinegar and water. Tie cloves, allspice, cinnamon and lemon in a cheesecloth bag. Add to sugar mixture and stir over medium heat until mixture boils. Boil 5 minutes. Add watermelon cubes and simmer until translucent, about 15 minutes. Remove spice bag and pack pickles in hot, sterilized jars. Refrigerate 2 weeks before using. Makes 4 quarts.
*Remove green outer part and red inside part.
This easy Watermelon Pickles recipe is from our cookbook:
Would you like to serve food that will lower your grocery bill and your family will love to eat?
Click here to get our Dining On A Dime Cookbooks, with tasty recipes and great tips to make your life easier and save you money!