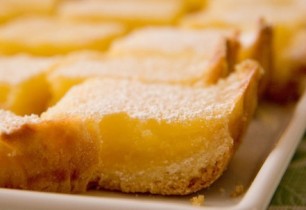 This lemon bars recipe is an easy recipe that everyone, including kids and adults, loves! It's a perfect summer recipe that's crisp, tangy and refreshing like a cool glass of lemonade. Its sunshine yellow color adds a pop of color to the meal and because they're so popular with guests, lemon bars and brownies are usually the first things to disappear at a potluck.
Lemon Bars Recipe
Crust
2 cups flour
1 cup butter or margarine, melted
1/2 cup powdered sugar
Filling
4 eggs, well beaten
2 cups granulated sugar
1/3 cup lemon juice (1 lemon)
1/4 cup flour
1/2 tsp. baking powder
Preheat oven to 350 degrees. Mix all the crust ingredients in a bowl. Press into a greased 9×13 pan. Make sure the edges are higher than the center to contain the filling. Bake the crust for 20 minutes or until it begins to brown.
Combine, eggs, sugar and lemon juice and mix well. Stir in flour and baking powder. Pour into the baked crust and bake 20 minutes at 350 degrees.
Bars are done when they are firm to the touch. Cut into small squares and dust with powdered sugar. These bars are extremely rich, so cut into small pieces.
This lemon bars recipe is from our Dining On A Dime Cookbook. For more quick and easy recipes your family will love, check it out here!
photo by: surleygirl