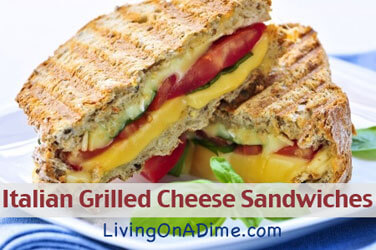 Italian Grilled Cheese Sandwiches Recipe and Easy Menu
I think we are all trying to recover from heavy holiday meals and all the cooking many of us have been doing non-stop so I tried to make this week's menu simple and easy.
Tips:
When using canned soup or any soup for that matter, go the extra mile and add a simple garnish to it. It doesn't take much. A few fresh herbs, cheese, sour cream, green onions or croutons sprinkled on top really can add to it.
If you need to stretch your croutons or for something slightly different, try crushing them a bit. Cracker crumbs can look pretty and taste good too.
When cutting bar cookies or desserts you can use a pizza cutter but what I like the best is to use my pastry cutter. Some people call it a bench knife. It's that flat square metal tool. Just press it down on to the cookies to cut. Don't pull or drag it like you do a knife. Just go up and down.
Try something different for grilled cheese sandwiches. Use chicken or ham for meats or try Swiss or Colby cheese. If you usually eat your grilled cheese with ketchup, try spreading it with mayonnaise before you grill it instead.
Menu:
Italian Grilled Cheese Sandwiches*
Tomato Soup
Cereal Yogurt Fruit Dessert*
Recipes:
Italian Grilled Cheese Sandwiches
Italian Dressing
Bread
Tomato
Basil Leaves
Provolone Cheese
Spread bread with dressing (in place of the normal butter). Place dressing side down on a pan that you have sprayed with non stick spray. Layer with basil leaves, cheese, tomato and 2nd slice of bread. Grill on both sides.
Yogurt Fruit Dessert
5 cups cornflakes, crushed
1 cup pecans or nuts, finely chopped
4 Tbsp. margarine or butter, melted
6 Tbsp. maple syrup
16 oz. plain yogurt
16 oz. vanilla yogurt
2 – 3 cups fresh fruit
In a 9×13 pan, mix cornflakes, nuts, margarine and syrup. Press flat. Bake at 350 degrees for 10 minutes. Mix yogurts together and spread on cooled crust. Top with fruit. You may halve this recipe and bake in an 8×8 pan. Serve immediately.
Would you like to serve food that will lower your grocery bill and your family will love to eat?
Click here to get our Dining On A Dime Cookbooks, with tasty recipes and great tips to make your life easier and save you money!