This English Toffee Recipe is so SUPER, SUPER SIMPLE and it only requires 4 ingredients! This is my absolute favorite candy! If I could only eat one candy this would be it!
I see recipes all over for English toffee but those recipes include saltine crackers in them. Toffee is so super simple to make why would you waste a glorious candy like that by adding crackers? Here is our version of English Toffee From our Dining On A Dime Cookbook. Try it and you will wonder why you never made it from scratch before!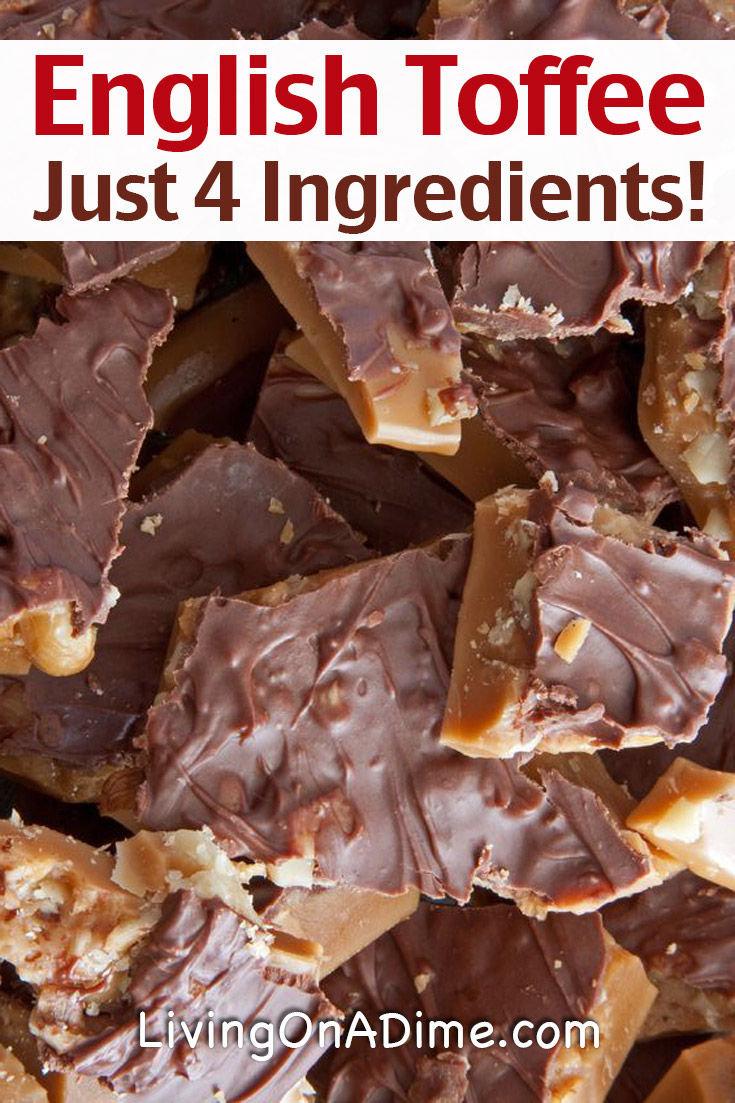 English Toffee Recipe
1 cup nuts, chopped  (pecans or walnuts are best) *
3/4 cup brown sugar, packed
1/2 cup butter 
1/2 cup chocolate chips
Butter an 8×8 inch pan. Spread the nuts in the bottom of the pan. On medium heat, bring the sugar and butter to a boil and boil 7 minutes. Spread into the pan. Sprinkle the chocolate chips on top. Let it sit a few minutes. When melted, spread evenly. Let cool before cracking into pieces. Makes 24 pieces.
*Variations:
White Chocolate with Macadamia Nuts (not cheap but to die for!)
Dark Chocolate with Almonds
Would you like to serve food that will lower your grocery bill and your family will love to eat?
Click here to get our Dining On A Dime Cookbooks, with tasty recipes and great tips to make your life easier and save you money!