This easy homemade eggrolls recipe makes the best eggrolls! Eggrolls are easy to make and a lot less expensive than buying them at the restaurant! You can find this recipe in our Dining On A Dime Cookbook on page 127.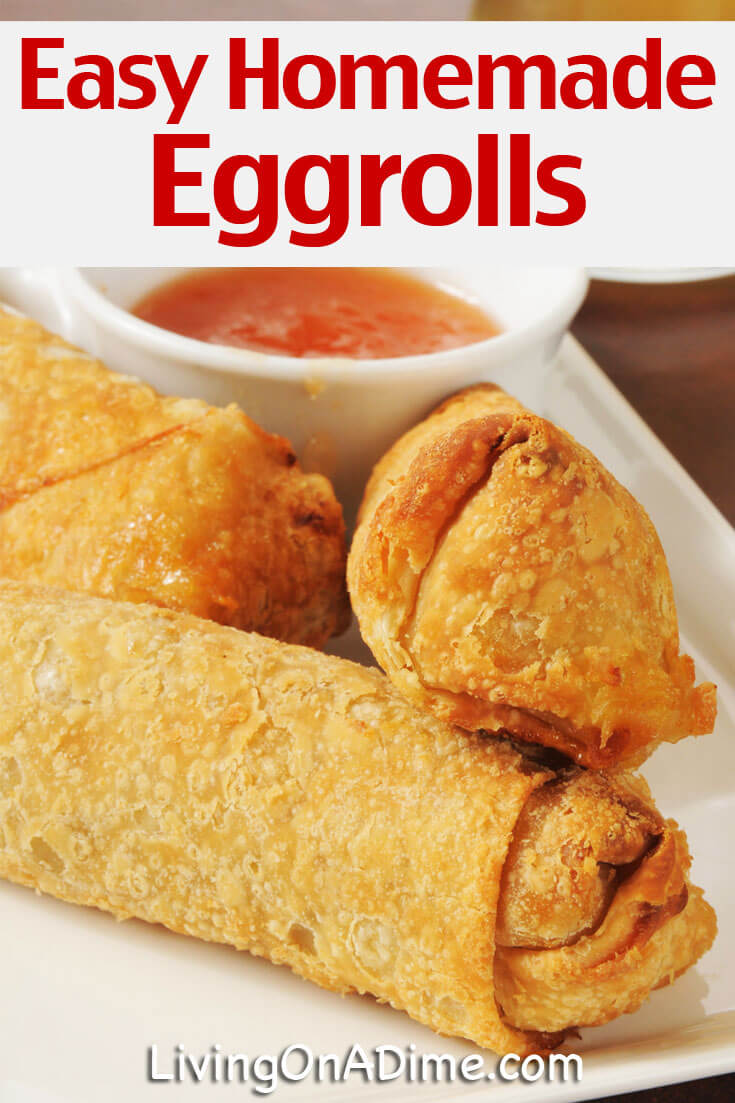 Easy Homemade Egg Rolls Recipe
1/2 lb. beef, pork or chicken, cooked and diced small
2 cups cabbage, chopped
1/2 cup carrots, shredded
3 green onions or 1/4 cup onion, chopped or 1 tsp. onion powder
1/2 tsp. ginger
1/2 tsp. salt
2 Tbsp. soy sauce
1 pkg. egg roll wrappers
vegetable oil
mustard, ketchup or sweet and sour sauce (page 315)
Add 1 Tbsp. oil in a frying pan. Heat pan very hot and add meat. Cook 1-2 minutes until lightly browned.
Add cabbage, carrots and onions and cook 2 minutes.
Stir in ginger, salt and soy sauce. Let cool 5 minutes.
Follow the directions on the back of the egg roll wrappers for wrapping. Use 2 Tbsp. filling for each egg roll. Deep-fry 2-4 egg rolls at a time at 350 degrees, turning occasionally for 2-3 minutes. Drain on paper towels.
Serve warm with choice of sauces. Makes 20 egg rolls. Egg roll wrappers can usually be found in the produce department at your grocery store.
This easy homemade eggrolls recipe is from our cookbook:
Would you like to serve food that will lower your grocery bill and your family will love to eat?
Click here to get our Dining On A Dime Cookbooks, with tasty recipes and great tips to make your life easier and save you money!