This Chicken Fried Steak recipe is quick and easy and so delicious that your family is sure to love it! Save on your food bill with this inexpensive recipe, which costs dramatically less than the restaurant version!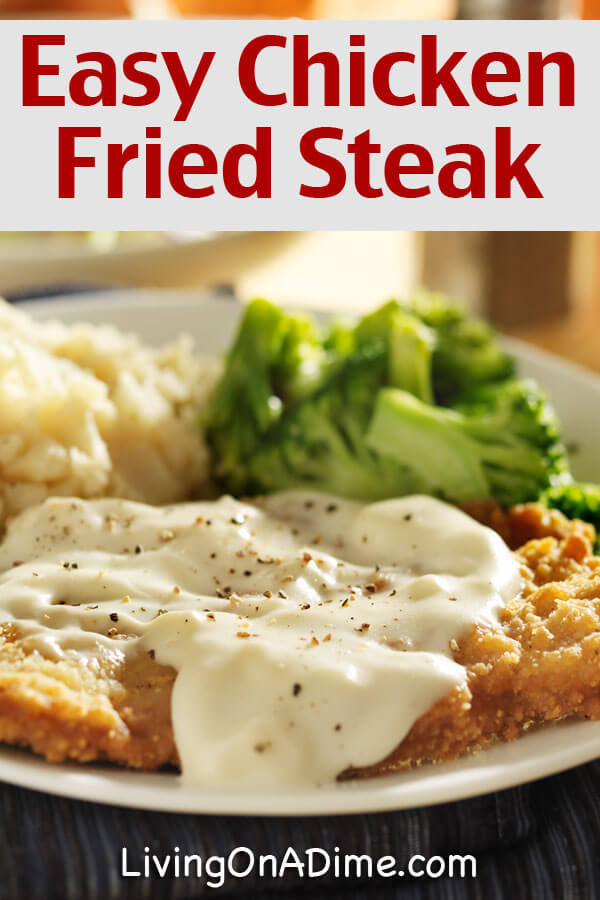 Mike has eaten a lot of Chicken Fried Steak in his life and he absolutely loves this Chicken Fried Steak Recipe. Whenever there's a special occasion like his birthday or Father's day, he requests this as part of the meal. Try it and see how it satisfies the chicken fried steak lover in your family!
Easy Chicken Fried Steak Recipe
1 lb. hamburger (You can use pre-made patties.)
1/4 cup milk, place in shallow bowl
1/4 -1/2 cup flour, place on plate
1 egg, whipped with fork and place in shallow bowl
1/2 -3/4 of a tube of crackers, crushed, place on plate
Form hamburger into 5-6 patties. Dip each patty into milk, flour, egg and last of all crackers. Place in a hot frying pan with a little oil. Season with salt, pepper, onion and garlic powder. Turn down heat and fry on one side then flip to other side. Hamburger is done when the juices run clear.
For more quick, easy and delicious recipes like this, check out our Dining On A Dime Cookbook!