In this post, we share budget travel tips and resources to help planning a budget European vacation. We did not have much experience traveling until recently, but we discovered lots of great ideas to save a huge amount of money on super special vacation. In this post, we share some of the specific resources we use.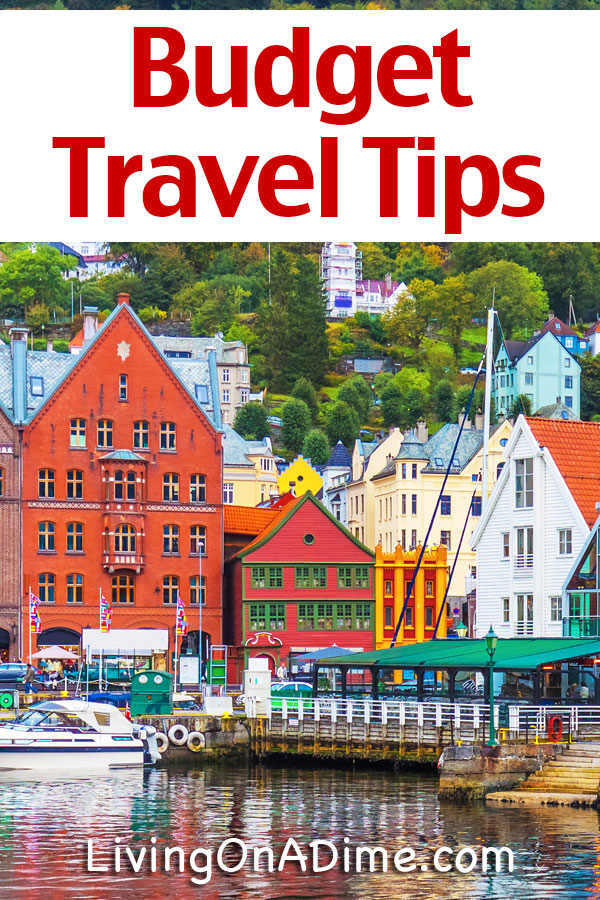 How To Plan Your Trip To Europe – Budget Travel Tips
In this video, we're sharing some of our tips for planning a budget vacation. These tips for family travel on a budget have allowed us to plan for our European vacation for a super low price. We share ideas for how to plan your trip to Europe, where we will be visiting England, Scotland, Ireland and Norway.
Instead of booking a European vacation through a tour operator, we prefer to plan our own budget vacation. This makes it a LOT less expensive, but also allows us to customize the holiday travel to our own preferences, which makes it a lot more fun!
After having virtually no family vacations since we have been married, Mike and Elly took a father daughter vacation together a few years ago and we're using the tips they learned to plan this dream vacation for the entire family.
Our Favorite Resources For Planning A Budget European Vacation
We usually book our accommodations through AirBnB or Booking.com . AirBnB allows you to book a room in someone's home, an apartment or flat, or an entire house. This gives you  lot of flexibility to choose a home and an experience that aligns with your own personal preferences and usually save a lot over booking a traditional hotel. (**Note – on our 2019 summer holiday, we discovered you may not be saving over the price of a hotel, especially with more than 2 guests, so be sure to check hotels, too.)
**NOTE: We had a number of less than stellar Airbnb experiences this summer. There are some very good opportunities to get very nice accommodations that you might not get anywhere else. For example, if you want to stay on an Irish sheep farm or an out of the way place on the shore of a loch in Scotland, it is unlikely you will find that experience in a hotel and there are some very nice unusual offerings.
If you choose to use Airbnb, we would definitely advise you to ONLY choose places with 5 stars AND with many reviews where the guest gives details of their experiences. Many people don't want to say anything bad about a place, so be careful about places where there are many good reviews but also several that say things like, "We had a few hiccups" or "It wasn't quire what we were expecting…" These mildly apathetic statements are often signs that you should pass on this listing, especially in London. After staying in 3 different Airbnbs in London and canceling a fourth, we would probably avoid AirBnB for future stays in London and choose a hotel instead.
Also, because Airbnb has increased in popularity, often a hotel is cheaper for more than 2 guests. In this case, I would book the hotel unless there is something unique about the Airbnb you want. For example, if you want to stay on a farm or in a castle, a carefully chosen Airbnb might be good.
Here's Where You Can Get Get $40 Credit Towards Your First Stay On AirBnB:
https://www.airbnb.com/c/michaell24961
AirBnB Review – What Is AirBnB And How Does It Work?
https://www.youtube.com/watch?v=t7EfAAauz10
Booking.com has listings for stays in people's homes like AirBnB, but Booking.com also has listings for low priced hotel accommodations, car hire and other travel related services. Booking.com sometimes has better prices and properties than AirBnB. You can Search Booking.com here.
**Note about Booking.com: We have had a generally good experience with Booking.com, but be aware that many of the accommodations are offered by the same owners who list on Airbnb, so some of the same owner related issues may exist. You should be careful to read all of the comments from previous guests and look for any comments suggesting anything was less than stellar.
We had one owner who had a spectacular apartment in Norway, but who kept sending us email throughout the night insisting that we needed to leave cash on the table for cleaning, even though we had already paid their cleaning fee through Booking.com. After calling Booking.com, they assured me the fee had already been paid and told us we should never pay anything outside of their system, but the experience was dampened by the bombardment of email from the host.
For car rental, we have consistently gotten the best prices at AutoEurope:
https://www.autoeurope.com/
**I highly recommend calling your credit card companies and seeing if any of them offer Worldwide Car Rental Insurance. You can save a LOT of money if you don't have to buy the fully comprehensive optional insurance. (If you don't use insurance on a credit card, the optional insurance at the rental place can double or triple the car rental cost.) Be sure to call your credit card company and ask them to send you a letter indicating you are covered in the countries where you will be going .This is especially important in the Republic of Ireland as they have had trouble with uninsured travelers and really want to sell you the add on insurance unless you can provide the letter assuring them that the vehicle will be covered. If you have the credit card insurance, you will be asked to sign a Collision Damage Waiver, which acknowledges you are intentionally declining the extra insurance.
For a wealth of super specific ideas for traveling on a budget, check out Mike's earlier budget travel planning video:
3 Weeks In Ireland For $1700 – Planning A Trip To Ireland! – Budget Travel
https://www.youtube.com/watch?v=4chOqZte1QQ
To Book A Sail Rail Journey, we use Irish Ferries
https://www.irishferries.com/uk-en/to-ireland-from-britain/
More about SailRail From London To Dublin Ireland!
https://www.youtube.com/watch?v=SwOfZhS-e_g
For the best prices on Rail travel in the UK, we use Raileasy
http://www.raileasy.co.uk/
For Rail Travel in Ireland, we use Irish Rail:
http://www.irishrail.ie/
Please note: Some of these links are affiliate links. We get a small portion from some of these links and we use them to bring you more recipes tips and ideas! Thanks for supporting our work!
Would you like to serve food that will lower your grocery bill and your family will love to eat?
Click here to get the Dining On A Dime Cookbook, with tasty recipes and great tips to make your life easier and save you money!