This is the Best Homemade Apple Pie Recipe you will ever taste! It has been in our family for generations and it's sure to please your family and friends!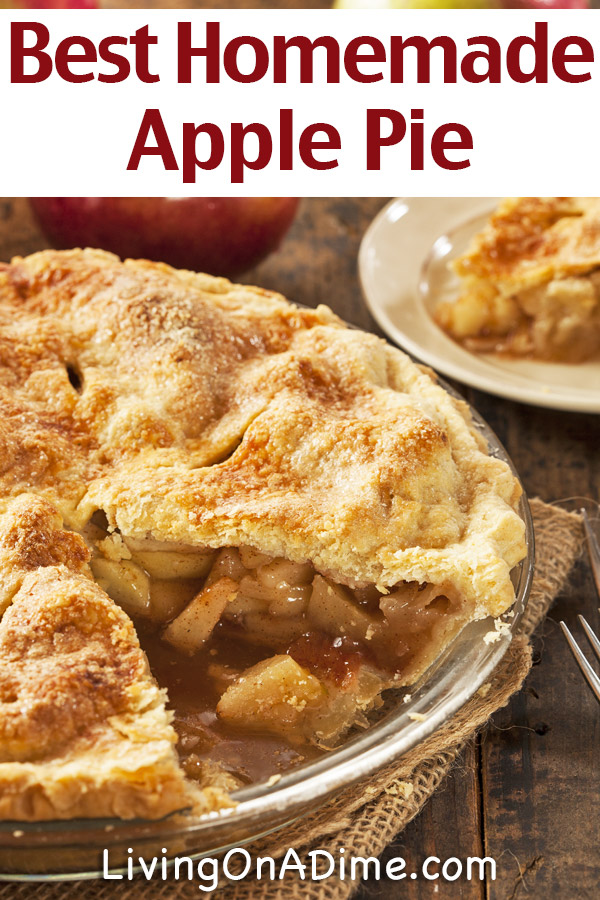 The Best Homemade Apple Pie Recipe
This homemade apple pie recipe has been in our family for 75 years or more and still takes the #1 spot at any meal when served.
My mom bakes unbelievably good pies. Even her crust is delicious and this is her apple pie recipe. I have made it for years and now Tawra makes it, too. Even though I tease my daughter about her cooking at times, she has certainly learned how to make a mean apple pie with this homemade apple pie recipe!
Here are a couple of tips before you start making your homemade apple pie:
No recipe is set in stone. You can make some modifications to the ingredients in this apple pie recipe to adjust to your tastes. For example, you might add more or less cinnamon or you might use all white sugar or less sugar. For your first try, though, I suggest that you make this apple pie recipe exactly as it is written and then adjust to your tastes the next time you make one. When people adjust things before making the apple pie recipe the way it is, I often hear, "My pie didn't turn out well but I made it just like you said. I only changed this and this and this…" and by the time she has finished explaining, I discover that she has only used one of the original ingredients. : )
What kind of apples do I use? Some people are dogmatic about what kind of apples they use and will only use baking apples for pies. I'm not so fussy and I use whatever apples are on sale or that I happen to have on hand. I personally don't like the super tart taste from baking apples and I always needed to add more sugar when I used them. It also seems to take longer to bake using baking apples. My favorite thing to do with this homemade apple pie recipe is to use a couple of different kinds of apples. Don't have a heart attack but, yes, I have used Delicious apples before.
One of the best things I have discovered after years of baking pies is to cook my fruit pie filling in the microwave for 2-3 minutes and then pour it into the crust. Two of my pet peeves about pies are soggy crusts and partially cooked apples in a pie. If you don't partially cook the pie filling ahead of time, the crust will sometimes start turning too brown before the apples are done cooking. Pre-cooking the pie filling prevents overbrowning the crust.
Here is another post that can help you with your pie baking, along with a recipe for a delicious homemade pie crust: Homemade Pie Crust
Here is my best apple pie recipe and as a bonus I will  give you a recipe for French apple pie. You use the French apple pie when you have only 1 crust for the bottom and need something to top it with. It is a cross between a pie and apple crisp.
Grandma's Apple Pie Recipe
6-7 cups of medium apples, cored, peeled and thinly sliced
1/2 cup sugar
1/4 cup brown sugar
1/4 tsp. salt
3/4 tsp. cinnamon
1/4 tsp. nutmeg
2 Tbsp. flour
2 Tbsp. butter
Mix all ingredients in a large bowl except the butter. Microwave this filling mixture 2-3 minutes. Then pour into the pie crust. Dot with chunks of the butter and top with the other crust. Cut steam slits in the top crust and sprinkle the top with sugar. Bake at 450 degrees for 15 minutes. Then turn down to 350 degrees and bake for 35-45 minutes, until apples are tender and juices are bubbling nicely out of the steam slits.
French Apple Pie Topping
1/2 cup butter
1/2 cup brown sugar
1 cup flour
Mix ingredients until crumble-like and sprinkle over the top of the apples. Bake as usual.
Would you like to serve food that will lower your grocery bill and your family will love to eat?
Click here to get our Dining On A Dime Cookbooks, with tasty recipes and great tips to make your life easier and save you money!