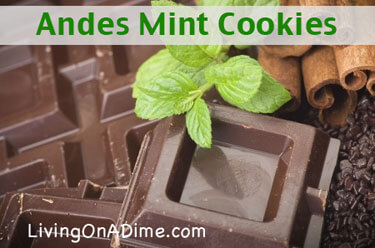 This Andes Mint Cookies Recipe has only 4 simple ingredients and these cookies don't need frosting. Can it get any better than mint and chocolate?
Andes Mint Cookies
1 Devil's Food Cake Mix
1/2 cup oil
2 eggs
1 package of Andes Mints
Mix cake mix, oil, and eggs together. Drop spoonfuls of dough onto greased baking sheet. Bake at 350 degrees for 6-9 minutes. Don't cook any longer than that! You don't want them to be overdone!
While the cookies are still very hot, place an Andes Mint on top of each cookie. In about 5 minutes, the mint will be melted. Take a spoon and smooth out each mint like frosting.
Would you like to serve food that will lower your grocery bill and your family will love to eat?
Click here to get the Dining On A Dime Cookbook, with tasty recipes and great tips to make your life easier and save you money!