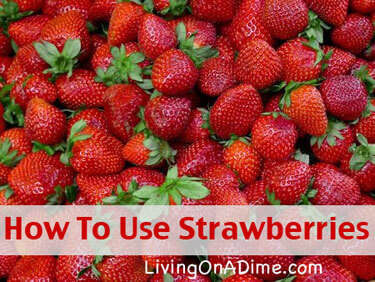 Are you overwhelmed with strawberries? Have you found a good sale and are looking for recipes and ideas to use strawberries? Here are some ideas for you!
How To Use Strawberries
Ah June! –In the spring we think of a mouth-watering strawberry patch. Now it has turned into a forest with enough strawberries to feed most of the U.S. Undaunted by the mounds of berries in our kitchen, we have visions of row after row of beautiful jars of strawberry jam on our shelves.
Then it happens! The first pot boils over leaving a red mess all over the stove, up on the walls and on the counters and floor. Hours later after the kitchen looks like World War III was fought in it we stand in our kitchen and proudly display our 2 pints of strawberry jam.
Don't despair. Canning isn't the only way to use excess strawberries. Here are some other suggestions to help you use strawberries: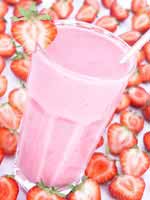 Think small. Don't plant too many plants in your garden. Plant just enough for what you need.
File all your recipes for fruits and veggies in order by the name of the fruit. Then when you need to find recipes for all the extra produce you can easily find several recipes.
To freeze berries: Throw extras into a bag and freeze. Don't waste time freezing them on a tray, they do just as well thrown in a bag.
Use extra strawberries in milkshakes, homemade smoothies, homemade popsicles, and fruit gelatin.
Top on cereal or oatmeal; add milk for a cream flavor.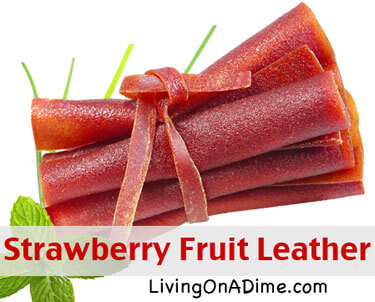 Strawberry Fruit Leather Recipe
3 cups fresh or frozen strawberries*
1 Tbsp. lemon juice
1 Tbsp. light corn syrup
Place strawberries in a blender and process until smooth. Measure 2 cups of strawberry puree. Stir in lemon juice and corn syrup. Line a 15×10 inch jellyroll pan with heavy-duty plastic wrap and tape plastic wrap to the pan at the corners. Pour strawberry mixture in prepared pan and spread thin, leaving 1 inch on all sides. You can adjust this to fit your dehydrator or another pan; be sure it is spread thin on the pan. Dry in an oven at 150° or a dehydrator for 7-8 hours or until surface is no longer sticky. Remove leather from pan while still warm and roll up jellyroll fashion. Cut into logs and wrap in plastic wrap. Make five 2 inch logs.
*Any other fruit may be used in place of the strawberries.
Would you like to serve food that will lower your grocery bill and your family will love to eat?
Click here to get the Dining On A Dime Cookbook, with tasty recipes and great tips to make your life easier and save you money!