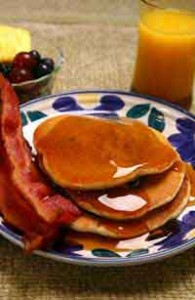 Pumpkin Pancakes
2 cups flour
2 Tbsp. brown sugar, packed
1 Tbsp. baking powder
1 1/4 tsp. pumpkin pie spice
1 tsp. salt
1/2 cup pumpkin
1 large egg
2 Tbsp. vegetable oil
1 cup milk
1/2 cup nuts, chopped (optional)
Combine ingredients. Stir just until moistened; batter may be lumpy. Heat griddle or skillet over medium heat; brush lightly with vegetable oil. Pour 1/4 cup batter onto hot griddle; cook until bubbles begin to burst. Turn and continue cooking 1 to 2 minutes. Serve with Pumpkin Maple Sauce and nuts.
Pumpkin Maple Sauce
1 cup maple syrup
1 1/4 cups pumpkin
1/4 tsp. ground cinnamon or pumpkin pie spice
Mix together until well blended.
From: The Dining On A Dime Cookbook. For more easy recipes like this, check out Dining On A Dime here!