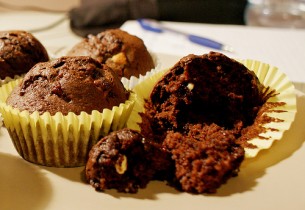 Homemade Pumpkin Muffins
Yum! I just might have to try this!
Tawra
Here is one that is frugal and great for you!
Homemade Pumpkin Muffins
1 cake mix (any flavor works, but chocolate is our hands down favorite!)
1 can pumpkin or 2 cups mashed cooked pumpkin
Beat together with electric mixer until smooth (It will be really thick). Add 1 cup mini chocolate chips and stir. Line muffin tins with paper muffin cups and spray w/no-stick spray. Use ice cream scoop to put batter into muffin cups (I can get 24 from one box of mix). Bake at 350° for around 20 minutes. Cool and frost if desired. My family likes them just as they are when they are hot from the oven.
Spice cake mix is great – add white chocolate chips, peanut butter chips or butterscotch chips
I have made pumpkin muffins with white cake mix and yellow cake mix too. They have around 120 calories a piece with the mini chocolate chips and are virtually fat free. If you are on weight watchers they only count as 1 point.
This is a fabulous way to sneak some vitamin A rich veggies in on the kids. Just don't let them see you put the pumpkin into the muffins and they will never know it is there. These are more moist than name brand very expensive double chocolate chip muffins.
Sarah D.
photo by: Sara K.