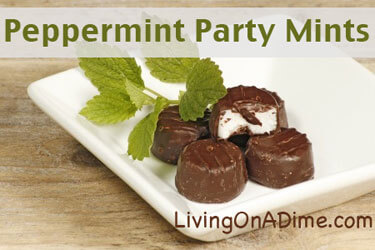 This is the most asked for candy at Christmas in the Cooper and Kellam households. We always have to make at least 3 batches!!
Don't let the paraffin scare you and keep you from making these. You can use chocolate candy wafers (sold especially for this) if you want in place of the paraffin and chocolate chips. Also in the book the recipe calls for 1/4 cup of paraffin which is what the recipe years ago called for but I use much less as you can see. The paraffin helps to keep the chocolate chips from sliding off.
Homemade Party Mints
2 1/2 cups powdered sugar
1 egg white (meringue powder may be substituted)
2 Tbsp. butter, melted
4 small lids peppermint flavoring (try 1/2-1 tsp. then add more to taste if you need to)
1 Tbps. paraffin, shaved*
1 pkg. (12 oz.) chocolate chips
Mix powdered sugar, egg white or meringue, butter and peppermint flavoring. Make into small balls about the size of a quarter and then flatten on a cookie sheet. Put in the freezer. Melt chocolate and paraffin over a double boiler. When melted take mints out of freezer. Put a toothpick though the center of the mint and dip into chocolate. If mints on the cookie sheet begin to soften and thaw, refreeze because they are easier to dip. Put back on cookie sheet and let chocolate harden in the freezer. Wrap each mint in a piece of 5×5 inch foil. Makes twenty 2-inch mints.
*Paraffin may be left out and chocolate coating or almond bark may be used instead. 
For more easy holiday recipes like this, check out our Dining On A Dime Cookbook!