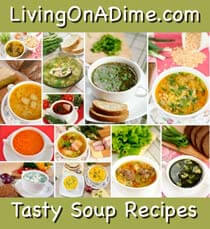 Tips
Soup is probably one of the easiest of meals to whip up and make and is especially good when homemade but there are times in our lives when we don't even have time to throw together a simple soup and that is ok. Grabbing a can of soup to use is not the greatest sin known to man even though some treat it as such. That canned soup saved many of our ancestors lives literally in times past. They didn't look a gifthorse in the mouth and we shouldn't either. I really do try to learn from my elders.
Now that being said please don't e mail me and tell us the horrors that are lurking in that can of soup. If people are capable of reading this post they are perfectly capable of reading their own labels and unless they have been living under a rock for the past 20 years they know to read labels. Be careful.  I just don't want you to die early from a heart attack caused by being stressed out trying to warn the world what is in those cans of soup.
Let's see where was I? Oh yes. Canned soup. Keep a nice stock of it in your pantry and of chicken broth or beef broth.
~When using these don't be shy in adding things like fresh, canned or frozen veggies too them.
~Add  some mushrooms, onions, celery or carrots to canned soup.
~Keep a container of leftover veggies in the freezer for something like this.
~ Think out of the box. Add the veggies or chunks of beef to tomato soup for a different taste.
~ Spice it up. Adding just a few of your own spices will totally change the taste of canned soup.
Tasty Soup Recipes
This first recipe calls for barley. For years I didn't know what barley was until I had this soup. Don't be afraid to try it. It is good for you and tastes good too, even to a picky eater like me.

This soup is about as low-cal, healthy, and filling as they come. You can find it easily in any grocery store in with the rice. It's a nice change to barley from rice and noodles.
Chicken Barley Soup
1/2 cup barley
1 stalk celery, sliced
1/2 carrot, diced
1/4 cup onion, chopped
4 cups chicken broth
1 cup chicken
1/4 tsp. turmeric (optional)
salt and pepper (to taste)
Rinse and cook barley in broth as instructed on package. Halfway through, add vegetables, chicken and seasonings. Makes 2 quarts.
Here's a basic vegetable soup. You can add to it or take away according to what different vegetables you have on hand or what your family prefers. Certain vegtables take longer to cook than others so you will need to adjust the time when you throw them into the pot to cook. For example, potatoes and carrots will need to start cooking an hour or hour and half before serving while peas can go in 30 minutes before.
Don't be afraid if you have to dump everything (except rice and noodles) in to simmer all day. I find that most stews and soups can handle it all going in together and simmering for several hours.
Vegetable Soup
You are basically making soup stock in this step. If you have canned or frozen stock, you can use that and skip this step.
1 beef soup bone
2 quarts water
2 Tbsp. salt
pepper, to taste
1 tsp. garlic powder
2 bay leaves
1/4 tsp. allspice
Simmer 2 hours. Remove bone, cool and skim fat.
Add:
3-4 medium potatoes, peeled and cut into cubes
2 carrots, peeled and sliced
2 stalks of celery, sliced
1 medium onion, chopped
2 (16 oz.) cans whole peeled tomatoes*
Simmer 2 more hours. Remove bay leaves. You can throw in a handful or two of rice, noodles or barley that last hour of cooking and add any leftover veggies like corn, peas or green beans.
To "spice" up your life and this soup add:
2 tsp. Worcestershire sauce
1/2 tsp. hot pepper sauce
1/2 tsp. oregano, dried
1/2 tsp. basil, dried
1/4 tsp. chili powder
*If you are out of canned tomatoes add tomato juice or V-8 instead.
Egg Flower Soup
1 green onion, chopped (top included)
2 eggs, slightly beaten
3 cups chicken broth
1/4 tsp. salt
    dash pepper
Stir onion into eggs. Heat broth to boiling in a 3-quart saucepan. Add salt and pepper. Pour egg mixture slowly into broth, stirring constantly with a fork. Boil about 5 minutes until eggs are done. Serves 4-6.
Be sure to check out Dining On A Dime for some of our other great soups like Beef Barley,Tomato and Bacon-Bean.