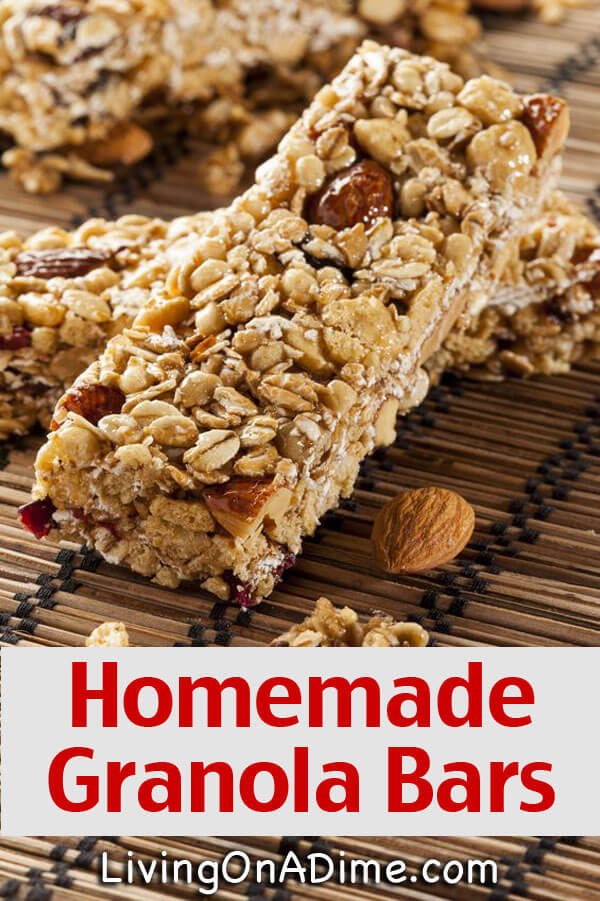 Homemade Granola Bars
3/4 cup brown sugar
1/2 cup sugar
1/2 cup butter or margarine, softened
2 Tbsp. honey or corn syrup
1/2 tsp. vanilla
1 egg
1 cup flour
1 tsp. cinnamon
1/2 tsp. baking soda
1/4 tsp. salt
1 1/2 cups  quick cooking oatmeal
1 1/4 cups crispy rice cereal, or crushed corn flakes or any "grain" type cereal or crushed graham crackers
1/2 cup wheat germ (optional)
1 cup chocolate chips*
In a large bowl, cream sugars and butter until fluffy. Add honey, vanilla and egg. Mix well. Blend in flour, cinnamon, baking soda and salt. Stir in remaining ingredients. Press firmly into the bottom of a greased 9×13 pan. Bake at 350° for 20-25 minutes. To microwave: Press ingredients into a microwave safe dish. Microwave on medium power for 7-9 minutes. Rotate dish every three minutes. Bars will firm as they stand. Cool and cut into bars. Save the crumbs for yogurt or ice cream topping. Makes 24 bars.
*The following may be used in addition to or to replace chocolate chips 1 cup coconut 1/2 cup creamy or chunky peanut butter 1/2 cup nuts 1/2-1 cup raisins, dried apples, apricots 1/2 cup fruit preserves
This homemade granola bars recipe is from our Dining on a Dime Cookbook.
Would you like to serve food that will lower your grocery bill and your family will love to eat?
Click here to get the Dining On A Dime Cookbook, with tasty recipes and great tips to make your life easier and save you money!