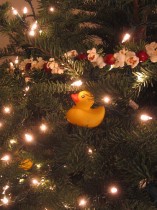 Don't throw your garland away when you're done with it… hang it outside for the birds & squirrels.
-Debbie
When stringing popcorn for garland, let it sit for a couple of days to get stale. Stale popcorn is easier to string. (I sure wish I'd known that last year! We made popcorn and cranberry garland. It was very pretty!)
To make a popcorn garland just take a needle and heavy or double thread and start stringing the popcorn or anything on it.
      -Jill
photo by: ryochijiiwa