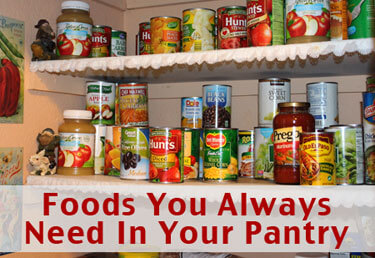 Foods You Always Need In Your Pantry
An essential component to cooking frugally is keeping a well stocked pantry. The concept of a pantry is more than storage. Your pantry should be a place where you always have a good supply of basic ingredients and a few less expensive convenience foods.
When you have the opportunity to buy something that you use frequently at a great price, buy a lot of extra and keep it in the pantry until the next time you can get such a good price. This allows you to opt not to buy an item except when the price is very low, "flexing" your pantry.
Here is a list of items that we keep stocked in our pantry virtually all the time. I plan meals around what I have in the pantry and I buy what is on sale to keep my pantry well stocked.
(For more easy tips and tricks to save money in the kitchen, check out Groceries On A Dime!)
Baking Supplies

baking powder
baking soda
yeast
cocoa
salt
cornstarch
vinegar
food coloring
coconut
eggs

Beverages

Breads

wheat bread
white bread
saltines
graham crackers
croutons (we make our own)
Cheese

Cheddar
mozzarella
American
parmesan
cream cheese (occasionally)

Cereal

Only when I can find them for less than $1.50 a box.

Condiments

jelly
catsup
mayonnaise
mustard
salsa
pickles

I make most of my salad dressing, BBQ sauce, and jelly when I can find a free source of fruit.

 
 

Fats

vegetable oil
olive oil
shortening
margarine
cooking spray

 
 

Fruits

   Canned

   Fresh

apples
oranges
grapefruits
raisins

Anything else when it's on sale or free (strawberries, kiwi, pears, etc.)

Grains

white flour
wheat flour
oatmeal
cornmeal
white rice
popcorn
grits
cream of wheat

Juices
Meats

chicken (whole or parts, hardly ever boneless chicken breast) (.49 or less per pound)
ground beef
ground turkey
pork chops
ground pork
ham
bacon
round steak

(As a general rule, I try not to pay more than $1.99 per pound for meat.)

Milk

dry milk
whole milk
evaporated milk
evaporated milk
(occasionally)

Pasta

pre-packaged macaroni and cheese
spaghetti
macaroni

 
 

Seasonings and Flavorings

maple extract
peppermint extract
vanilla
(I make my own with vanilla beans and vodka)
bouillon
Worcestershire sauce
spices and herbs

Sugar

white sugar
brown sugar
powdered sugar
honey
corn syrup

 
 

Vegetables

onions
potatoes
instant mashed potatoes
carrots
frozen broccoli
canned green beans
canned and frozen corn
green pepper
mushrooms ( purchased on sale)

Miscellaneous Canned Goods

spaghetti sauce
whole tomatoes
diced tomatoes
olives
tomato soup
cream of mushroom soup
cream of chicken soup
ramen noodles
pork and beans
pumpkin
Tabasco sauce
peanut butter
dried beans (hubby likes beans)
Photos By: lu_lu and leosaumurejr