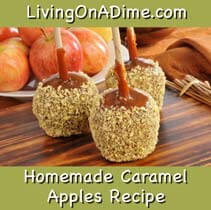 Homemade Caramel Apples Recipe And Tips
I have to say that homemade caramel apples are probably among my top 3 favorite foods!  Mom used to make homemade caramel apples for us every Halloween, along with homemade chili. Gourmet foods like caramel apples look so good at the store and on TV, so it's easy to imagine them being difficult, but they really are easy to make. (We include a delicious caramel apples recipe below.)
The trick that makes their caramel apples look so fancy is in the packaging. Just buy some clear cellophane bags at the hobby store or from your florist. Put your homemade caramel apples in the bags and tie with a pretty ribbon. An assortment looks wonderful in a basket lined with an orange or red napkin and a pretty Halloween or Christmas bow tied on top.
Sprinkles can be found at Walgreens for $1.00 a bottle on sale.
Look for Candy Bars on sale to use for melted chocolate after Halloween. Compare prices it might or might not be cheaper than the bagged candy melts.
Add 1 tsp. paraffin wax to 2 cups melted chocolate to make the chocolate shiny.
Caramel apples like the ones in this caramel apples recipe sell for $6-$8 EACH on the home shopping channel. They look wonderful but they can be made fresher at home and for around .50-$1.00 each instead.
Homemade Caramel Apples Recipe
1 package caramels
2 Tbsp. water
powdered sugar
6 apples (Most people use Granny Smith Apples but they are too tart for me so I use Gala Apples.)
Stick a popsicle stick, handle end of spoon or a twig (washed, dried and wrapped in foil) in the end of the apple.
Sprinkle some powdered sugar on waxed paper to set the caramel apples on after they are dipped so they don't stick.
Dip the apples in caramel and then roll in:
Crushed candy bar pieces
M&M's
Mini chocolate chips
Flavored chips: peanut butter, white chocolate, dark chocolate, cherry, butterscotch
Nuts and then drizzle with melted chocolate of your choice
Crushed chocolate-covered toffee squares
Crushed milk chocolate-covered toffee coated almonds
Caramel Apple Bar
You can also make a caramel apple bar.
Put the caramels and water in a crockpot and let it melt before you party. Then lay out several dishes of candy, chocolate chips, M&M's, etc.
Let each person dip his or her apples in the caramel and then roll them in the candies.
Crockpot Caramel Apple Dip
Melt caramels and water in a crockpot. Then slice the apples and dip them into the caramel.
Caramel Apple Dip
8 oz. Cream Cheese, softened
1/2 cup Brown Sugar
1 Tbsp.Vanilla 
Mix everything together until well blended. Then dip apple slices into the dip and enjoy!