This easy 3 ingredient roast chicken recipe requires only 3 ingredients, but makes chicken that it moist and delicious. You can spend about 5 minutes preparing it and if you throw in some carrots and potatoes you're done with dinner in 5 to 10 minutes. Then you can just toss it in the oven or let it cook all day in the crockpot and not have to worry about dinner.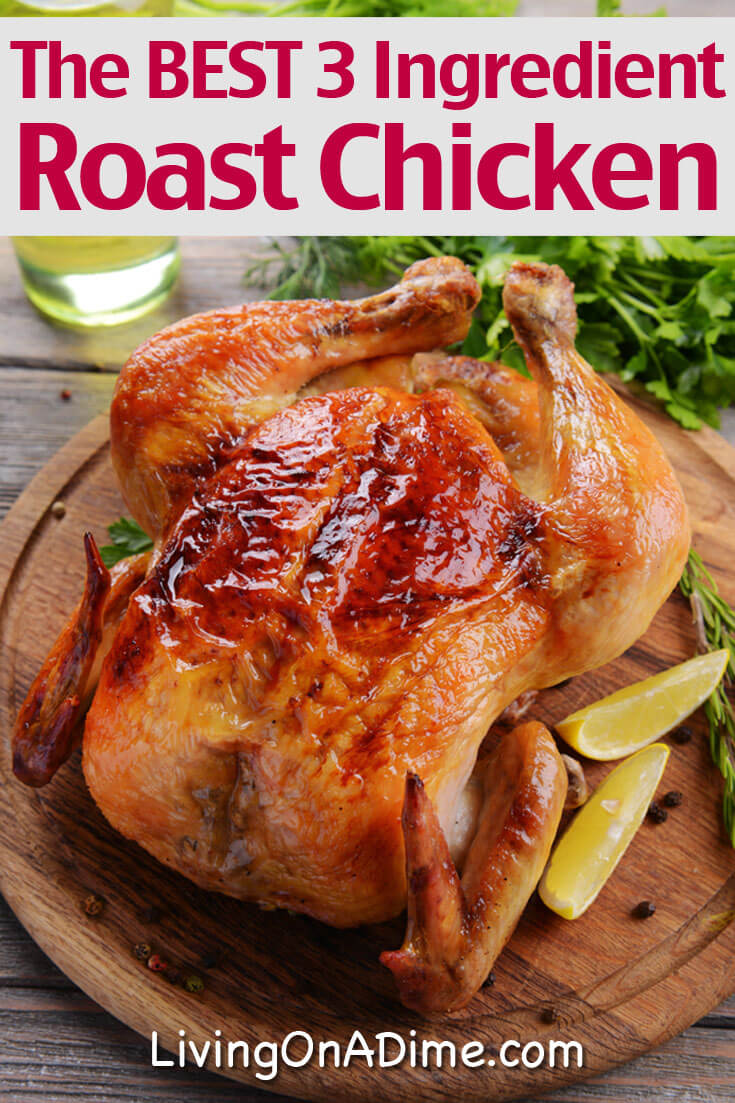 Your family will love this healthy chicken recipe and it's very versatile, so you can make it with a variety of different sides and have many different meals. Mike and the kids love this chicken and it's a frequent favorite at our home. You can also use the roast chicken leftovers to make lots of other recipes that are best with roast chicken!
The BEST 3 Ingredient Roast Chicken Recipe
1 chicken
1-2 cloves garlic
olive oil
salt and pepper
Optional Ingredients
1 tsp. thyme (to taste)
1 tsp. rosemary (to taste)
1 tsp. oregano (to taste)
Rub the inside of the chicken with garlic cloves. If you're using the optional items, put the thyme, rosemary and oregano to taste inside the bird. Rub the outside of the bird with olive oil and salt and pepper.
Bake at 450 degrees to 500 degrees for 15 minutes then turn the oven down to 400 degrees and roast for 35-45 minutes (for a 2 1/2 pound bird) or 1 hour (for a 3-5 pound bird) or until the temperature of the thigh reaches 180 degrees. You can also let it cook all day in the crockpot on low. Allow to rest 10 minutes before serving. Serves 6-8.
Would you like to serve food that will lower your grocery bill and your family will love to eat?
Click here to get the Dining On A Dime Cookbook, with tasty recipes and great tips to make your life easier and save you money!