Here's a potato flake sourdough bread starter recipe that you can use to make a starter that will make yummy sourdough bread over and over again! We also include a recipe for making the bread once the starter is ready!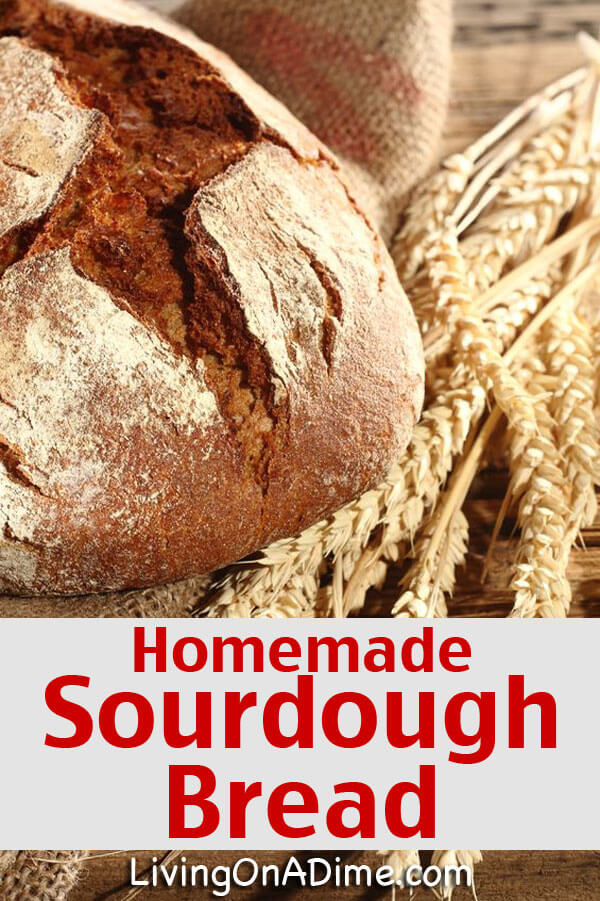 This sourdough starter recipe is similar to the Amish Friendship Bread and is a really yummy starter that you feed like you do other sourdough. (For those of you who have the Dining on a Dime Cookbook, you can find this recipe on page 88.) These starters are fun to start and I have done them off and on over the years but, I must warn you, you must not become emotionally attached to them!
I'm afraid I treated mine too much like a family member. I even called him Herman. I got quite stressed if I forgot to feed him. Then, if I didn't get a chance to bake him I felt so guilty if I had to throw part of him away. When I really couldn't use him anymore, what was I to do with him? Should I let him die a slow death in the fridge or throw him in the trash to die an even more cruel death. I really was torn. : ) : )
Ever since I had to kill my first Herman, I haven't had many others. It was too emotionally exhausting for me. Now you know I have gone off the deep end. : ) : ) You would be going crazy, too, if you had just spent the last four weeks putting 5,000 eyeballs into gingerbread men! : ) : )
Anyway, I hope you enjoy this Potato Flake Sourdough Starter recipe!
-Jill
This recipe can be used to make not only bread and cinnamon rolls but also dinner rolls and pizza dough.
Potato Flake Starter Bread
Sourdough Starter Recipe
1 pkg. or 1 Tbsp. yeast
1 cup warm water (110°-115°)
1/2 cup sugar
3 Tbsp. instant potato flakes
To make starter:
Mix the starter ingredients in a glass jar or container. Cover loosely and let stand 24 hours at room temperature.
Put it in the refrigerator for three to five days.
On the fourth day, feed it with ½ cup sugar, 3 tablespoons potato flakes and 1 cup water. Stir and keep at room temperature for 24 hours.
You will use 1 cup of the starter to make the bread. Store the remaining starter in the refrigerator and feed it every 4 days. (If you don't make bread, discard 1 cup starter at each feeding.)
Sourdough Bread
1/3 cup sugar
1/2 cup oil
1 1/2 cups warm water (110°-115°)
1 Tbsp. salt
1 cup starter
6 cups all purpose flour
To make bread:
Stir together all the ingredients except the flour in a 4-quart mixing bowl. Add four a little at a time to the other ingredients, mixing well. Knead 5 minutes.
Put the dough into a large, greased bowl. Turn the dough to grease the top. Cover the bowl with aluminum foil. Let rise at room temperature overnight for at least 8 hours.
Punch down the dough. Turn out onto a floured board and knead. Divide into 3 parts and shape into loaves. Put into 3 greased loaf pans. Brush the tops with oil. Cover with a paper towel and let rise 4-5 hours longer.
Preheat oven to 350° and bake 30-40 minutes. Brush with butter and remove from the pan. Cool and keep covered.
You can also make cinnamon rolls, pizza dough, and rolls with this dough. Makes 3 loaves.
*If you don't have 3 loaf pans, place in 2 pans and make the rest of the dough into rolls or cinnamon rolls.
This sourdough bread starter recipe is from our cookbook:
Would you like to serve food that will lower your grocery bill and your family will love to eat?
Click here to get the Dining On A Dime Cookbook, with tasty recipes and great tips to make your life easier and save you money!