Jar mix recipes can make inexpensive gifts that are more personalized and easier when you can't find a good gift for someone. Save money and time with these homemade mixes and recipes for gifts in a jar.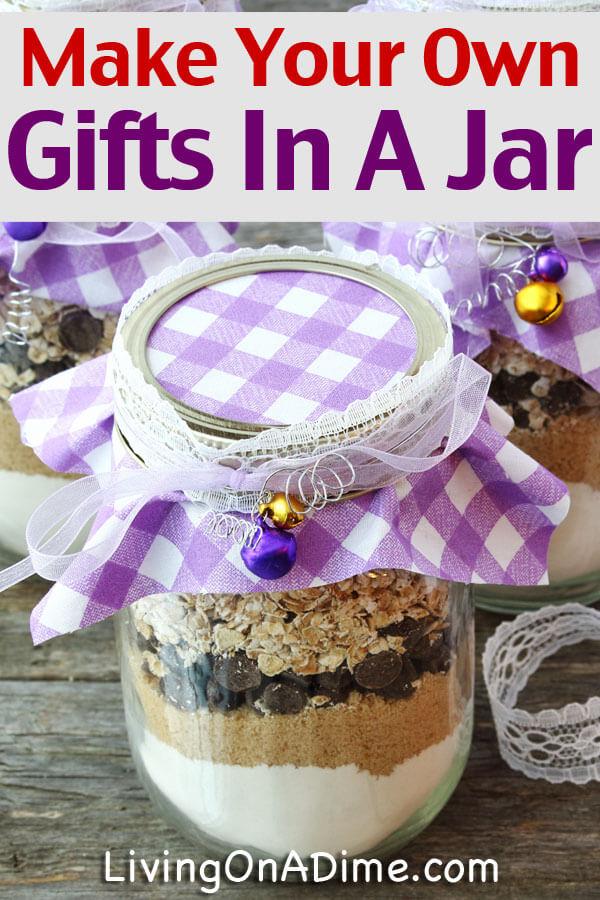 Make Your Own Gifts In a Jar – Homemade Jar Mixes
This time of year, I feel like a snowball rolling down hill. Time keeps rolling by faster and faster as we approach the holidays. We all know we will be extra busy at that time. I don't care how prepared you are and how many lists you have– it still seems to be hectic.
Even with the extra things that we have to do during the holidays, the laundry still has to be done, the house must be cleaned and of course meals have to be prepared. To help with the everyday meals or to get a head start on holiday gifts, here is something you can do to speed things up.
Right now. Don't wait. Get out some of your favorite recipes: muffin, biscuit, cookie, or dessert recipes. Measure out the dry ingredients into a large plastic bag, label and store. If you have older kids, this is a great job for them to practice their measuring skills.
What you are doing is putting together your own boxed mixes like the cake mixes you keep in the cabinet. If you have a copy of Dining on a Dime, there is a big chapter on all kinds of jar mixes for you to use.
You don't need to make jar mixes just for gifts. You can prepare them and store them to use for everyday use. Even better, while you have all the ingredients out and are already making a mess, make some both for your family to use and to give as gifts.
In addition to preparing for your everyday meals, measure out the dry ingredients for the Christmas cookies you usually make. Be sure to label the bags! Just having the dry ingredients ready will cut your preparation time in half later and, even better, will make clean up much easier.
Here are two recipes from Dining on a Dime to get you started:
Holiday (or anyday) Muffin Mix
3 cups flour
1 cup sugar
1 Tbsp. baking powder
1 tsp. salt
1/2 tsp. nutmeg
1 1/2 tsp. cinnamon
1/4 tsp. cloves
Mix all items and place in 1 quart baggie or 1 quart jar..
To prepare muffins from the mix:
To 1 baggie or quart jar of dry ingredients add:
1 egg
1 1/2 cup milk
1/2 cup vegetable oil
Preheat oven to 400°. Mix everything together until moistened. Do not over mix. Fill greased muffin tins (or use paper muffin cups) about 1/2 -2/3 full. Bake 10-15 minutes or until toothpick inserted into center comes out clean. Makes 15-18 muffins.
The term quick and easy doesn't always have to apply to baked goods. Try this:
Curried Rice Mix
1 cup long grain rice
1 chicken bouillon cube, crumbled
1 tsp. onion powder
1/2 tsp. curry powder
1/4 cup raisins (optional)
When ready to use:
Bring 2 1/2 cups water and 1 Tbsp. margarine to boil in a medium sauce pan.
Add rice mix. Cover and reduce heat. Simmer for 20 minutes. Fluff with a fork.
This is delicious served with chicken. Makes 6 servings.
Like I said be sure to check out our cookbook, which has a whole section about how to make delightful jar mixes for your own use or to give as gifts!
-Jill