This homemade calzone recipe makes great calzones! You can make calzones for the entire family and everyone loves them! Homemade calzones are also a great option for get-togethers with family and friends! Set out a buffet and have each family member put whatever ingredients they want for their own personal homemade calzone. You can find this recipe in our cookbook on page 120.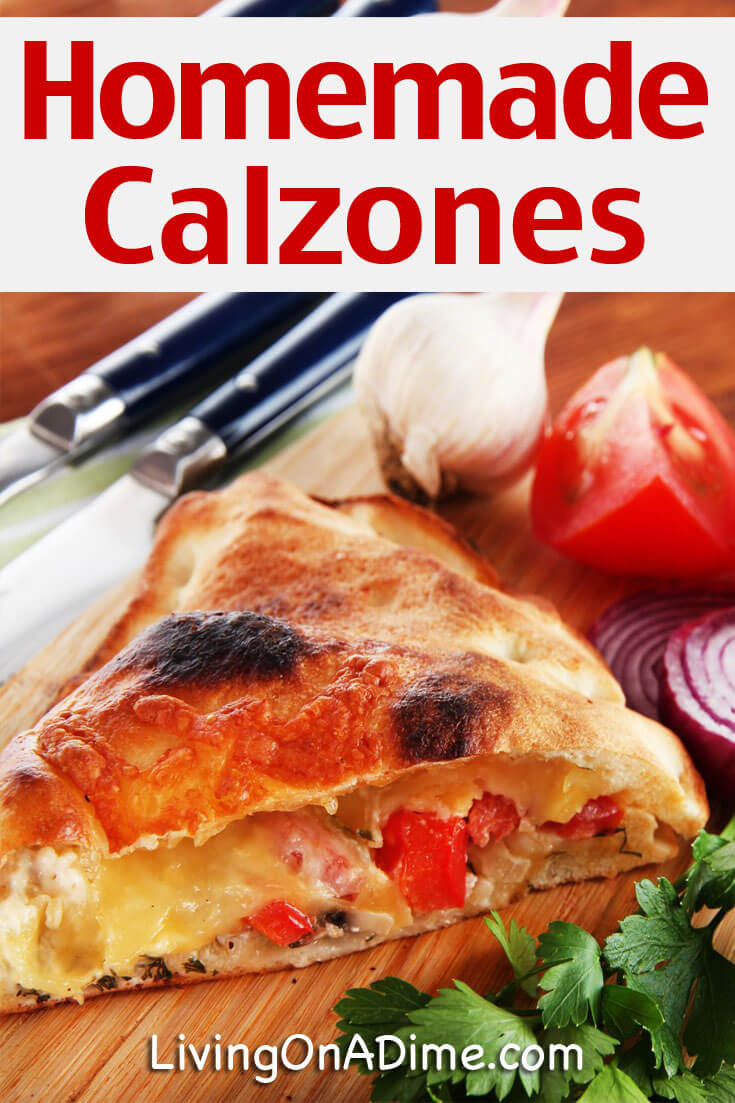 Homemade calzones are a tasty variation on pizza crimped into a handy pizza pocket! They are super delicious and are a handy way to make individual pizzas with less mess.
I remember the first time I ate a sausage calzone at my favorite college hangout and it was so delicious I was hooked for life! I had never heard of calzones before that, but I have often craved them since!
It's a special treat to have a calzone at you favorite restaurant, but you can make your own homemade calzones for a much lower cost. You can easily let each person choose his or her favorite fillings. These are an easy way to have a pizza flavor on the go!
Homemade Calzone Recipe
1 batch pizza dough
Pizza sauce
2 cloves garlic, chopped
1/2 lb. mozzarella
Desired toppings: pepperoni, onions, olives, green peppers, mushrooms, sausage, browned ground beef
Divide dough in half. Roll each half in a circle. On half of one circle, spread pizza sauce, toppings, 1/2 mozzarella and 1 clove garlic. Fold other half over and seal the edges. Repeat with other circle of dough. Bake at 350 degrees for 15-20 minutes. When done, brush with butter.
This homemade calzone recipe is from our cookbook:
Would you like to serve food that will lower your grocery bill and your family will love to eat?
Click here to get the Dining On A Dime Cookbook, with tasty recipes and great tips to make your life easier and save you money!
[adsense2]