This Garlic Pork Chops Recipe is not only melt in your mouth delicious but it takes only 15 minutes from start to finish to have ready for your family.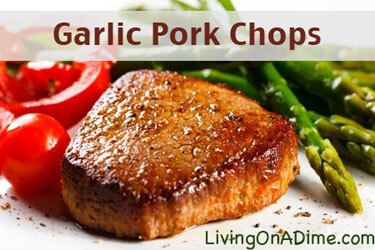 Garlic Pork Chops Recipe
5 Tbsp. butter, softened and divided
1 tsp. brown sugar
1 tsp. paprika, divided
1 tsp. salt
1/2 tsp. pepper
2 tsp. minced garlic
4 pork chops
Combine 3 Tbsp. butter, brown sugar, 1/2 tsp. paprika, salt and pepper; set aside. In another bowl, combine 2 Tbsp. butter, garlic and 1/2 tsp. paprika. Spread the garlic mixture on both sides of pork chops. Lay on a broil pan that has been lined with foil. Broil on each side 4 minutes or until done. While it's still hot, spoon the first bowl of mixture on top of pork chops and serve. Serves 4.
Would you like to serve food that will lower your grocery bill and your family will love to eat?
Click here to get the Dining On A Dime Cookbook, with tasty recipes and great tips to make your life easier and save you money!