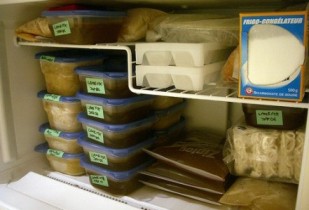 Tips for organizing your freezer
To vacuum seal your freezer bags: zip up your freezer bag almost all the way. Leave a hole and put a straw in it. Suck out all the air, quickly remove the straw and seal the bag the rest of the way.
Wash and reuse freezer and storage bags except those that have been used to store meats.
Freeze bananas for breads, cakes, smoothies and shakes. Just peel and throw in a freezer bag. Mash after defrosting. 2-3 large bananas are enough for 1 loaf of banana bread. Bananas can also be frozen whole in the peel. To use: defrost, cut off the end and squeeze banana out. It is already mashed.
For foods that will darken (like bananas), add 1/8 tsp. lemon juice to keep them from browning in the freezer.
To freeze apples: Peel, quarter, and slice a few at a time. Drop immediately into cold salt water. Place in freezer bags. The salt water prevents them from darkening. Use for pies, applesauce and apple butters.
When you have several oranges or lemons, wash them thoroughly. Grate the peel before using and freeze the zest for later use.
When onions or green peppers are on sale, buy a large quantity and chop into pieces. Freeze on a tray and then put into freezer bags. Later, take out what you need and return the rest to the freezer. Use for cooked dishes only as the consistency after freezing is not suitable for salads!
To freeze corn on the cob: Clean ears by trimming ends and removing silks. Do not wash. Freeze in freezer bags. To serve: Drop ears in boiling water and cook 6-8 minutes after water returns to a boil.
Collect all the odds and ends from the garden at the end of the season. Wash, dry and freeze together for vegetable soup.
Buy catsup in the gallon cans and freeze all but one "bottle" full. Save salad dressing bottles for this. Do the same with hot sauce and whole tomatoes.
Photo By: sporkist