How long will food keep in the freezer? Our handy freezer guide gives guidelines to how long certain foods can reasonably be stored in the freezer. This freezer guide is in our Dining On A Dime Cookbook on page 22.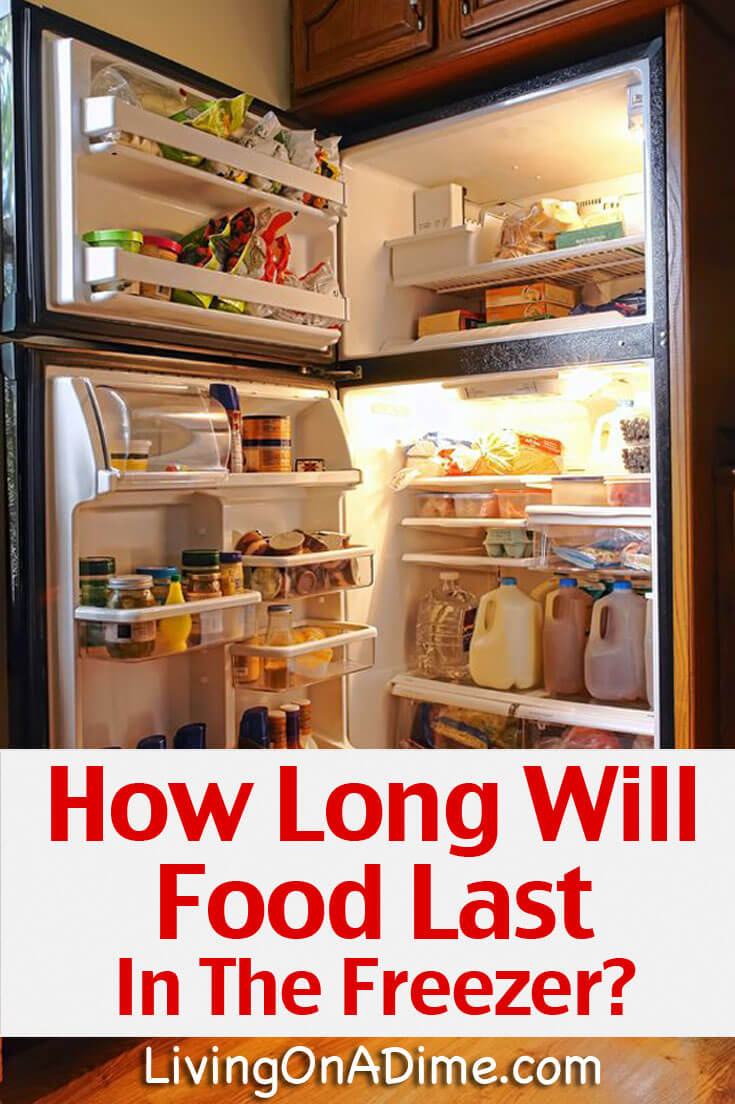 Freezer Guide – How Long Will Food Keep In The Freezer?
How long will groceries stay good in the freezer? Our Freezer Guide gives guidelines to how long foods can reasonably be stored in the freezer.
Meats
Beef – 12 months
Cooked Meats – 3 months
Ground Meats – 3 months
Lamb – 9 months
Liver – 2 months
Pork – 6 months
Poultry, raw – 6 months
Dairy
Butter, pasteurized – 6 months
Cheese – 6 months
Cream Cheese – 4 months
Ice Cream – 4 months
Whipping Cream – 3 months
[adsense3]
Miscellaneous
Cakes, Cookies and Breads – 3 to 4 months
Coconut -12 months
Egg Whites, out of shell -12 months
Egg Yolks, out of shell – 3 months (Add 1/8 tsp. salt or 1/2 tsp. sugar for every 4 egg yolks)
Fruits and Juices – 12 months
Nuts – 12 months
Vegetables – 12 months
Things That Don't Freeze Well
Cooked egg whites
Mayonnaise Salad Dressings
Canned refrigerator biscuits, Danish rolls, cinnamon rolls, croissant dough (You can bake these and then freeze.)
Salad greens
Raw tomatoes (You can freeze raw tomatoes but they should only be used for cooking.)
Custards
Cream pies with meringue
Grapes (unless eating frozen)
Tips for organizing your freezer
To vacuum seal your freezer bags: zip up your freezer bag almost all the way. Leave a hole and put a straw in it. Suck out all the air, quickly remove the straw and seal the bag the rest of the way.
Wash and reuse freezer and storage bags except those that have been used to store meats.
Freeze bananas for breads, cakes, smoothies and shakes. Just peel and throw in a freezer bag. Mash after defrosting. 2-3 large bananas are enough for 1 loaf of banana bread. Bananas can also be frozen whole in the peel. To use: defrost, cut off the end and squeeze banana out. It is already mashed.
For foods that will darken (like bananas), add 1/8 tsp. lemon juice to keep them from browning in the freezer.
To freeze apples: Peel, quarter, and slice a few at a time. Drop immediately into cold salt water. Place in freezer bags. The salt water prevents them from darkening. Use for pies, applesauce and apple butters.
When you have several oranges or lemons, wash them thoroughly. Grate the peel before using and freeze the zest for later use.
When onions or green peppers are on sale, buy a large quantity and chop into pieces. Freeze on a tray and then put into freezer bags. Later, take out what you need and return the rest to the freezer. Use for cooked dishes only as the consistency after freezing is not suitable for salads!
To freeze corn on the cob: Clean ears by trimming ends and removing silks. Do not wash. Freeze in freezer bags. To serve: Drop ears in boiling water and cook 6-8 minutes after water returns to a boil.
Collect all the odds and ends from the garden at the end of the season. Wash, dry and freeze together for vegetable soup.
Buy catsup in the gallon cans and freeze all but one "bottle" full. Save salad dressing bottles for this. Do the same with hot sauce and whole tomatoes.
[adsense3]
From: Monique
I would like to know how to control what is in my big freezer. When do you make an inventory of the stock you already have before you buy some more? Before each grocery day? Thank you very much for you answer. If only I was not the only one to open and close that door… It would be easier!
Tawra: I just write it down on my shopping list on the fridge when something is gone. Now the kids are bigger Mike and them will write it down now too! They have learned if it's not on the list, it doesn't get purchased! :-)
If you still can't get your family to write it down, I would just check each time before you shop.
Jill: I would do a deep cleaning of my freezer about 3-4 times a year– not the freezer itself but what was in it. I would do this right before I start my Christmas baking (October), in the spring and right before garden or fresh produce are ready in the late summer.
Stock the new things toward the back or on the bottom so that the older items get used first. I know this is a pain, but needs to be done.
Be careful with freezers, especially the chest style ones. I have owned an upright and Tawra has one now. Unless you have a large family, live far from town, have a garden or something like that they really won't save you money unless you stay on top of them.
With chest style freezers, it is especially easy to lose things in the bottom and waste so much food from freezer burn, food getting old or the electricity going out.
One thing people don't realize is that even today's energy saver ones pull a lot of electricity so if you are running a freezer to hold 4 turkeys and 3 roasts you bought on sale and it is costing you $40 a month to run the freezer, you do the math. You aren't saving anything. I have a neighbor right now who runs her freezer all the time and who keeps nothing in it except 3-4 bags of ice.
I am not saying don't have a freezer just do the math and make sure it is paying for itself.
[adsense3]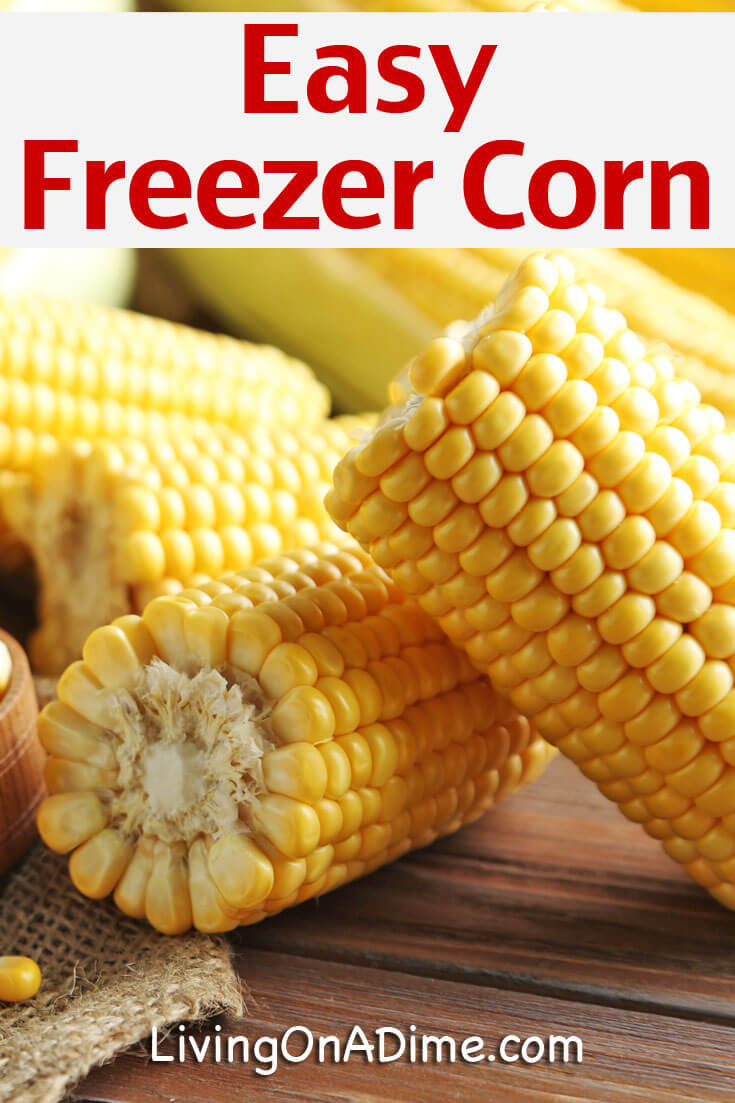 Here is an easy freezer corn recipe, which you can use to make an easy side dish that just needs to be heated and served! Find a good deal on fresh corn? This recipe is perfect for saving it!
Easy Freezer Corn Recipe
1/2 lb. butter
11-12 cups corn (about 20 ears)
1 cup half and half
1/2 tsp. salt
Cut the corn off of the ears. Mix everything and bake at 300 degrees for 1 hour. Stir every 15 minutes or so. Let it cool. Place in freezer bags or containers and freeze. Just heat and serve to use.
Meatloaf Glaze Recipe
1/4 cup brown sugar
1 Tbsp. Dijon mustard
1 tsp. cider vinegar.
Mix and pour on meatloaf about 15 minutes before it is done.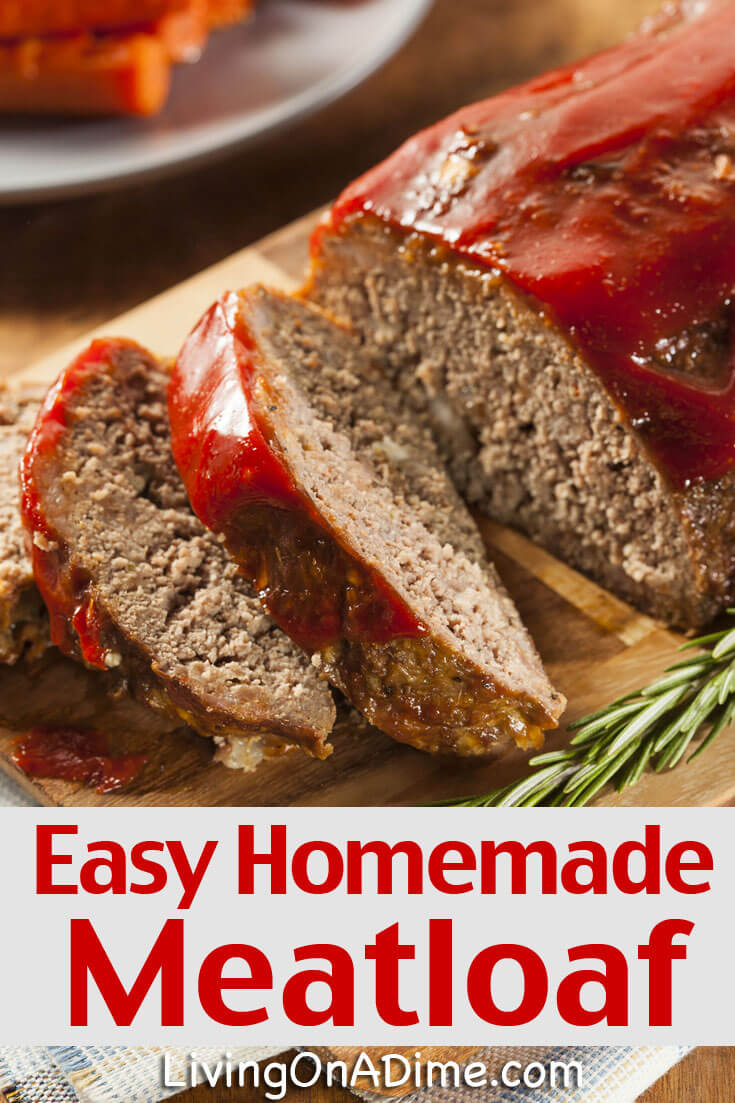 If you use this meatloaf recipe for any of the above purposes, you will probably want to use ketchup instead of the barbecue sauce that is mentioned in the basic meatloaf recipe.
Easy Meatloaf Recipe
1 1/2 lbs. ground beef
1 cup milk
1/2 tsp. salt
1/2 tsp. dry mustard
1/4 tsp. pepper
3/4 cup quick cooking oatmeal or 1/2 cup dry bread crumbs
1 egg
1/4 tsp. garlic powder
1 tsp. onion powder
1 Tbsp. Worcestershire sauce
1/2 cup ketchup or barbecue sauce
Mix everything together except the ketchup. Put into a loaf pan. Spread ketchup over the top. Bake at 350 degrees for 1 hour or until done. Serves 6.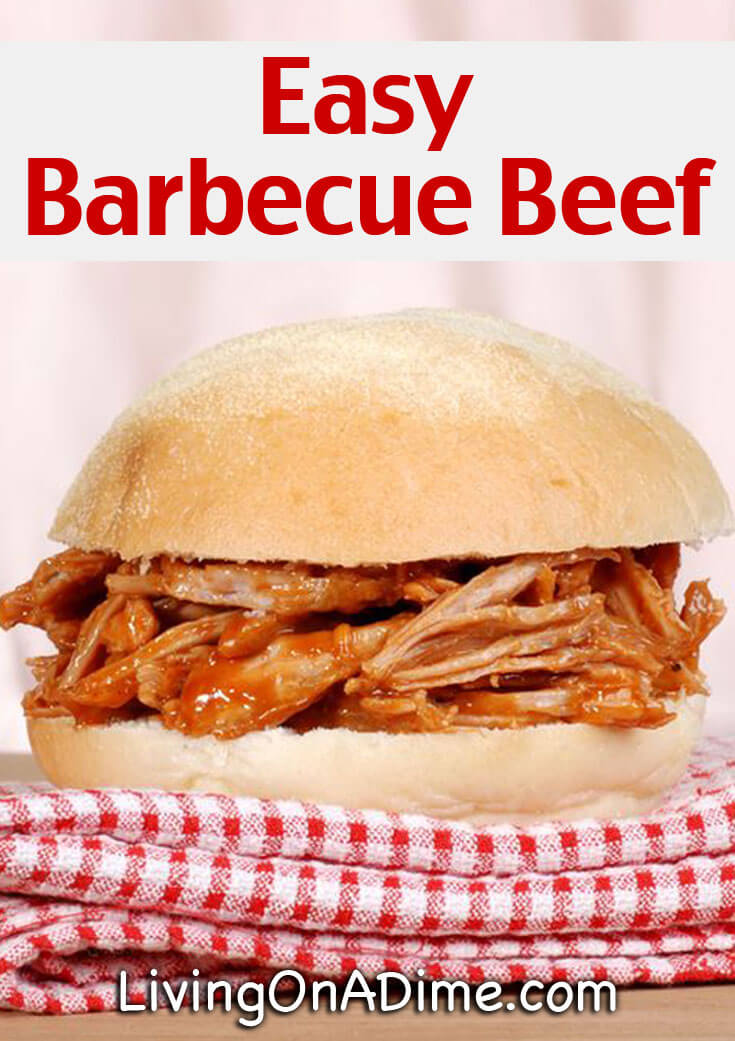 Easy Barbecue Beef Recipe
leftover roast beef
barbecue sauce
3 Tbsp. water
Put leftover beef in a saucepan and add water. Heat until warmed through on medium. Add enough barbecue sauce to coat beef and simmer for 3 minutes. Serve on buns, bread or toast.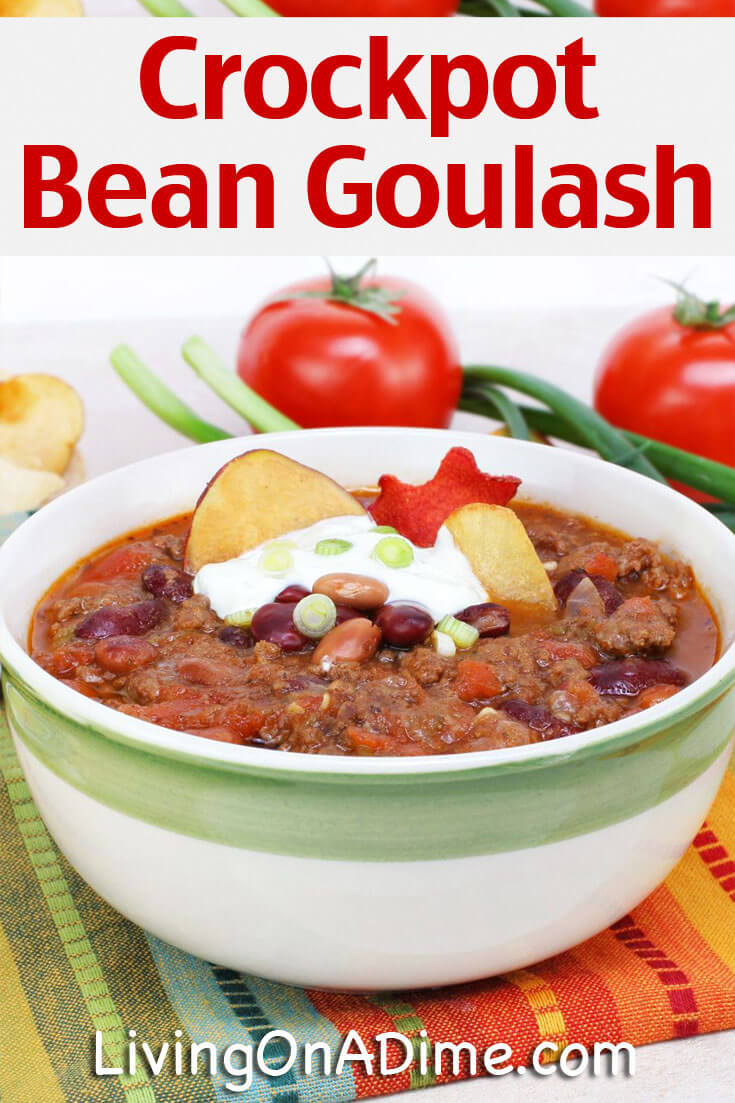 1/2 lb. ground beef
1/2 lb. bacon
1 stalk celery
1 small onion
1 (15 oz.) can kidney beans or 2 cups cooked beans
1 (15 oz.) can butter beans
1 (15 oz.) can pork and beans
1 Tbsp. vinegar
1/2 cup barbecue sauce or ketchup
1/2 cup sugar
1/2 cup brown sugar
Brown ground beef, bacon, celery and onion. If using canned beans, drain them. Mix the remaining ingredients together with the beef mixture. Bake at 350 degrees for 30 minutes or put in the crockpot on low for 1-2 hours. Serves 8-10.
This freezer guide is from our cookbook. You'll also find lots of easy recipes and tips to save big money on your food bill and get out of the kitchen faster!
Would you like to serve food that will lower your grocery bill and your family will love to eat?
Click here to get the Dining On A Dime Cookbook, with tasty recipes and great tips to make your life easier and save you money!
[adsense2]