This easy coffee cake recipe is extra delicious because of its yummy fruit jam filling! Mom calls it a Butterfly Ring and she fills it with a cherry jam filling, but it's easy to make as a strawberry, raspberry or blueberry coffee cake by just using different fruit filling! This tasty coffee cake is great for breakfast, special occasions or get togethers with family and friends!<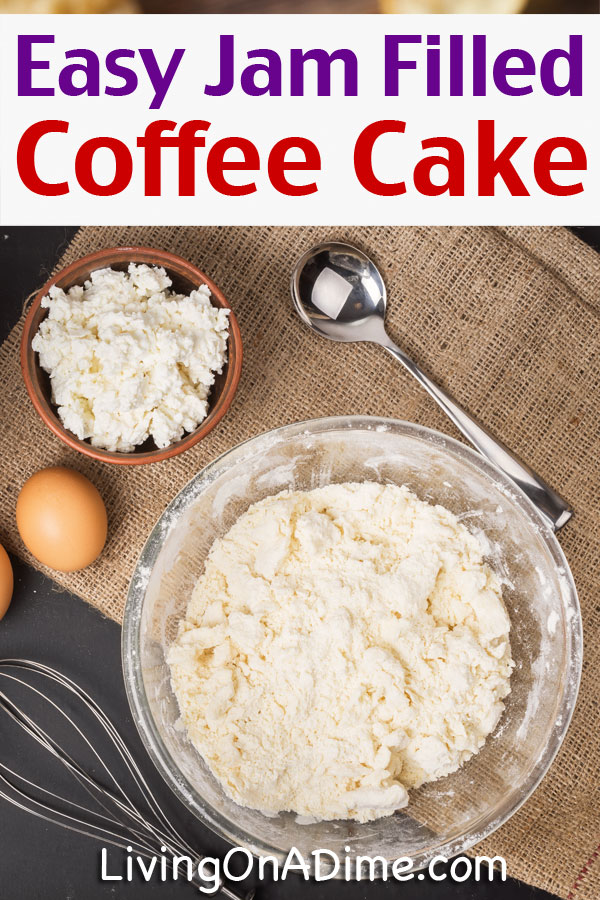 Easy Coffee Cake Recipe – Jam Filled Butterfly Ring
2 1/2 cups baking mix
1 Tbsp. sugar
1 egg, beaten
2/3 cup milk
Grease a jellyroll sheet and preheat over to 375 degrees. Mix first four ingredients until well blended. Dough will be sticky. Knead on a lightly floured surface 18 times. Roll out into an 11×14 inch rectangle. Serves 12.
Filling:
2 Tbsp. butter, melted
1/2 cup sugar
3/4 cup nuts (optional)
1/4 cup cherry jelly (raspberry, strawberry or any other jam or jelly will work)
1/4 tsp. cinnamon
1 Tbsp. flour
Add the ingredients to the melted butter. Blend until smooth. If necessary, heat jelly 30 seconds in the microwave if you need to make it smooth. Spread filling onto dough. Roll the dough length wise, like a jelly roll and seal the edges by pinching them together. Form into a circle on the jellyroll pan. Cut 4 to 5 slits in the top to release steam. Bake for 20 minutes. Cool and frost with butter cream frosting
Buttercream Frosting Recipe
3 cups powdered sugar (If sugar is lumpy, you may want to sift it.)
1/3 cup butter or margarine, softened
1 tsp. vanilla
1-2 Tbsp. milk
Mix sugar and butter. Add vanilla. Slowly add milk, beating until smooth. If it is too stiff, add a little more milk to get the right consistency. This frosts about one 9×13 cake, two 8 inch cakes or 1 dozen cupcakes. Can store this in the fridge for several weeks.
This easy coffee cake recipe is from our cookbook:
Would you like to serve food that will lower your grocery bill and your family will love to eat?
Click here to get the Dining On A Dime Cookbook, with tasty recipes and great tips to make your life easier and save you money!
[adsense2]