Try these easy ways to bake potatoes in an oven or crockpot, along with simple recipes for tasty variations. With a wide variety of possible toppings, baked potatoes can make an easy and delicious meal! Prepare your baked potatoes the night before, toss them in the crockpot and you'll have an easy meal when you get home from work without heating up the house!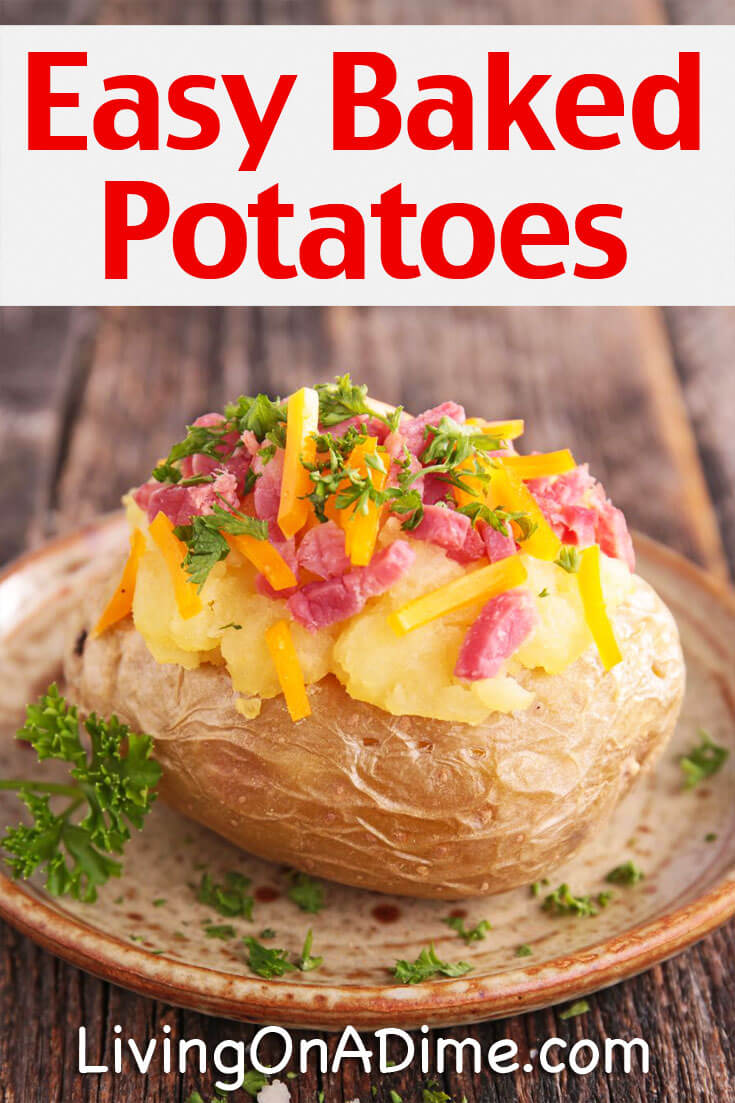 Easy Baked Potatoes
Virtually everyone loves baked potatoes. With a wide variety of possible toppings, baked potatoes can be a meal all by themselves. Prepare your toppings the night or morning before and you can have a quick and easy dinner.
Have you ever wondered how to bake potatoes? Check out these easy ways to bake potatoes:
When slowly cooked, baked potatoes have a much better flavor than when cooked quickly in the microwave.
Here's a tip from one of our readers on perfect baked potatoes: Bake your potatoes in a crockpot. Scrub, pierce with a fork, rub some butter on the potatoes and cook on low all day. You will have perfectly baked potatoes when it's time for dinner.
If you like the taste of oven baked potatoes but forgot to put them in the oven in time, nuke them in the microwave for 2-3 minutes. Then finish them in the oven. The centers will be cooked and they won't take nearly as long to bake in the oven.
To prevent a dry hard skin, rub your potato in butter or margarine, sprinkle with salt and wrap in foil.
It is usually best to prick a potato with a fork when cooking it in the microwave because at times potatoes have been known to explode. Big Mess.
Baked Potato Toppings:
Tomatoes, chopped
Broccoli, chopped
Peppers, chopped
Cheese, grated
Bacon, crumbled
Ham, cubed
Chili
Onion
Olives
Mushrooms
Ranch dressing
Sour cream
Yogurt
Taco themed baked potato: everything you would put on a taco including hamburger with taco seasoning
Pizza themed baked potato: pizza sauce, mozzarella cheese, pepperoni, sausage
      -Jill