Do you feel too overwhelmed to make breakfast? By planning ahead and getting organized, you can have an easy homemade breakfast in 15 minutes or less!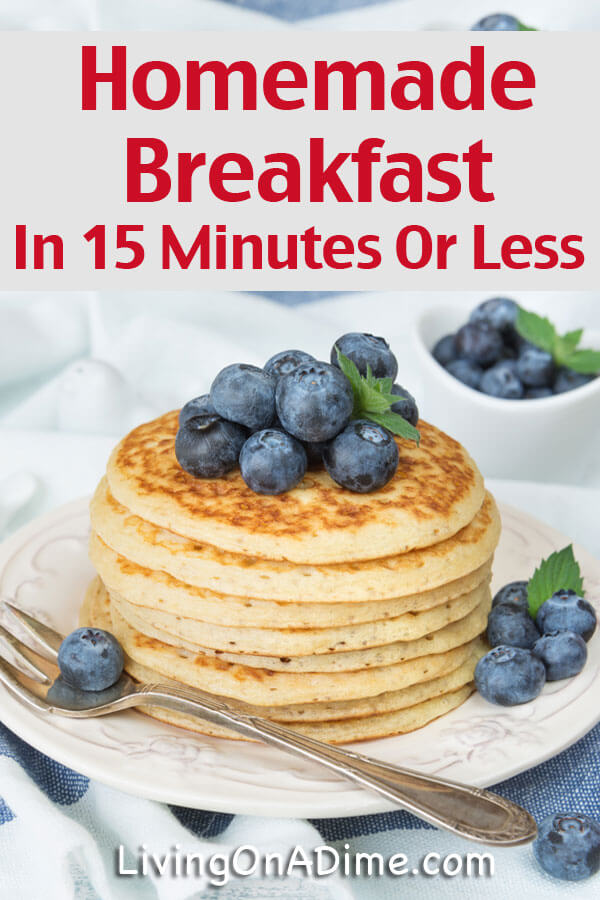 Quick and Easy Homemade Breakfast in 15 Minutes Or Less!
I just finished writing a future newsletter about breakfast and I realized one of the reasons we don't often eat breakfast is because we have difficulty managing time. Not only is it important to time things to get them done quickly but, when it comes to breakfast preparation, it is important to get everything done at the same time, too. This can sometimes be a big challenge to a beginning cook, but practice makes perfect.
Here are some helpful tips along with a simple menu I will use for my example:
Sausage
Eggs, scrambled
Toast
Coffee
If time is truly tight, then get as much done ahead of time as possible.
Things to do the night before:
(All of this should take not more than 5-10 minutes.)
Put the coffee and water in the pot.
If it comes in a roll, slice the sausage into patties.
Put the eggs in a bowl, mixed and ready to go.
Set the bread and butter by the toaster.
Place the pan or griddle on the stove ready for sausage and eggs and stage the oil for cooking by the pans.
Set the table.
Things to do in the morning:
Start the coffee.
Put the sausage patties in the pans and start cooking them.
Pop the toast in the toaster.
Flip sausages and start cooking the eggs.
Butter toast, stir eggs, dish up sausages and dish up eggs.
Voila! You're done!
Of course, this process can vary from person to person. I'm sure some of us do it differently and I do it differently on some days, too. The point is to think through the order in which you will do things.
Start your longest cooking items or things that can be just popped into a pan and need no attention first.
Look for areas where you can save time. For example, don't make trips back and forth to the refrigerator. Get everything you need out at one time and put it all back at one time.
Mix and stir items as closely to the things you are cooking on the stove so you don't have to run back and forth. For example, if you are cutting up a bowl of fruit, cut it near the stove area so you can easily stop and flip the bacon.
Write down a list of quick and easy breakfasts to make. For example, place oatmeal in the crock pot overnight, have Egg McMuffins ready to warm and have homemade waffles made and ready to pop in the toaster.
Again, do as much as you can ahead of timelike having the table set the night before.
Most breakfasts for a family of 4 can be made in 15 minutes or less if you are organized. You might find everyone more excited about getting up in the morning and getting dressed if they wake up to the smell of something yummy cooking in the kitchen.
      -Jill