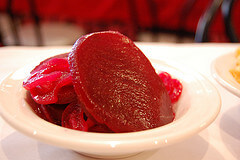 Pickled Beets and Eggs
1 can (13-14 oz.) sliced beets
1/2 cup sugar
1/4 cup vinegar
1/2 cinnamon stick
6 whole cloves, optional
8 hard boiled eggs, shelled
Drain beets and save juice. Add enough water to juice to make 3/4 cup and pour into a saucepan. Add sugar, vinegar, cinnamon stick and cloves and bring to a boil. Remove from heat. Place eggs in a bowl. Top with beets and pour liquid on top. Cover and chill for 4 hours or overnight. 
We just had a reader (Lois) comment that she buys canned beets and puts hard boiled eggs in the juice from those which is a great idea.
It reminded me of a few uses for pickle juice:
~Put fresh veggies, cauliflower, broccoli, mushrooms, carrots, cucumber etc. Let set for a few days before eating. Reuse the juice only once. You can also add them to the jar before the pickles are all gone.
~Use it to spice up pasta salads.
~Mix with mayo for an nice salad dressing.
~Pickle your eggs in it then make egg salad for a different flavor.
~Use the the juice to add flavor to potato salad, egg salad, deviled eggs. Instead of vinegar in deviled eggs use pickle juice.
From Anita D.
Another way to use leftover hard boiled eggs-Make pickled eggs.
Place shelled eggs in a quart jar (save a spagetti sauce jar to use).
Mix
2 T. sugar
1 tsp. salt
1 tsp. pickling spice
2 cups vinegar
Simmer 8 minutes.  Strain and pour over eggs.  Let sit in refrigerator at least 8 hours (longer is OK).  Store in refrigerator.
Photo By: stuart spivack