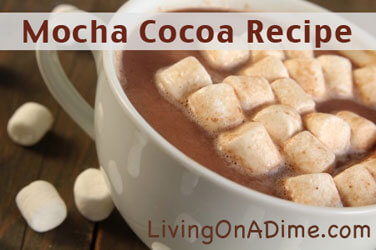 Mocha Cocoa Gift In A Jar Recipe
I found a recipe for Mocha Cocoa Gift in a Jar over at myrecipes.com that sounded really good but I would adjust to use stuff you already have on hand. Also we thought the coffee was too strong. Here is my version of Mocha Cocoa.
Mocha Cocoa
1 cup unsweetened cocoa powder
1 cup granulated sugar
1/4 cup instant coffee grounds powder
1 cup powdered milk or powdered creamer
1/2 teaspoon salt
1/2 cup chopped bittersweet or semi-sweet chocolate or miniature chocolate chips
Layer in a jar. Add a tag that says "Mix contents in a large bowl. For each serving, place 1/3 cup cocoa mix in a mug and stir in 1 cup boiling water. Store remaining mix in airtight container." Serves 12.