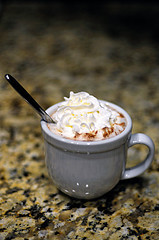 Homemade Hot Chocolate Mix Recipe
8 cups dry milk
4 3/4 cups powdered sugar
1 3/4 cups Nestle's Quik
1 1/2 cup non-dairy creamer
1 sm. pkg. instant chocolate pudding mix
Sift the ingredients into a large bowl. Place the mix into an airtight containers.
Attach this to the jar:
Hot Chocolate 5 Tbsp. (1/3 cup) Hot Chocolate Mix 1 cup hot water (not boiling) marshmallows or whipped cream
Place the Hot Chocolate Mix into a mug. Add water. Stir until Hot Chocolate mix is dissolved. Garnish as desired with marshmallows or whipped cream. Serves 1.
For more easy homemade jar mix recipes, along with lots of easy recipes for inexpensive home cooking, check out our Dining On A Dime Cookbook!
photo by: a4gpa's