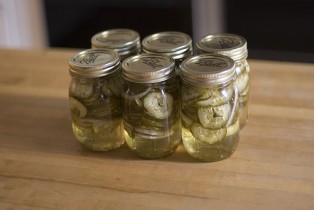 Homemade Garlic Pickles Recipe
2 heads of dill 1 clove garlic
2 Tbsp. pickling spices
1 hot pepper, cut in two
4-5  cucumbers, sliced
1 cup water
4 cups vinegar
1/2 cup salt, non-iodized
Mix first three ingredients and divide in 4-5 pint-sized jars. Add 1 piece of pepper to each jar. Pack sliced cucumbers into jars. Boil last three ingredients and pour over cucumbers. Refrigerate several weeks before serving. Makes 4-5 pints.
*These are great with hamburgers.
Fore more delicious and easy recipes that your family will love, check out our Dining On A Dime Cookbook.
Photo By: Jason Dunnivant